Commentary: Why is sunny Singapore not covered with rooftop solar panels?
In land-constrained Singapore, rooftops provide the most readily available space for the rollout of solar panels, but there are many barriers to deploying more of them, say Reed Smith's Matthew Gorman and Miriam Bandera.
SINGAPORE: Rising fuel prices and other costs of living have delivered a stark reminder of how reliant we are on oil and gas, making the transition to renewable energy even more urgent.
However, Singapore authorities are confident they can pull it off. The Energy 2050 Committee Report published by the Energy Market Authority (EMA) in March concluded it is "technically viable" for Singapore's power sector to achieve net zero emissions by 2050.
One of the strategies identified is to maximise solar deployment and use energy storage systems to manage solar intermittency.
Solar energy from photovoltaic (PV) systems is currently considered the most viable renewable energy source available to Singapore. It is one of the EMA's "four switches" vital to decarbonising Singapore – the others being natural gas, regional power grids and low-carbon alternatives. 
Yet, despite this recognised potential, some argue solar power will play a limited role in the country's road to net zero. In a 2020 report, the Solar Energy Research Institute of Singapore (SERIS) estimated Singapore has the potential to deploy up to 8.6 Gigawatt-peak (GWp) of solar energy by 2050 – around 10 per cent of the nation's projected electricity demand then.
So, if solar can only contribute 10 per cent of Singapore's electricity demand by 2050 in the best-case scenario, why put so much effort into optimising the sector? 
It bears remembering that other forms of renewable energy, such as wind, tidal and hydro, are not an option in Singapore. In this context, extracting every ounce of potential from solar becomes a more significant feature of Singapore's net zero goal.
THE QUESTION OF STORING SOLAR ENERGY
Variability is a key barrier to solar energy becoming a significant source of power in Singapore. Solar PV panels are unable to generate electricity at night and, even during the day, the availability of sunlight in Singapore fluctuates due to frequent changes in cloud cover.
For power to run when it's dark out, solar energy storage technologies need to be scaled up and utilised more cohesively. While batteries are used to store solar-generated electricity on a localised basis, the true challenge lies in developing efficient and reliable utility-scale assets that can manage storage across an entire power grid.
The good news is that these solutions exist and are being deployed. According to figures from the trade body American Clean Power Association, utility-scale battery energy storage system installations in the US grew 196 per cent in 2021.
Closer to home, Singapore deployed its first utility-scale energy storage system in October 2020, with a capacity that can power more than 200 four-room HDB units in one day.
The system not only participates in the wholesale electricity market but also provides insight into the performance of energy storage systems in heat and humidity, and will aid the establishment of technical guidelines.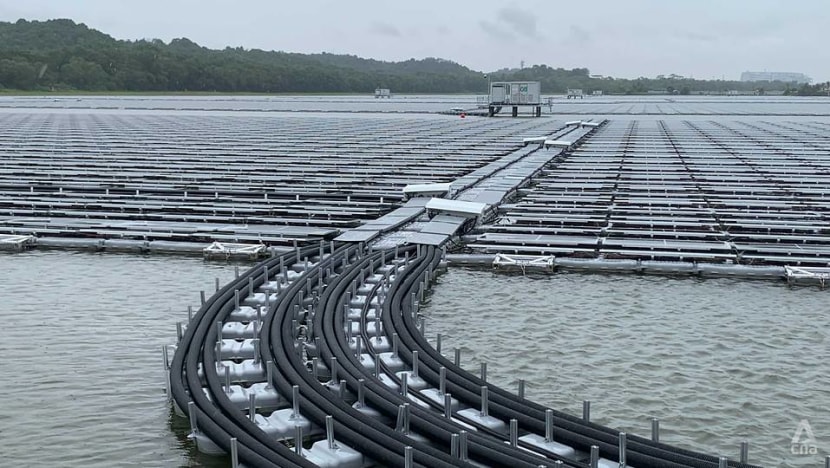 Singapore's evolving solar landscape can be compared to ongoing efforts for self-sufficiency in its water supply. It is not that we do not have enough rainfall to meet our needs, but rather that the infrastructure for capturing, storing, distributing and recycling rainfall has to be up and running to realise its full potential. Public education and technology must also go towards minimising waste.
DEPLOYING SOLAR PV ON ROOFTOPS TO OPTIMISE LIMITED LAND
A second obstacle to a significant increase in the level of electricity generated from solar PV in Singapore is space. Singapore is a heavily built-up city, which already faces multiple competing demands for land. 
According to the EMA, as of March 2021, there were 4,585 grid-connected solar PV installations in Singapore. Their total capacity amounts to an around 443-megawatt peak (MWp), with the private sector contributing most of it (53 per cent), followed by town councils and grassroots units (38 per cent).
There are other technologies for optimising what little space Singapore has for solar panels. These include mobile solar PV systems that can be used on temporarily vacant land and relocated as necessary, and building-integrated PV in which solar panels are incorporated into a building's facade.
While most of these installations are on rooftops, floating solar PV facilities could contribute significantly to solar PV capacity. The 60MWp Tengeh Reservoir plant, launched in July 2021, can power 16,000 four-room HDB flats and reduce emissions equivalent to taking 7,000 cars off the road. Other floating projects are in the pipeline.
But rooftops still provide the most readily available space for large-scale rollout. According to the 2020 SERIS report, the total net usable area for rooftop PV deployment in Singapore is approximately 13.2 sq km.
In contrast, the space for building facade PV, mobile/land-based PV and floating PV is more limited, at 9.8 sq km, 5.0 sq km and 4.6 sq km respectively.
Installing solar panels on existing rooftops and facades is therefore the most viable near-term option for maximising solar PV deployment in Singapore. Buildings can install enough PV panels and a localised energy storage system to provide electricity for the building's occupants round-the-clock, which goes towards saving utility costs in the long run.
If the building generates a viable amount of excess power, it can be exported to the grid – for potential revenue. SP Group has schemes for businesses and homeowners where they can receive payment for excess solar electricity sold to the grid.
ROOFTOP SOLAR PV STILL HAS TO COMPETE FOR SPACE
The rollout of solar PV installations on rooftops and facades needs to be weighed against other considerations as Singapore adopts a more holistic approach to sustainability.
The Government has made clear that solar PV will not be undertaken at the expense of greenery, green spaces and biodiversity. Under the Sustainable Singapore Blueprint, there are plans for 200 hectares of skyrise greenery on Singapore's buildings by 2030.
This goal may compete with the deployment of rooftop solar PV, for example in predominantly residential areas where a greater amount of greenery is proposed. 
How soon can sustainable homes become a reality, how much would they cost and what about the challenge of retrofitting old buildings? CNA's The Climate Conversations takes a closer look:
Another barrier to rooftop solar PV deployment arises from the competition for space on roof surfaces from other important uses such as water tanks, elevator shafts, air-conditioning facilities, parking and recreational spaces reserved for tenants.
While the competition from some of these uses can be mitigated through technology and more creative building designs, they nevertheless remain a constraint on rooftop solar PV systems. This effect is likely more acute in older buildings which were not designed with solar PV installations in mind. 
Nonetheless, rooftop solar will play an important part in realising both Singapore's net zero emissions target and energy security.
Taking into account the price shocks in oil and gas over recent years and the cost efficiencies being driven by technological improvements in PV panels, inverters and other components, there are reasons to be positive about the future of rooftop solar.
Matthew Gorman is a Partner and Miriam Bandera is an Associate at Reed Smith, Singapore.