Snap Insight: Heft of Tharman Shanmugaratnam may deter others from contesting Singapore Presidential Election
While Senior Minister Tharman Shanmugaratnam is well-qualified for the role of Singapore President, a contest, if it happens, could reinforce the legitimacy of the office, says Dr Gillian Koh of the Institute of Policy Studies.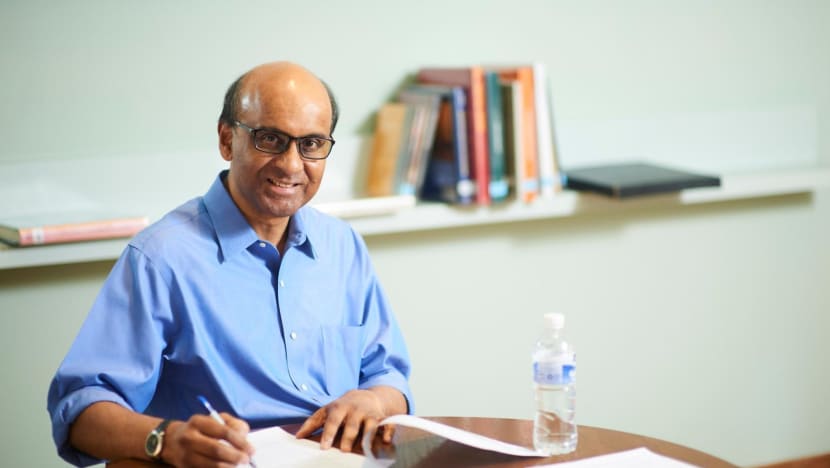 SINGAPORE: It may come as a surprise that Senior Minister Tharman Shanmugaratnam offered himself as a candidate in the Presidential Election, and that he will stand down from his government positions including Coordinating Minister for Social Policies and chairman of the Monetary Authority of Singapore on Jul 7.
This follows the incumbent Madam Halimah Yacob's announcement last week that she will not stand for re-election.
AN OPPORTUNITY TO SEE IF QUALIFICATIONS TRANSCEND RACE IN POLITICAL OFFICE
After the election in 2017 that was reserved for Malay candidates, the sense was voters were expecting leading candidates this time to be Chinese, male, and have as little association with the establishment as possible. This is especially more so if the election timeline is as short as usual, and if Chinese Singaporeans see the process of electing a President as "turn-taking".
Such a move would capture the support of those who might still feel discomfort with the hiatus-triggered ethnic reservation to ensure fair representation of the constituent communities of Singapore that was introduced then.
Surveys conducted by the Institute of Policy Studies suggest that in lieu of deep knowledge of candidates' backgrounds and inclinations, voters would opt for candidates of the same ethnicity. If the voters are minorities, their second choice would be a Chinese candidate. In this way and left on its own, Chinese candidates would always prevail.
If there is a contest this year, it will be an opportunity to see if qualifications and political standing can transcend race when it comes to electing our Head of State. While Mr Tharman is ethnically Indian, his family is multiracial and arguably, quintessentially Singaporean - a unique asset to our sense of national identity.
A CANDIDATE HELD IN HIGH REGARD
Senior Minister Tharman is well-regarded domestically and on the international stage. His tenure as Finance Minister from 2007 to 2015 contributed to Singapore's progressive socio-economic policymaking and thought leadership at international fora.
As Singapore seeks its way through a period of shifting geopolitical tides among major powers and growing concerns about the costs of living, Mr Tharman has the depth of knowledge and grasp of the key principles of fiscal prudence to exercise the second key to the country's past reserves, an important custodial power the President wields.
It is possible to imagine how world leaders and intellectuals will not only put the Istana on their calling card, but be prepared to trade insights on global trends with him as equals, if elected.  
This will be an asset for Singapore when the world is in a state of flux. This is not to say that Mr Tharman or any President can set government policy, but he will become a useful and trusted conduit of strategic information about the changing policy context for the government.
Since presidential candidates must be non-partisan, the price for his political party now is that he must give up his membership in the People's Action Party and his role as anchor minister in Jurong GRC - one of the best performers in the 2020 general election.
In terms of leadership transition, there is no room for complacency in a more contested party-political landscape, and it will be no mean feat replacing him. But that reckoning will only take place at the next parliamentary elections which will not be held any time soon.
What will matter for the legitimacy of office of the President is a different vote. Of course, the heft of Mr Tharman may deter anyone else, even Chinese candidates from contesting.
If there is a contest, this can only strengthen the legitimacy of the office but only as long as it is not an intensely polarising campaign that rends the body politic apart, especially if the issue of race is involved. That would be far too high a price to pay and erode so much of what the Presidency stands for.
Dr Gillian Koh is Deputy Director (Research), Institute of Policy Studies, National University of Singapore.