Snap Insight: This is why Zelenskyy's speech to Congress is so significant
Ukrainian President Volodymyr Zelenskyy's idealistic call for US support rang of previous American partners in need, most obviously Winston Churchill in World War II, says Robert Kelly.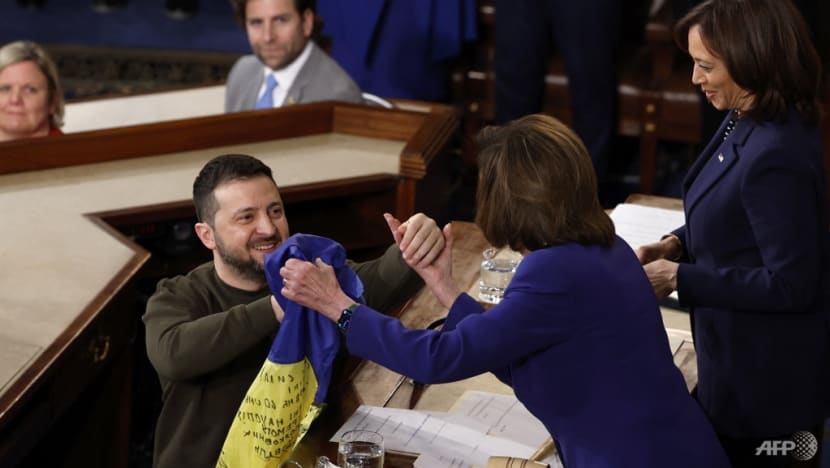 BUSAN: Ukrainian President Volodymyr Zelenskyy spoke before the US Congress on Wednesday (Dec 21) evening. He spoke enthusiastically to American foreign policy ideals. He evoked the American Revolution and World War II to rally US support for Ukraine's analogous struggle for sovereignty and democracy against imperialism.
Zelenskyy hit all the right notes for an American audience, and the applause from the attendant US legislators was robust.
Zelenskyy made two points: First, Ukraine's struggle against the Russian invasion is an almost black-and-white conflict between liberal democracy and incipient fascist imperialism.
Second, US aid to Ukraine is not wasted or charity. NATO aid to Ukraine is, in fact, reducing the single greatest threat to NATO states – Russia – for a fraction of NATO defense spending, much less a NATO conflict against Russia. US aid to Ukraine is US$60 billion, compared with its annual defense spending of about US$850 billion.
SPEAKING TO AMERICAN IDEALS
Zelenskyy's idealistic call for US support rang of previous American partners in need, most obviously Winston Churchill in World War II. Zelenskyy, like Churchill, spoke of shared values. Both men knew that Americans like to think their national power serves higher ideals like democracy or liberalism, not just narrow national interests. Zelenskyy wisely played to that.
The last several decades have been hard on this American idealism. The war on terrorism in Iraq and Afghanistan went badly off the rails. American power became associated with drone strikes and flailing, unwinnable wars.
Former president Donald Trump played to that rising cynicism, treating American allies as subjects who had to pay for protection and people like North Korea's Kim Jong Un as friends.
Zelenskyy, by contrast, spoke to American ideals reaching all the way back to the revolution against the British. This was smart. Trumpian cynicism is an awkward fit for American ideals, and Zelenksyy spoke to the underlying American craving to be a force for good in world politics. It clearly moved America's legislators, who clapped for him again and again.
REJECTING UKRAINE AID AS "CHARITY"
The Trumpian takeover of the Republican party has pushed traditional American internationalism toward isolationism and a particular sympathy for Russian President Vladimir Putin. Putin intervened in the US 2016 presidential election on Trump's behalf, which Trump has repaid with open sympathy for Putin in the Ukraine war.
More broadly, Trump has pushed the Republican party toward a more authoritarian, religious, and nationalist ideology which mirrors Putin's own beliefs.
This Trumpist sympathy for Russia in the war has manifested itself in concerns about the cost of US aid to Ukraine. Zelenskyy wisely addressed this head on, arguing that it is not charity or being misspent.
Zelenskyy noted on Wednesday that assistance actually serves NATO's purpose of resisting Russian encroachments. There is no reason for NATO to divert resources from Ukraine to prepare for Russian aggression when Ukraine is already contending with that very aggression. For a very small investment and at great cost to itself, Ukraine is dramatically reducing Russia's ability to threaten the West.
In short, it was an excellent speech, delivered in a foreign language no less. Zelenskyy spoke to a deep American desire to be on the right side of history, and he justified why Ukraine should receive US assistance. It is absorbing Russian blows NATO might otherwise face and has earned Western support.
The Trump faction in the Congressional chamber did not clap for the speech, but I imagine their ability to de-fund Ukraine aid was set back by this speech.
Robert Kelly (@Robert_E_Kelly) is a professor of international relations in the Department of Political Science at Pusan National University.