Commentary: Next Ukrainian offensive could bring Russia to negotiating table on Kyiv's terms
A key question is how a cornered Russian President Vladimir Putin will react to Ukraine's recent battlefield successes, notes international security expert Stefan Wolff.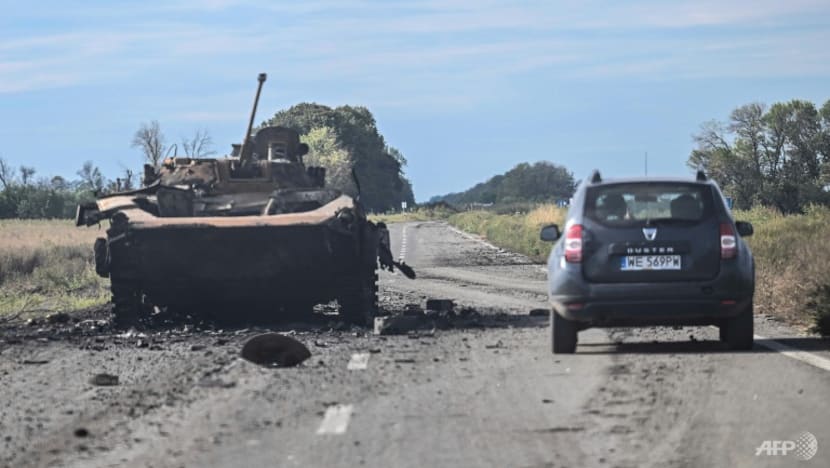 BIRMINGHAM: Since the beginning of September, Ukraine has recaptured about 8,000 sq km of territory previously held by Russian occupation forces, President Volodymyr Zelenskyy said in a Tuesday (Sep 13) evening address.
Most stunningly, the Ukrainian army has retaken large parts of Kharkiv oblast in the northeast of the country, driving Russian forces back across the border into Russia and into Donbas, parts of which Russia had occupied since 2014.
While the events in Kharkiv have captured much of the media's attention, Ukraine's counteroffensive in the south around Kherson continues, albeit without the spectacular territorial gains achieved in the north.
However, Russia appears to struggle to hold its current defensive lines on the right bank of the river Dnipro, particularly because of the effectiveness of Ukrainian strikes against Russian supply lines across the river.
These are important battlefield successes for Ukraine. They boost the morale of the countries armed forces and civilian population, and they prove Zelenskyy and his team right in mobilising the entire country in heroic resistance against Russia's aggression.
Moreover, they send an important signal to Kyiv's Western allies that their military and political support makes a measurable and positive difference.
A CORNERED PUTIN IS A DANGEROUS PUTIN
Yet, a key question arises as how Russian President Vladimir Putin will react to what it is no doubt another major setback in his so-called "special military operation".
For a long time, the view among experts, and among some European politicians, including French President Macron, has been that a cornered Putin is a dangerous Putin.
As Putin revealed in his book First Person, he had a lasting lesson in the meaning of the word "cornered" after he chased a horde of rats around as a child.
"Once I spotted a huge rat and pursued it down the hall until I drove it into a corner. It had nowhere to run. Suddenly it lashed around and threw itself at me. I was surprised and frightened. Now the rat was chasing me."
One of the fears has been that Russia might "go nuclear" if there was a danger of a military defeat in Ukraine. Unlikely though it is, this option remains on the table, including through Russia deliberately causing a nuclear disaster at Europe's largest nuclear power plant in Zaporizhzhia, which has been under Russian control since March and at the centre of fierce fighting for two months now.
But Russia has other options, too, and has exercised them already. Strikes against critical civilian infrastructure in Ukraine have always been part of Russian tactics, but over the weekend Russian missile strikes specifically targeted the Ukrainian electricity grid, leaving four regions without power.
While Putin has already played most of his energy cards, he can still cause prolonged pain to Ukraine and its Western backers, especially as the colder season approaches.
This may cause a renewal of debates in particular in Europe about the need for a deal with Russia. Even if this were the case, the currently stated Ukrainian and Russian positions are too far apart for meaningful negotiations to get underway any time soon.
Moreover, Russian suggestions that the West is not upholding its end of a UN-brokered deal on grain and fertiliser exports points to a potential reinstatement of Russia's blockade of Ukraine's Black Sea ports. This would exacerbate an already dramatic global food crisis and further drive up inflation across many countries.
It is also not completely out of the question that Russia will use other crises, such as the recent violent escalation between Armenia and Azerbaijan to distract from its own difficulties in Ukraine. Instability in the South Caucasus, moreover, would potentially frustrate European efforts to source more natural gas from Azerbaijan and overcome its dependence on Russia.
DESPITE RECENT SUCCESSES, KYIV HAS NOT WON THE WAR YET
None of these options, however, offer Putin a long-term solution to the dilemma that he faces in Ukraine.
The Kremlin has vastly overreached with its aggression and Russia's weaknesses have been exposed for all to see - from the logistical failures early on in the war, to the lack of well-trained, sufficiently equipped, and motivated troops to break Ukrainian resistance, and to the clear superiority of Western-supplied arms and intelligence that have been crucial in Ukraine initially halting Russia's advances and now driving the occupiers back across large parts of a 1,500-mile-long front line.
Despite all the justified enthusiasm about Ukraine's recent successes, Kyiv has not won this war yet. The war may have reached a turning point, but even such an assessment needs to be treated with caution.
Putin has not been defeated yet, and a repeat of the retreat from the Kharkiv region over the past several days should not be taken for granted - especially when it comes to those areas of Donbas that Russia has held since 2014. Here, pro-Russian sentiment is stronger and after eight years of war and occupation alienation from Kyiv reaches deeper. The same applies to Crimea.
What this suggests is that the Ukrainian successes are likely to have reached their limits, at least for now, at the frontlines in Donbas and at the Dnipro river further south.
If this were the case, it is likely that both sides will dig in for the winter and there could be months of pitched artillery battles, attacks on infrastructure and supply lines, as well as increased Ukrainian guerrilla warfare behind Russian lines.
While both sides will use this period of trench warfare to rearm and regroup, Ukraine will be particularly buoyed by continuing Western military aid — something Russia will not be able to match with either Iranian drones or North Korean ammunition.
The real turn of the tide in this war, therefore, may only be the next Ukrainian offensive which could bring Moscow to the negotiating table on Kyiv's terms.
Stefan Wolff is a Professor of International Security at the University of Birmingham.