Commentary: Why everyone is talking about Squid Game and identifying with it
The global hit Netflix series taps into the anxieties and attitudes many of us have experienced during the COVID-19 crisis, says Christian Barker.
SINGAPORE: Imagine if Quentin Tarantino devised a deadly competition to be played on sets from a classic Stanley Kubrick film in costumes designed by a demented Teletubby given free rein in an Adidas factory — and you have Squid Game.
The nine-part series sees several hundred desperate Koreans gradually wither in numbers as they compete at seemingly innocent but high-stakes children's games — where losing means instant execution, but the ultimate prize could guarantee a lifetime of comfort.
Speaking at a conference in late September, Netflix co-CEO Ted Sarandos revealed Squid Game was "number one in the world, like, everywhere in the world".
There's "a very good chance (Squid Game) is going to be our biggest show ever," he added of the show, which at the time of this commentary's writing, had been watched by more than 111 million households worldwide, according to Netflix's claims.
With a cast featuring local stars Lee Jung-jae and Lee Byung-hun, it was little surprise Squid Game became Netflix's most streamed show in Korea within 48 hours of release. More remarkably, the show also rose rapidly up the charts in numerous other countries, taking less than a week to hit number one internationally.
SQUID GAME REFLECTS OUR COVID-19 GAME OF LIFE
That a Korean television series has ascended swiftly as one of the "must watch" shows across the globe should hardly come as a shock.
Considering Bong Joon-ho's Best Picture win for Parasite at the Oscars last year, and with the likes of BTS and Blackpink dominating music charts internationally, it's clear: This is the era of Asian soft power.
With the silver screen and radio waves conquered, it was only a matter of time before the Korean influence arrived on our televisions. Yet it's too simplistic to think this was a lucky stroke, riding on viewers' superficial awareness of K-culture.
There is something about Squid Game's theme of personal struggles and unlikely friendships against the backdrop of massive uncertainty and impossible tasks that is striking a chord in these pandemic times.
It's certainly not the kind of show you would watch to indulge in escapism from our COVID-19 reality.
Like contestants in Squid Game's fierce competition, over the last 18 months, people around the world have been locked up for an interminable period, fearful that any day they could be terminated (from their jobs), while also terrified of a deadly coronavirus.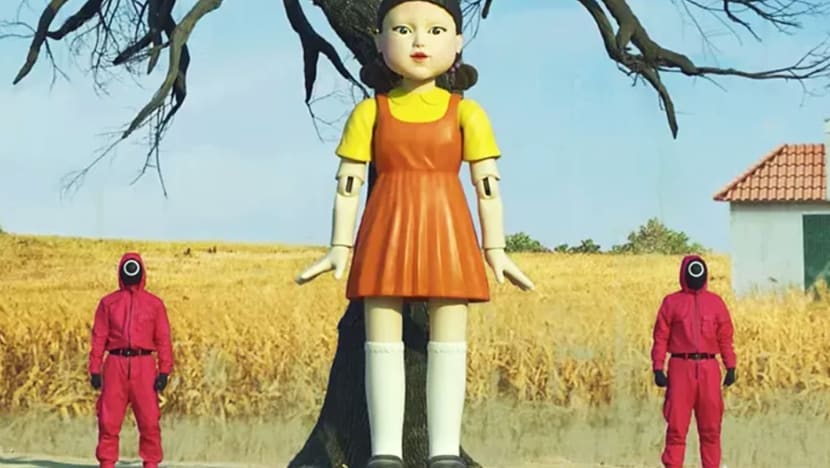 Maybe we see our omnipresent COVID-related worries about what tomorrow will bring reflected in the idea that players in Squid Game have no clue what game they will play next or what fate will befall them.
Or maybe the idea that being well endowed for the next game, with strength, speed or even skill might not be enough to progress to the next stage resonates when we still feel stuck with COVID-19 rules on work, leisure, travel and life in general, despite high vaccination rates.
But the message of hope the show offers in moments when some players choose to be kind and selfless, setting aside their fears to work together and are rewarded is welcomed.
Comforting stuff, for a world wearied by the pandemic and yearning for human connection.
POWERFUL, TIMELESS NARRATIVE OF THE PURSUIT OF MATERIAL WEALTH
So perhaps timing the release with the peak of our COVID-19 fatigue was pivotal to Squid Game's popularity. And yet somehow director, writer and producer Hwang Dong-hyuk is tapping into a more powerful, timeless narrative with a flawed hero at its core.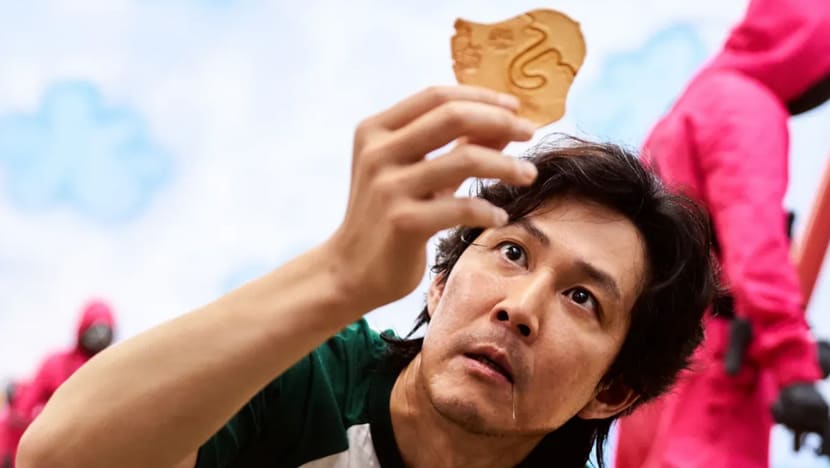 "I wanted to write a story that was an allegory … about modern capitalist society (and) the extreme competition of life. But I wanted it to use the kind of characters we've all met in real life," Hwang Dong-hyuk said in an interview with Variety magazine.
These themes of downward mobility and inequality were also at the heart of Parasite and Bong's earlier movie Snowpiercer, depicting the pain of poverty and loss.
The economic anxieties that have plagued many Koreans for a decade or more find common ground worldwide today. With extensive downsizing and businesses failing due to the effects of COVID-19, millions have suffered reduced income, lost employment or laid awake at night, anxious the axe is about to fall.
But is that jackpot at the end of this catastrophic rainbow the solution to our woes? Not really, according to Squid Game's elite few. They find this desperate fight for material wealth amusing, because they grasp just how hollow and unfulfilling it is.
As the organiser puts it in the final episode: "Do you know what someone with no money has in common with someone with too much money? Living is no fun for them."
Perhaps like contestants in the show, this pursuit of success can feel like a technicolour joke, with all of us walking around in brightly coloured, endless Penrose staircases to the tune of the Blue Danube after every round.
How far can passion go for Singapore filmmakers when cinema showings have plummeted and filming greatly challenged by COVID-19? Veteran filmmakers tell us on CNA's Heart of the Matter podcast:
WE ALL FEEL LIKE PLAYERS IN SQUID GAME
Then again, the dystopic competition category of movies is something we're already well acquainted with, after watching the Hunger Games and Westworld.
So what sets Squid Game apart? Doesn't it feel similar to recent Asian survival genre films like Alice in Borderland?
Indeed, Hwang readily admitted to Variety he was inspired by Kinji Fukasaku's 2000 cult classic movie Battle Royale and its source manga material, where a group of school-uniformed Japanese teens are forced to viciously fight to the death.
But he wanted Squid Game to be more character-driven and focused on their journey.
Enter Seong Gi-hun, the deeply flawed protagonist and unlikeliest of heroes. A degenerate gambler who steals from his mother and heartbreakingly fails his daughter, he's nevertheless a sympathetic character. Part of the reason we can't stop watching the show is because we're rooting for him — while constantly wondering whether he's capable of redemption.
Does he make it? If you haven't managed to catch the show thus far, we won't spoil the ending for you. Suffice to say, despite their newfound wealth, the "winner" is left an empty, traumatised shell of their former self after the games conclude.
And perhaps this is the message at the heart of Squid Game – that even when you complete the rat race successfully, the guilt of knowing the high cost of competing hangs heavy. Equally, the guilt of participating of your own free will leaves a scar.
As the game organiser points out in the final episode, highlighting the role of self-determination in the game of life: "I never forced you to play. It was your choice."
Christian Barker is a Singapore-based journalist and editor who covers luxury, travel, business, culture and men's style.