Commentary: Even car makers think buying an electric vehicle is starting to look like a good idea
Tesla's recent US$1 trillion market capitalisation is a sign of broader shifting sands in the electric vehicle market, says NTU's Clive Choo.
SINGAPORE: 2021 may well be the year the electric car turned a corner.
The share price of iconic electric vehicle (EV) maker Tesla soared 13 per cent in one day in October, after Hertz reportedly ordered 100,000 Model 3 cars in a deal that catapulted Tesla's market capitalisation to more than US$1 trillion.
There are broader promising signs of this accelerating growth given a year-on-year global growth in the first half of 2021 of 168 per cent, according to the Electric Vehicle World Sales Database.
The global electric car market has been growing exponentially, with an estimated 16 million to be in operation by end-2021.
China, Europe and the US are leading this revolution with a combined market share of 94 per cent for the first half of 2021.
These trends are reflected in Singapore which registered 487 Tesla cars sold between July and September, a surge compared to the 30 sold in the first six months of 2021, despite costing more than three times as much as in the US.
But at a modest market share of 1.4 per cent of total new cars registered in Singapore this year, this EV growth has also gotten started.
BREAKTHROUGHS WITH GOVERNMENT ASSISTANCE AND COMMERCIAL DEALS
EV technology has hit a threshold that should allay concerns from drivers of internal combustion engines (ICE) cars.
Today's battery technology allows a driving range of 1,000 km and a charging speed of five minutes to reach 80 per cent of full capacity at the top end of the EV market.
Two to three years will be needed before such battery technology becomes mass produced. Most EVs require at least 30 minutes charging time currently.
Those with range anxieties and concerns over the accessibility of battery charging points should be assuaged with the average range of over 400 km per full charge.
The outlook for the global EV industry will only get brighter. Government assistance to roll out a comprehensive charging infrastructure underway around the world will accelerate the pace of the development of EV market.
An infrastructure stimulus package unveiled by China in 2020 earmarked US$1.4 billion, with plans for more fast-charging points in suburban locations.
A slew of EU legislation like the Energy Performance of Buildings Directives requires real-estate owners to install at least one EV charging station in their properties.
WATCH: Electric cars vs petrol car - costs, performance, emissions and range.
The rise of the EV is also heralding a new age of competition in the auto industry.
Tesla aims to roll out cutting-edge products and quality service with company-owned manufacturing plants, sales offices and service centres to offer white-gloved EVs, while Volkswagen works through a network of appointed distributor, dealers and makers that also manufactures competitors EVs to achieve economies of scale.
By 2026, Volkswagen plans to integrate all EV manufacturing into one platform, achieving cost savings in production, improved efficiencies in battery tech and better electronics systems.
In its New Auto 2030 presentation in July, the company has said it sees EVs reaching price parity with ICE cars by 2025 and forecasted that half of their vehicle sales will come from EV by the end of this decade.
Similarly, Nissan targets for half of all sales to come from EVs and hybrid vehicles by 2030.
Japanese car makers Nissan, Mazda and Toyota have taken a more cautious approach, preferring to continue using their tried-and-tested just-in-time and flexible manufacturing methods to keep production costs low while keeping a close watch on the EV market.  
Others, like Hyundai, are making small steps. The company has begun construction of a 28,000 sqm EV plant in Jurong Innovation District, geared towards supplying Singapore's growing EV market as the city-state moves towards having all vehicles run on clean energy by 2040.
Bloomberg and McKinsey have suggested a similar timeline for when electric cars make a sensible economic choice over ICE vehicles.
THE GREEN PUSH FOR EVS
Coming on the end of the biggest global climate conference COP26 in Glasgow, the push for EVs is also in sync with larger, undisputable forces pushing for decarbonisation for the long term.
Singapore is one of the 30 or more countries to support the Paris Agreement, with EVs playing a big part in Singapore's Green Plan.
Land transport makes up over a tenth of Singapore's total emissions today and phasing out ICE vehicles by 2040 is a key goal. Having a robust charging infrastructure are critical to realising these ambitions.
The Netherlands, with its long traditional of environmentalism, high petrol prices and tax breaks, had a headstart and today is upheld as a EV success story, with one of the highest proportions of electric cars on the road at 170,000 units, and one in five of new cars sold annually being an EV.
This is matched by the country's 75,000 charging stations - one-third of the total EU's charging stations – with 190,000 households have their own charging ports.
Others are following the Dutch play. In view of becoming a climate-neutral continent by 2050, the European Commission expects at least 30 million EVs on the road by the end of this decade. A 2020 stimulus package aims to develop 1 million charging stations for EVs and hydrogen-powered cars by 2025.
That same story is finding traction in the US, after the passage of a contentious Infrastructure Bill that allocates US$7.5 billion for a nationwide network of EV charging stations. Billions of capital investment have also been parked aside by players like Volkswagen and construction engineering Black & Veatch to turbocharge this effort.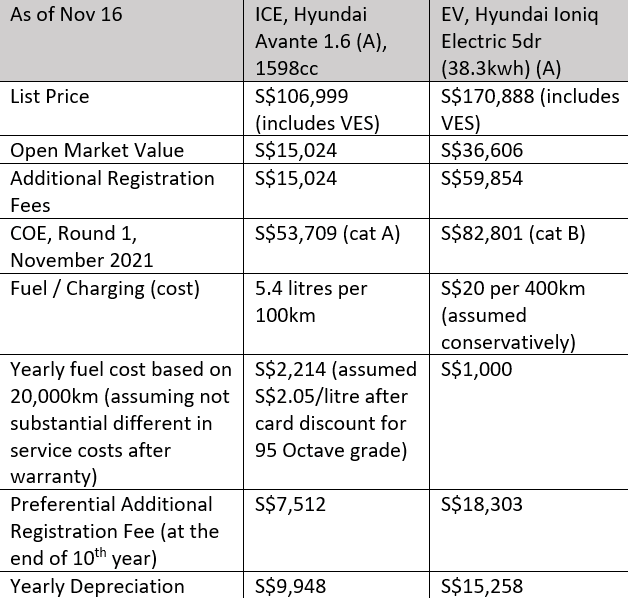 COSTS OF EV OWNERSHIP IS UNCERTAINTY
Climate action aside, car owners should already be seriously considering buying a EV when their Certificate of Entitlement (COE) runs out.
Even today, the ownership economics of EV and ICE cars will reach parity over time. Though the retailing price of an EV is greater than an ICE car, they pay off with lower running costs of ICE cars.
With the Vehicular Emissions Scheme, coupled with the Electric Vehicle Early Adoption Incentive, buyers can enjoy maximum combined cost savings of up to S$45,000 today if they purchase a new, fully electric car.
Singapore can continue to let consumer EV adoption find its footing. With an estimated 60,000 charging points in Singapore by 2030 based on the assumption that one-third of the cars in Singapore will be EVs, Singapore will not suffer the common pain point of insufficient charging points found in other parts of the world.
But if it wants to increase the EV population, a combination of incentives such as the lowering of road tax, import duty for EV and tweaks to the COE system will be needed to nudge car drivers.
Singapore also needs to consider how the restructuring of the matured ICE industry can be accelerated.
About 4,000 small- and medium-sized enterprises in the motor car industry including businesses involved in car insurance, sales and distribution, maintenance and servicing workshops, spare parts and petrol kiosks will be affected if the demand for ICE vehicles is reduced significantly.
Tesla's stock price surge may be a bubble. A few days after Hertz's announcement, Elon Musk clarified the deal was not yet finalised. But it doesn't negate the shifting sands underway in the car industry that's making the electric vehicle a clearer choice for consumers.
If plans to ramp up charging points remain on track and assuming carmakers can get manufacturing costs down further, the promise of more EVs and a cleaner environment can be expected.
Dr Clive Choo is a Senior Lecturer in Strategy with Nanyang Business School, NTU.