Commentary: Even with reopened borders, guilt holds us back from holidaying abroad
Work has never been more intertwined with our lives, and if we do go on break, many of us feel bad our teammates have to pick up the slack, says Expedia's Lavinia Rajaram.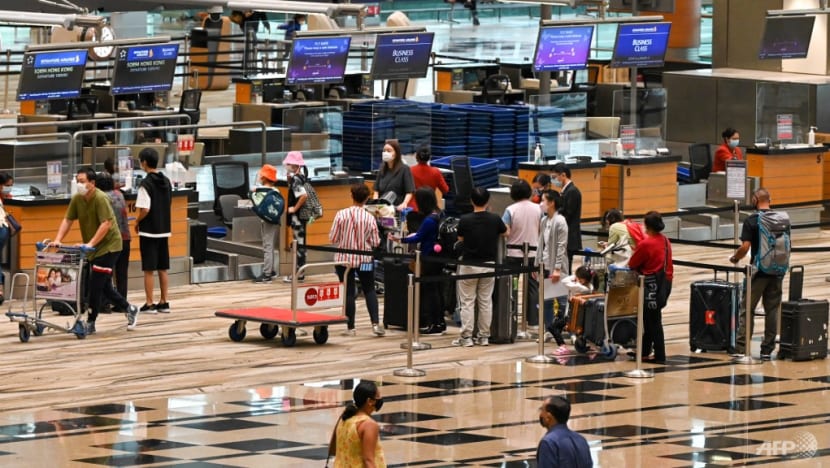 SINGAPORE: Leisure travel is finally resuming, with Singapore reopening its borders to allow fully vaccinated travellers to enter quarantine-free under a vaccinated travel framework since Apr 1.
With five public holiday long weekends in 2022 and six in 2023, the sense of excitement about being able to travel like in pre-pandemic times should be bubbling up. Demand for overseas tours has doubled since, ahead of the upcoming June school holidays.
But some of us may be feeling a sense of inertia when it comes to planning for the next overseas holiday. There's sure to be some lingering travel hesitancy, as popular travel destinations continue to register minor surges of COVID-19 cases.
We may also not know how to unplug entirely from work in the new normal. After all, working from home the past two years has not only caused our lives to be more intertwined with work, it has also made workplace dynamics fluid and uncertain.
With the disruption caused by the Great Resignation Wave, team members had to take on new responsibilities. The need to shoulder more work means many employees can't catch a break. Workers in Singapore took 12 vacation days in 2021, a drop from 15 vacation days in the year before.
And when we do go on break, many of us feel bad that our teammates have to pick up the slack. According to a 2021 study by online travel company Expedia, 54 per cent of participants felt guilty for relying on their co-workers while on vacation, and 48 per cent felt the need to apologise for taking time out to go on a vacation.
This is all despite 73 per cent of participants saying their employer is supportive of them taking vacation time.
Many of us have not stepped away from our co-workers, except for COVID-19-related isolation or medical care. We all probably know someone who continued to log on to emails while unwell.
So how can we overcome our own hesitation over going on a break, now that travelling abroad is easier than ever?
THE STRUGGLE TO UNPLUG IS REAL
Those who go on vacation may find it difficult to set clear boundaries for meaningful breaks and are often occupied with work. 57 per cent of Singapore working adults surveyed said they usually bring along their work laptop while half would frequently join Zoom calls while on vacation. 
This points to unspoken expectations between employees and employers, giving rise to an unhealthy culture where vacations are seen as a luxury instead of a necessity for well-being. Or could it be we see ourselves as indispensable to the team?
What is clear is that most of us need rest after two tough pandemic years. In a survey conducted by software company Oracle, seven in 10 Singapore residents said 2021 had been the most stressful year at work for them, with more than half struggling with their mental health compared to the year before.
Expedia found 82 per cent of Singaporeans were burnt out from work in 2021, with this figure being 90 per cent for those holding first responder roles. 
Those who experience burnout not only go through physical and mental exhaustion, but also face a drop in motivation levels, productivity and detachment from their professional and personal responsibilities. 
THE CASE FOR UNINTERRUPTED REST
A weekend staycation can offer some respite from the everyday grind, but the temptation to check emails or inadvertent intrusion from work chat groups may interfere with much-needed rest and family time.
To get an uninterrupted break from work, many may prefer to travel overseas. Compared to a local staycation, a foreign environment could provide that mental separation that delineates  personal life from work, creating space to fully unwind.
Planning a trip abroad might seem daunting with the extra steps of pre-flight testing and preparing vaccination documents for certain destinations. However, the research into accommodation, restaurants and things to do could not only be enjoyable in itself, but could also give anyone something to look forward to outside of work.
Even though working adults in Singapore might not act on it, they believe in the benefits of a well-deserved break. Ninety-one per cent consider regular vacations important for general health and well-being, and 80 per cent said that they have a more positive attitude towards work after a vacation. 
And for those who can, a longer break (say, a week or more) can make it easier to disconnect – or at least more challenging to deal with work matters, forcing us to be more selective when we do.
Regardless of duration, what is key is to take the time we need to recharge, for our personal and professional well-being.
OVERCOMING THE HURDLE OF GOING ABROAD
If you are among those who feel guilty about taking a long break away from work, here are a few ways that can help you overcome that hurdle to start planning for your next big holiday.
First, plan your breaks and vacations in advance. Not only does this help you plan your time well, but it also creates uplifting milestones you can look forward to on the horizon.
As restrictions on international travel continue to ease, you can look forward to an increasing number of international travel options in the Asia Pacific region and beyond.
Second, schedule in your vacation time and communicate them to your support system. To be able to disconnect, it is important that your co-workers, family members and caregivers are aware of your plans and when they can contact you should the need arises.
Set up a clear out-of-office contact structure, so people who wish to reach you can still be attended to without you having to check your emails or messages.
Finally, hand over your work responsibilities to co-workers in advance. It is tempting to leave handing over till the very last minute as workloads can be in constant flux. However, no one appreciates being saddled with additional work responsibilities without enough time to react.
It is important to communicate the responsibilities you wish to hand over to your co-workers as soon as you can, and update them if details change to avoid any unpleasantness before flying off.
And if gallivanting abroad is simply not on the table with your current work situation, just remember that you don't have to travel out of the country for a mental break.
Eighty-four per cent of Singaporeans surveyed said that they felt just as rested when they use the time off in ways that did not require them to travel. Carve out the time to reconnect with family and friends, try a new restaurant or visit a local attraction.
Our minds and bodies deserve a breather after a challenging 2020 and 2021. Taking our first post-pandemic holiday might help us emerge better rested to tackle the rest of 2022, and our loved ones and colleagues might appreciate us all the more for it.
Lavinia Rajaram is Asia Head of Public Relations, Expedia Group.
Listen to Lavinia Rajaram and two other guests discuss what's behind hesitant public attitudes towards travel: