Commentary: Healthcare workers are at their breaking point but most don't want to quit
Leaving one's job in healthcare is akin to walking away from your mentor, band of brothers and life as you know it, says psychiatrist Dr Lim Boon Leng.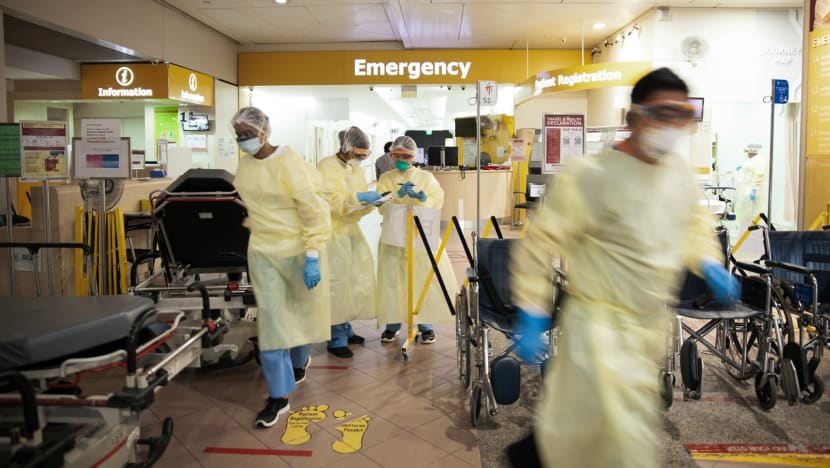 SINGAPORE: Legend has it that a medical officer, who could no longer tolerate the incessant beeping of the hospital pager during a night call, dumped the pager on the pantry table, left the hospital in a huff and was never to be seen again.
Although such urban legends may be hyperbolic in nature, the stress and consequent burnout encountered by medical staff are nothing but.
The high risk of burnout – defined by the World Health Organization as "resulting from chronic workplace stress" – in medical frontliners has been well documented, especially in the context of the ongoing pandemic. In late February, an Instagram post by The Honest Healthcare Worker made its rounds online.
Written in response to Minister Gan's Feb 16 remarks that Singapore's healthcare system "remains stable and has been able to cope with infections", it said nurses and doctors are not coping well. With restrictions on taking leave, more are feeling the pressure and quitting, leading to a real manpower crunch in hospitals.
Moreover, a study by the Institute of Mental Health, published in July 2021, found that primary care doctors felt higher rates of anxiety, depression and burnout than before the pandemic.
As a psychiatrist, I have seen a worrying trend of not just nurses and doctors, but also administrators and allied health professionals, seeking help for burnout and emotional difficulties triggered by the overwhelming stress that their work has brought them in these uncertain times. 
PERSONAL AND PUBLIC COSTS OF HEALTHCARE WORKER BURNOUT
The consequences of burnout can be deadly. Inflicted healthcare workers are more likely to develop serious mental health issues like substance abuse, depression and anxiety disorders. A US study published in 2020 found burnout to be associated with suicidal ideations and an increase in suicide rates for physicians.
The resultant cynicism about work and lowered morale compromise productivity and patient care. Burnt out healthcare professionals are more likely to make medical errors, be careless about patient safety and deliver poor service. A local 2017 study found Singapore doctors scored lower in empathy towards patients because of burnout.
It also leads to work absenteeism with remaining staff expected to step up and do more, which also puts them at risk of burnout.
But healthcare workers do not quit easily as they have spent a long time studying and training to become a professional. As medical practice is very much an apprenticeship, leaving one's job in healthcare is akin to walking away from your mentor, band of brothers and life as you know it.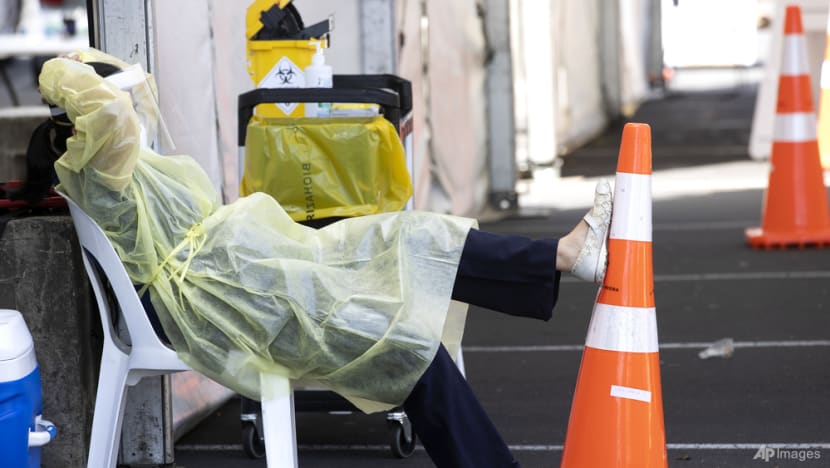 However, some may really see no hope. They fear the relentless waves of cases and dread the loss of control over their workload. With no end in sight, they may perceive quitting as the only way out.
Most will look to rejoin the medical fraternity after a period of rest, in another clinical setting. But a few of my patients found they had lost their confidence and were too anxious about or dreaded the overwhelming workload.
They eventually decided an indefinite break or change in career would be a better choice.
A high turnover of trained medical staff will no doubt result in huge economic costs not only to hospitals but society at large as it takes a long time and high financial cost to train medical professionals.
About 1,500 healthcare workers quit in the first half of 2021, compared to 2,000 annually before the pandemic. This puts remaining workers under more pressure, as select clinics extend operating hours to serve the high volume of COVID-19 patients.
MORE HEALTHCARE WORKERS SEEKING HELP
In my practice, there has been an obvious increase in healthcare workers across a wide range of fields and seniority seeking help.
By that time, their conditions have often progressed beyond burnout and are already of significant severity. Many were suffering from depression and anxiety disorders and required medication.
It's worrying that this might only be the tip of the iceberg as many would not come forward. They might fear being diagnosed with a psychiatric disorder that they are obliged to report to their respective professional bodies, jeopardising their license to practise.
How are Singapore hospitals dealing with an unprecedented COVID-19 surge? Listen to CNA's Heart of the Matter:
Burnout is reversible and preventable. In my experience, even the most extreme of cases benefit from rest and time away from work.
Contrary to common belief, healthcare workers who seek help are not looking to obtain medical leave and are instead reluctant to be a burden to their teammates. I often have to coax, coerce and even guilt-trip them with the help of loved ones to get them to take some time off. 
We healthcare workers must let go of our narcissistic belief that we are indispensable. We must learn to ask for and accept help and step back when we can no longer cope.
Timely interventions with counselling, therapy and, in more serious cases, medication will help many get back on their feet. Once better, most workers will quickly return to their posts to continue the battle with their comrades.
HOSPITALS AND CLINICS ARE ADDRESSING BURNOUT
Prior to COVID-19, the medical fraternity had adopted preventive measures by limiting working hours and the number of night calls that junior doctors can have. Colleagues working in the public hospitals, which have taken the brunt of the COVID-19 crisis, tell me that more is being done presently.
Staff training and education on burnout have been beefed up and access to counselling services has been made available.
The key to reducing burnout among healthcare workers lies in decreasing the load on our healthcare system. The public can play its part by getting their vaccinations and boosters, observing safe distancing rules and following Ministry of Health protocols if infected with COVID-19.
I was a junior doctor during the SARS outbreak in 2003. Even in the face of a much more lethal infectious disease, I witnessed our healthcare fraternity standing steadfast firsthand. Nobody threw in the towel (or hospital pager) and nobody abandoned their posts.
It is perhaps this culture of resolve which ironically worsened burnout for our healthcare workers, as the pandemic drags on.
To acknowledge burnout among our doctors and nurses is not to criticise the current state of affairs, but to accept that they are not superhumans and that the system isn't infallible.
Only by acknowledging this vulnerability, taking steps to prevent and remedy it, can we further strengthen the resilience of our medical corps and successfully navigate the current crisis.
Dr Lim Boon Leng is a psychiatrist at the Gleneagles Medical Centre.