Commentary: No shortage of drama and excellent football at Women's World Cup
The Women's World Cup has been enjoyed and analysed on its own merit, rather than subjected to comparisons with men's football, says writer Adam Hancock.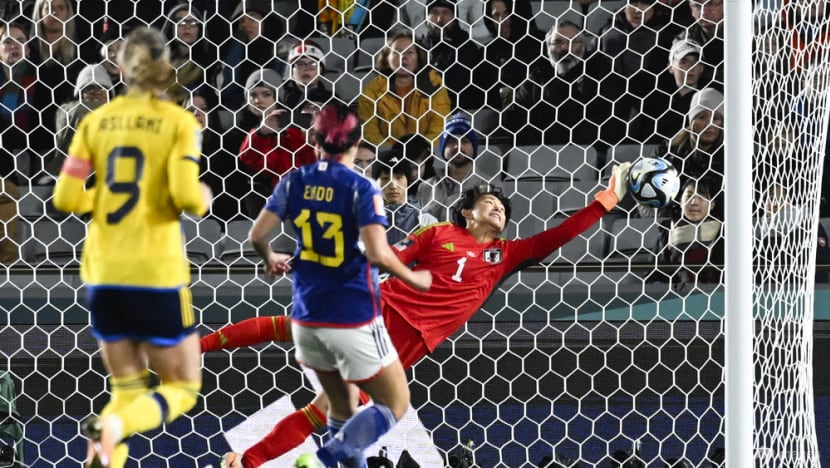 SINGAPORE: "Football is back," read a post on my social media feed as the English Premier League kicked into life last weekend.
In Singapore, football fans eagerly watched the Aug 2 preseason friendly between Liverpool and Bayern Munich, and in the preceding days, games between Liverpool and Leicester City, as well as Tottenham Hotspur and Lion City Sailors.
But perhaps fans have not been paying attention to an even bigger tournament. For over three glorious weeks, the Women's World Cup has been delivering dramatic storylines, unbearable tension and pure emotion.
Put simply, it's the beautiful game in its finest form.
I've been lucky enough to spend a decent chunk of time in Australia during this tournament, witnessing firsthand how a nation has become wrapped up in its quest to lift the World Cup.
From the shopkeeper who spent five minutes explaining to me why Australia captain Sam Kerr was missed at the Jul 27 match against Nigeria, to the thousands of supporters packing into fan zones for the Matildas, this festival of football is elevating the women's game to the next level.
NO MORE LAZY STEREOTYPES
Refreshingly, the lazy stereotyping around women's football has been absent from this World Cup.
Instead, the action has been enjoyed and analysed on its own merit, rather than subjected to constant comparisons with the men's game. The ever-increasing standard of women's football has certainly helped to even the playing field.
There's an infamous clip of two football pundits laughing on live television at highlights of the 1998 Women's FA Cup final between Arsenal and Croydon.
It's a scene that is almost unimaginable today. The 1998 final was littered with mistakes, poor goalkeeping, mis-hit shots and physics-defying deflections. What we are witnessing at this World Cup is, quite literally, a different ball game.
I may be a biased Englishman, but the Lionesses' 6-1 dismantling of China in the group stages was a fantastic example of how good women's football can be.
Some of England's goals were nothing short of sensational, with Lauren James showing what she can do with her feet when she's not sticking them into the back of Nigerian defender Michelle Alozie.
And if you're still doubtful about the standard of women's football, then please go and watch Marta Cox's free kick goal for Panama against France.
I sat stunned in the Sydney Football Stadium as her shot struck the back of the net. It's easily the best goal that I have ever seen in the flesh.
EVENLY MATCHED TEAMS
Panama were one of a number of teams making their World Cup debut in Australia and New Zealand. These debutants have demonstrated how women's football is becoming more of a global sport, with the narrowing gap between newcomers and historically successful teams.
Jamaica made the last 16, including a very creditable draw with France whilst Morocco overcame a 6-0 defeat to Germany to qualify for the knockout stages.
The Germans, ranked number two in the world before the tournament, packed their bags after crashing out from the group stage.
With teams becoming more evenly matched, the tournament has been filled with shocks, with perhaps the biggest of them all being the sudden exit of the US women's national team.
The former queens of world football were the width of a post away from crashing out in the group stages, before they were eliminated in the last 16 instead.
The end of their dominance means that a brand-new name will be engraved on the World Cup trophy on Sunday evening.
The sheer drama throughout the games has had me gasping audibly, which I have not done since the World Cup in Qatar. Trust me, if you enjoyed that tournament, then you will love this one.
You may also be interested in:
ENGAGING WITH WOMEN'S FOOTBALL
Of course women's football is a different game to the men's version, but it's still football and I see no reason why both can't be enjoyed. And, if you're from Asia, then there are even more reasons to watch the world's best women compete.
Japan, South Korea, China, Vietnam and the Philippines were all at this World Cup, while only Japan and South Kore were present in Qatar for the men's tournament.
No Asian team has ever won the men's World Cup, unlike the women's tournament where Japan claimed top spot in 2011.
The women's game is in a healthy spot right now in Asia, and more needs to be done to capitalise on it.
Take the situation in Singapore. The latest failure of the men's national team often results in an island-wide postmortem of the state of the game, but why do we not hear more from the Lionesses?
Marketing is important too. The bunting was hung out for the arrival of Liverpool and Tottenham Hotspur for high-profile, but ultimately meaningless friendlies at Singapore's National Stadium.
Whereas advertising for the Women's World Cup has been much more low-key. Granted, Singapore is not at the tournament, but this is an opportunity to engage a new generation of female players, especially with the success of nearby nations.
Exposure remains key. Take the French women's World Cup advert that went viral ahead of the tournament.
It cleverly edited famous French male players over footage of stars of the women's team. It tapped into people's misconceptions about the gulf in quality between men's and women's football, instead showcasing just how skilful women can be.
Football fans are fickle by nature, but we all know good football when we see it and I've seen plenty in the last few weeks.
Adam Hancock is a freelance journalist who covers Singapore, Australia, and the wider Asia-Pacific region.