Commentary: North Korea is determined to make East Asia more dangerous
North Korea is increasingly brazen about violating South Korean and Japanese territory, which could eventually provoke a strong counter-response, says Robert Kelly.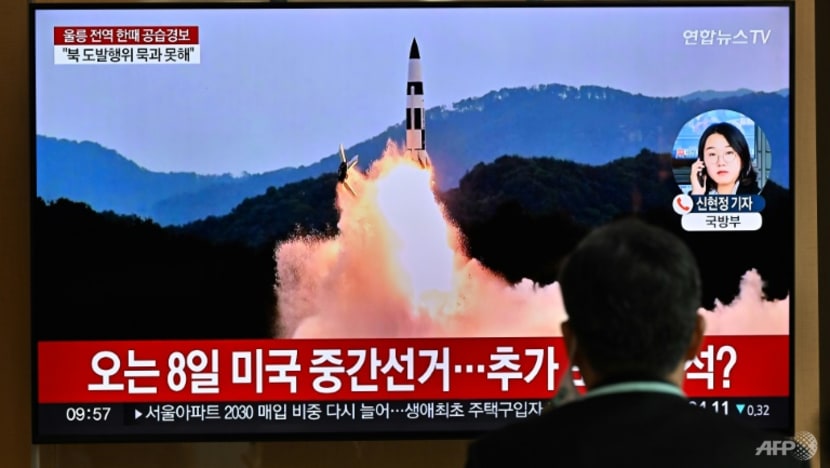 BUSAN: North Korea's pattern of missile tests this year has been aggressive and relentless. On Nov 2, it fired at least 23 missiles into the sea, the most it had fired in a day. One landed off the coast of South Korea for the first time.
The missile tests over the past few weeks have been of multiple ranges, from short-range, regionally intended weapons, to heavy, intercontinental ballistic missiles for striking the United States.
This has attracted global attention. In a joint press conference on Nov 3, the US secretary of defence and the South Korean foreign minister declared that North Korean nuclear weapon use would lead to the regime's destruction. Such remarks are unprecedented.
WHY ALL THESE TESTS NOW?
Much of the debate has turned to why North Korea has suddenly accelerated its testing schedule.
There are several possible reasons. First, the US and South Korea are conducting major military exercises at the moment. These traditionally activate a North Korean response; the North calls the drills practice for an invasion.
South Korea has also inaugurated a new conservative president who is far more hawkish on the North than his predecessor, which could have provoked more robust tests this round.
It is possible that the North wishes to remind us that it is still relevant, a potential spoiler which demands attention and respect. The missile tests came as international players were preoccupied with domestic events, with the US gearing up for the Nov 8 midterm elections and China holding a major party congress in October.
The administration of US President Joseph Biden has devoted little effort to North Korea – unlike his predecessor Donald Trump. The North may be seeking to refocus US attention on itself, because the US has led crippling sanctions against Pyongyang, which it desperately wants rolled back.
When former president Trump met North Korean leader Kim Jong Un, Kim's primary goal was to lift sanctions. He offered Trump very little though at Hanoi in 2019 – and Trump turned down the deal.
With the failure of negotiations, the North likely reckons that another way to break the economic cordon around it is to punish the US and other sanctioning states with tests and threats.
The Biden administration has indicated a willingness to talk with North Korea, but Pyongyang has rejected that. It seems to have doubled down on a coercive diplomacy strategy – bludgeoning South Korea, Japan, and the US with so many missile tests, and possibly a nuclear test, that the three allies feel compelled to make concessions to avoid escalation.
In the medium term, all these tests – both of missiles and potentially nukes – also serve the regime security of the Kim family. North Korea's conventional military, while large, is technologically outdated compared to the US and South Korea.
The conventional balance is slowly turning against the North, so missiles – which are hard to defend against – and nuclear weapons help shore up deterrence and inhibit any US preemptive action.
GROWING DISREGARD FOR SOVEREIGNTY OF NEIGHBOURING STATES
All this interpretation of North Korea's actions – what is it trying to tell us with these tests? – is familiar. North Korea has long launched missiles near the inter-Korean border and otherwise engaged in provocations.
But these recent tests have added a new element – a brazenness about violating Japanese and South Korean air space.
Last week's missile tests encroaching on Southern waters for the first time provoked South Korean President Yoon Seok-yeol to term the launch a "territorial invasion". South Korea fired missiles in response.
Last month, North Korea fired a missile over Japan without warning – a blatant violation of sovereignty. It attempted to do so again last week, although that test failed.
The concern here is over a misfire or flight failure. Last week's failed missile broke up before it neared Japan, while last month's successfully cleared the archipelago. But if a missile were to fail over Japan itself, the debris field might land on the country and kill people.
It is unclear what Japan would do in response. There would be political pressure for counterbattery fire, and even if that were not to occur, a major Japanese defence build-up, complete with an extensive missile force to strike North Korea rapidly, would likely ensue.
The same logic applies to South Korea, where there has long been anxiety that North Korea would test a missile southward, flying over South Korea itself. Any casualties from falling debris would provoke a peninsular security crisis. Worse, both Japan and South Korea might mistake a missile test for an actual attack and respond in kind.
And if all that were not enough, this spate of North Korean missile launches may well be laying the groundwork for an even more provocative nuclear test – rumoured for this year. North Korea has not tested a nuclear weapon since 2017.
There is burgeoning discussion in South Korea about counter-nuclearisation to compete with North Korea nukes. Seventy per cent of the South Korean public supports this option, and that number would almost certainly rise if a nuclear test caps this year of provocations.
COUNTER-RESPONSE FROM SOUTH KOREA AND JAPAN
North Korea is escalating tensions in new ways – with more frequent and reckless missile tests, and possibly a nuclear test. To date, South Korea and Japan have relied on their US alliance guarantees for security and not responded with their own missilisation and nuclearisation.
But this will not continue indefinitely. South Korean and Japanese cities are naked against a North Korean missile strike.
If North Korea will not stop its relentless build-up – and it shows no sign of doing so – it will eventually provoke a counter-response from South Korea and Japan, including increasingly radical options like quarantining North Korean ships or developing their own nuclear weapons.
North Korea seems determined to make the region more dangerous.
Robert Kelly (@Robert_E_Kelly) is a professor of international relations in the Department of Political Science at Pusan National University.