Five supermarket chains to accept CDC vouchers with launch of new S$300 tranche
The supermarkets that accept CDC vouchers are HAO Mart, NTUC FairPrice, Prime Supermarket, Sheng Siong and U Stars Supermarket.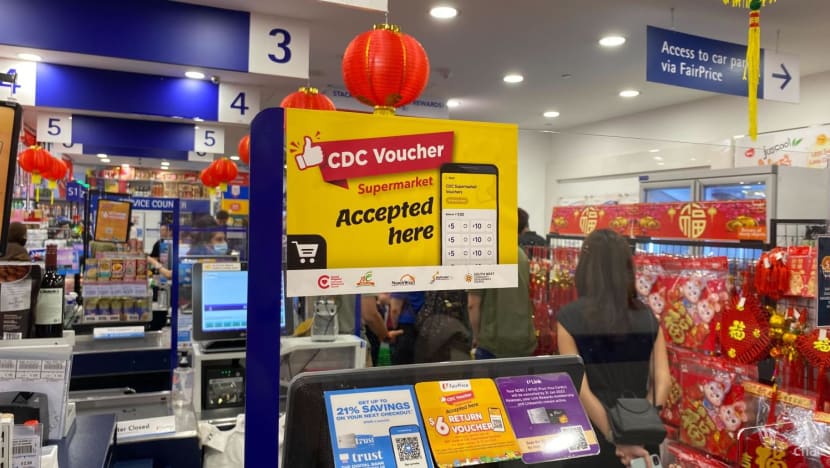 SINGAPORE: The latest tranche of Community Development Council (CDC) vouchers worth S$300 was launched on Tuesday (Jan 3), half of which can be used at five participating supermarket chains.
These are HAO Mart, NTUC FairPrice, Prime Supermarket, Sheng Siong and U Stars Supermarket.
Among the S$300 CDC vouchers issued to each Singaporean household this round, S$150 can be used at these supermarket outlets, while the other S$150 can be spent at nearly 20,300 participating hawkers and heartland merchants. 
The addition of supermarkets in this tranche of CDC vouchers will provide Singaporean households with greater convenience and choice for their daily essentials, said CDC and the People's Association in a joint media release. 
Residents can find the list of participating hawkers, heartland merchants and supermarkets on the CDC website. The latest round of CDC vouchers will expire on Dec 31, 2023. 
HOW TO CLAIM YOUR CDC VOUCHERS
1. Visit go.gov.sg/cdcv and click on the "claim" button under CDC Vouchers 2023. 
2. Log in with Singpass and confirm your details to receive your vouchers. Only one member of the household needs to do this on behalf of the household. 
3. An SMS from RedeemSG will be sent to the claimant's registered mobile number with a unique link.
Forward the SMS to your household members, who can then access the vouchers by clicking on the link. 
To guard against scams, take note that this unique link must begin with https://voucher.redeem.gov.sg.
HOW TO SPEND YOUR CDC VOUCHERS 
1. After clicking on your unique link provided, select which vouchers you want to use. The different vouchers have been denoted by colour. Teal represents the vouchers for hawkers and heartland merchants. Yellow represents the vouchers for supermarkets. 
2. Select the amount you wish to spend. Then click "show voucher". 
3. Show the QR code to the shop staff, who will then scan it to complete your payment.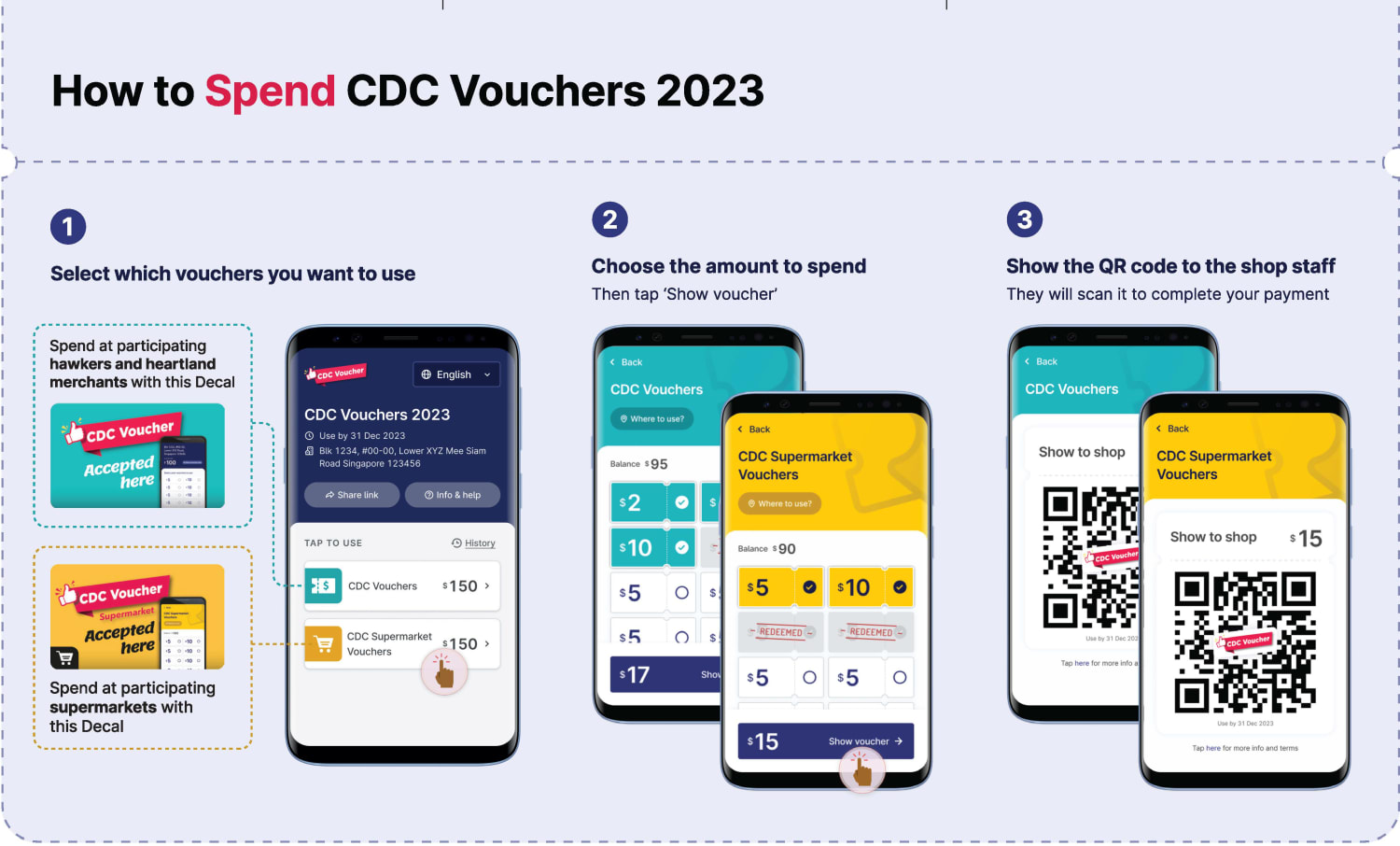 DIGITAL VOUCHERS 
While the CDC Vouchers Scheme 2023 will retain its digital format, help will be rendered to "digitally less-savvy" citizens, said CDC and PA. 
Queue priority will be given to seniors and people with disabilities at the community centres or clubs, the agencies added. 
"SG Digital Office Digital Ambassadors will be deployed at the SG Digital Community Hubs to provide assistance for residents who need help to claim their digital vouchers. Residents without smartphones or who need to set up their Singpass or reset their Singpass password will also be assisted at the CCs," they said. 
Additionally, a group of Silver Infocomm Wellness Ambassadors, volunteers from youth networks and student volunteers will be stationed at selected CCs for the first two weeks of the launch. 
For those using the physical vouchers, the ones for supermarkets come with a trolley icon at the bottom right of the vouchers.
DONATION OF VOUCHERS 
As of Dec 31, 2022, 1.2 million (98.7 per cent) Singaporean households have claimed their 2021 CDC vouchers, and 1.1 million (96.2 per cent) have claimed their 2022 vouchers. 
In total, more than S$228 million (96 per cent) of the total amount of CDC vouchers claimed have been spent at participating hawkers and heartland merchants. 
People can also donate their remaining CDC vouchers from 2021 and 2022 to charity. This can be done via the CDC vouchers scheme website until Jan 31.
CUSHIONING THE EFFECTS OF INFLATION
"The vouchers are part of a comprehensive package of measures from the Government to help Singaporeans cushion the effects of higher prices and the recent GST (Goods and Services Tax) rate increase," Deputy Prime Minister Lawrence Wong said at the launch on Tuesday.
Aside from the vouchers, Mr Wong added that the Government is providing assistance in other ways.
"We provided adult Singaporeans with up to S$700 in cash last month," he said.
"Later this month, we will be giving out the next round of U-Save rebates to help households offset their utility bills. In fact for the whole of FY2022, we have given HDB households double their regular U-Save rebates."
This amounts to about six months' worth of utility bill rebates for the average household living in a three-room Housing Board (HDB) flat. For those living in a four-room flat, it is about four months' worth of rebates.
"We recognise the concerns that many people have about cost of living issues," said Mr Wong. "And therefore, we are looking at additional measures in the Budget to support Singaporeans over the coming year, especially those in the more vulnerable and lower-income groups.
"And I assure everyone that the Government will always be there for you to help you cope with rising prices and inflation."
Mr Wong, who is also Finance Minister, will deliver the 2023 Budget statement in Parliament on Feb 14.