Last 4 of 11 trainee lawyers who cheated in Bar exams withdraw applications to practise law
The four trainee lawyers were banned from bringing fresh applications for a period of between nine months and three years.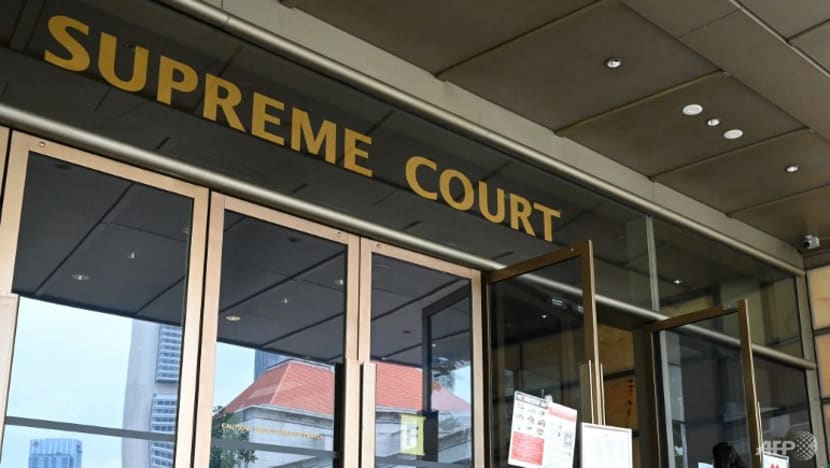 SINGAPORE: The last four of the 11 trainee lawyers who cheated in the 2020 Bar examinations withdrew their applications to practise law on Friday (Aug 26). 
The four are: Mr Sean Wong Wai Loong, Ms Joleen Ong Jia Yi, Mr Lim Zi Yi, and Ms Annabelle Au Jia En. They had cheated in the Part B 2020 Bar examinations that law graduates must pass in order to practise law, which were held online that year. 
Mr Wong had copied a fellow candidate's answer without her knowledge, while Mr Lim and Ms Au had provided answers to Ms Ong, who had requested them.
After they were caught, all four retook and passed the examinations. They filed applications to be admitted to the Bar but withdrew them after objections were entered.
Chief Justice Sundaresh Menon, who heard and granted the applications in the High Court, ordered that the four not bring a fresh application for admission to the Bar for a duration of between nine months and three years. The period was meant for the rehabilitation of the applicants, rather than to punish them. 
Ms Ong's duration is three years, Mr Wong's two years, Mr Lim's one year and Ms Au's is nine months.  
Additionally, the four will have to satisfy any further requirements imposed by the Attorney-General's Chambers (AGC), Law Society and the Singapore Institute of Legal Education (SILE).
Noting that the four may return with fresh applications in the future, Chief Justice Menon said: "Before then, (Mr Wong and Ms Ong) will need to learn, above all, that there is far greater honour and dignity in accepting rightful failure than in grasping for undeserved success.
"The (other) two must learn not to go to the aid of others, no matter how familiar, how close, or how perceivably sympathetic the cry for help might be, if such aid can only be provided in sacrifice of one's integrity and principles."
Chief Justice Menon had earlier heard and granted the same to the first trainee lawyer, Mr Leon Tay Quan Li, who had decided to withdraw his application in May. Mr Tay was barred from reapplying to the Singapore Bar or other jurisdictions for five years. 
Six others - Ms Monisha Devaraj, Mr Kushal Atul Shah, Mr Sreeraam Ravenderan, Mr Matthew Chow Jun Feng, Mr Lionel Wong Choong Yoong and Ms Lynn Kuek Yi Ting - followed suit in withdrawing their applications on Aug 15. This was granted by Justice Choo Han Teck, who did not set a time for them to reapply. 
The six had also cheated during the 2020 Part B exams. Five had communicated with each other and shared answers in six of the papers, including one for "Ethics and professional responsibility", through WhatsApp.
The sixth, Ms Kuek, had colluded with another candidate to cheat on three papers. 
In April, Justice Choo adjourned the Bar admission hearing of Ms Kuek for a year, and the hearings of the other five for six months.
Justice Choo had initially redacted the identities of the six trainees to prevent them from being prejudiced in the long run, but revealed their names after sharp public interest in the matter. 
That same month, the Attorney-General said that five more trainees were found to have cheated in the 2020 qualifying exams, bringing the total number of people involved to 11.
These five include the four who withdrew their applications today.
THE CHEATING INCIDENTS
Details of the cheating incidents emerged during Friday's hearing, which spanned four hours and involved representatives from the AGC, SILE and the Law Society. 
Mr Wong had sat for an exam about mediation on Nov 25, 2020. After submitting his paper online, Mr Wong exchanged his script with another candidate and realised that he failed to answer a question that carried almost one-third of the total marks.
Panicking, Mr Wong copied his unwitting fellow candidate's answer into his script before resubmitting his edited script. 
SILE discovered the similarities and interviewed Mr Wong, who was quick to admit his wrongdoing. However, he failed to disclose his misconduct in his Bar application, claiming that he was "frightened" by the prospect of his legal life ending and "could not find the courage" to mention the cheating. 
On this, Chief Justice said that Mr Wong had shown a "cynical disregard" for doing the right thing and his actions had shown "serious defects in character".
Ms Ong, the trainee who had received the longest duration, had been in the same study group as Ms Au and Mr Lim. 
During the exam about mediation on Nov 25 2020, Ms Ong approached Mr Lim online and requested the answer to a question she was unable to complete. He obliged and Ms Ong copied the entire response into her own script. 
During the "Ethics and professional responsibility" paper, Ms Ong asked both Ms Au and Mr Lim for answers. She claimed that she had panicked after the paper was delayed due to technical difficulties. Not knowing that the exam had been extended by 15 minutes, she asked the pair for answers which she then copied and submitted as her own. 
Chief Justice Menon considered Ms Ong's conduct more serious than Ms Au's and Mr Lim's as she was the instigator. Moreover, she had cheated for her own benefit, while the other two had only helped her to cheat. 
Ms Ong had also failed to come clean and volunteer information the first time she was interviewed by SILE, while Mr Lim and Ms Au had been forthright. Mr Lim had in fact volunteered information about the mediation exam even though he had not been asked about it. Chief Justice Menon saw this as an "encouraging sign".
The Chief Justice was also "heartened" that senior members of the Bar had stepped forth to act as mentors to the applicants. 
Amongst them was Mr Wong's lawyer, Mr Goh Peck San, who asked for Mr Wong to be barred for between one to one-and-a-half years. 
"I have known Sean for a long time ... my observation is that he is a person of good character. He has made a mistake this time and he has no excuse for it but ... he has shown keen interest to practice ... to be a member of the practising Bar, I'm just asking for leniency on this," said Mr Goh. 
Ms Ong was represented by lawyer Naidu Devadas, Mr Lim by lawyer Shobna Chandran and Ms Au by lawyer Peter Ong.