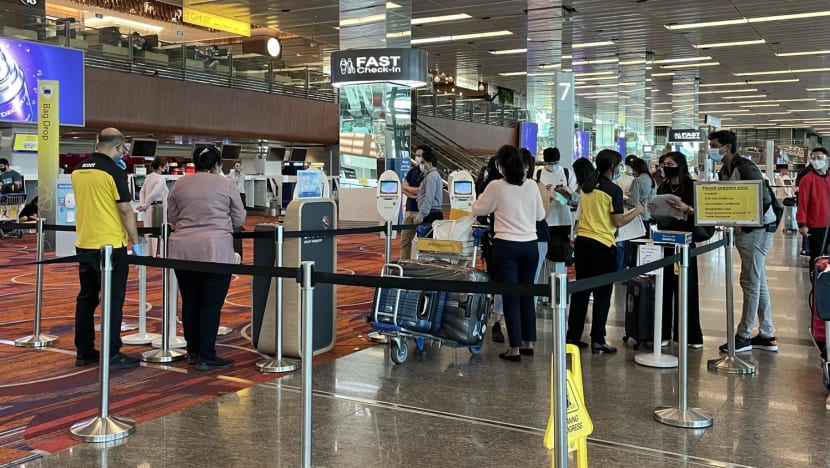 SINGAPORE: About 2,600 Omicron infections have been imported into Singapore so far, Transport Minister S Iswaran told Parliament on Monday (Jan 10).
They account for 60 per cent of the 4,322 Omicron infections recorded in Singapore. The total figure was provided by Health Minister Ong Ye Kung, also in Parliament on Monday.
Mr Iswaran said the bulk of the imported cases were citizens, permanent residents and long-term pass holders who were returning home from overseas. Short-term travellers made up less than 10 per cent of the number of cases.
The key sources of the imported infections were the United States and the United Kingdom, which each contributed to 16 per cent of the cases, as well as India, which made up 11 per cent.
Mr Iswaran said the numbers "broadly" corresponded to traveller volumes via the country's vaccinated travel lane scheme (VTLs), which was launched in September last year.
It was also influenced by the incidence of Omicron in those countries, which have all experienced a surge in cases due to the new variant.
MANAGING OMICRON
The infections come amid an increase in the number of passengers passing through Changi Airport over the past year. Passenger traffic rose to 15 per cent of pre-pandemic levels by the end of December, up from just 3 per cent at the start of 2021.
With the rapid spread of Omicron overseas, MP Leon Perera (WP-Aljunied) and MP Desmond Lim (WP-Hougang) asked whether Singapore will review border control measures and if it will allow more flights during festive periods such as Chinese New Year and Hari Raya.
In response, Mr Iswaran said that the government will closely monitor the demand for VTL flights and will regularly review the VTL quotas, taking into consideration the prevailing public health assessment.
He added that the overall quota of inbound VTL travellers is allocated to airlines based on the plans they submit to CAAS.
Last month, the Civil Aviation Authority of Singapore (CAAS) announced enhanced safety measures for all airport workers who interact with arriving passengers, amid the rapid spread of Omicron variant overseas.
Among the new measures, airport workers who interact with passengers are now required to don enhanced personal protective equipment, including N95 masks and face shields.
The authority also stepped up its testing regime for all frontline workers, requiring them to take a polymerase chain reaction (PCR) test, instead of an antigen rapid test (ART), every seven days at a minimum.
Meanwhile, Singapore air crew are placed on an enhanced seven-day PCR RRT regime, with an employer-supervised ART on the third day of the cycle.
To limit Singapore's exposure to imported Omicron COVID-19 cases, all new ticket sales for VTL flights and buses have been frozen since Dec 23, and will remain suspended until Jan 20.
Mr Iswaran said it was essential for Singapore to press on with its mission to reopen its borders. 
"As part of living with COVID-19, Singapore must shift to a new setting that will enable us to stay connected to the world," he said. "The VTL scheme is a useful pathfinder for us to establish, test and build confidence in safe reopening to vaccinated travellers."
"Ultimately, we want to work towards quarantine-free travel for all vaccinated travellers."
OUTLOOK FOR AIR AND MARITIME HUB
Responding to questions from members of parliament Mr Saktiandi Supaat (PAP-Bishan-Toa Payoh) and Mr Shawn Huang (PAP-Jurong) about this year's outlook for Singapore's air hub, Mr Iswaran said that while air travel is expected to take several years to recover to pre-pandemic levels, the Government is confident of the long-term potential of air travel.
Citing a study by International Air Transport Association (IATA) and Oxford Economics, he said international passenger volume is projected to reach about 55 per cent of 2019's levels at the end of 2022, up from about 20 per cent last year.
Barring unexpected setbacks like Omicron, Mr Iswaran said the government expects further recovery in 2022.
Turning to Singapore's maritime industry, Mr Iswaran said container throughput likely reached an all-time high in 2021.
"Maritime businesses also continued to establish and expand operations here. We expect the favourable outlook for trade and shipping to continue in 2022," he said.
According to industry projections, global seaborne trade is expected to grow 3.5 per cent in 2022, slightly below the estimated 3.6 per cent growth in 2021, he added.