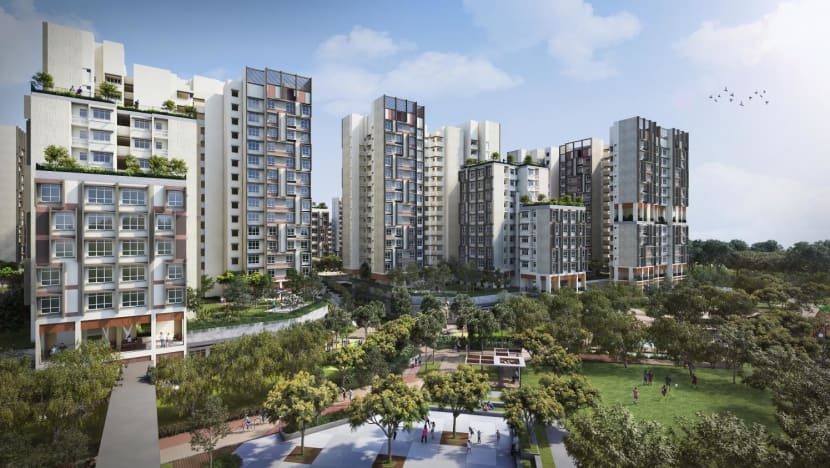 SINGAPORE: Properties near popular schools are highly sought after and homes in Tengah within 1km of the relocated Anglo-Chinese School (Primary) could fetch up to 15 per cent more than other units in the district, property analysts said.
The Ministry of Education (MOE) said on Thursday (Feb 9) that ACS (Primary), currently located off Bukit Timah Road on Barker Road, will move to Tengah in 2030. The boys' school will also start enrolling girls after the move.
The new site is near public housing estates that are still under development, such as Tengah Plantation, and the executive condominium (EC) Copen Grand.
"In Singapore, many parents go to great lengths to secure a place in good schools by renting or paying top dollar for a nearby property," said Ms Christine Sun, senior vice president of research & analytics at OrangeTee & Tie.
"With MOE's recent change of allocating more spaces to Phase 2C, there seems to be more people purchasing or renting properties near good schools."
Phase 2C for school registration is for children with no ties to a school. In this phase, priority is given to Singaporeans living within 1km of the school.
Condo resale prices within 1km of the school's Barker Road site were S$2,116 per square foot (psf), about 18 per cent higher than the median resale price in District 11 (S$1,791 psf) in 2022, said Ms Sun.
She expects prices of homes within 1km of the new school location in Tengah to be 10 to 15 per cent higher than the district average price.
"The moving of a popular primary school, especially changing it to a co-ed school, will benefit the residents in Tengah. However, not all homes will experience a rise in value. It is likely to enhance the value of homes within 1km to 2 km of the school," said Ms Sun.
The impact on property prices in Tengah will also not be immediately felt as the area is still under development, with most of the housing projects under the HDB, said Ms Wong Siew Ying, head of research and content at PropNex Realty. The Copen Grand EC, which was launched last year, is fully sold.
"Given the popularity of the school, we reckon it will help to support demand for homes and leasing prospects in Tengah in the years to come. So, there is a good chance that this will help to push up home prices."
GOOD SCHOOLS RELOCATED TO NEW TOWNS
Huttons senior director of research Lee Sze Teck said that the relocation is good news for buyers of BTO flats and Copen Grand EC in Tengah.
"This may boost the application rate of flats in Tengah in the February BTO exercise. It may even lower the rejection rate of BTO flats," he said.
He observed that the Government has been relocating popular schools to new HDB towns. For example, Nan Chiau Primary School was relocated to Sengkang, and Mee Toh School to Punggol.
"In the long run, it may increase the attractiveness of Tengah and attract more young families. This has been observed for Sengkang and Punggol. Rents of homes with 1km of ACS (Primary) may be up to 10 per cent more than those outside the 1km," he said.
Mr Lee said that there are two executive condominium sites along Bukit Batok West Avenue 5 and Avenue 8 that will be launched for sale in 2023/24, and these may see more applications from young families.
There is also an existing private condominium, Le Quest, that may garner more interest from potential buyers and tenants when ACS (Primary) moves to Tengah.
Ms Sun thinks families may consider staying longer in Tengah due to the school. This is because many families tend to move away from non-mature estates to enrol their children in popular schools in other areas.
"The shifting of ACS (Primary) - which is popular and known as an 'elite' school - to the heartlands is a move in the right direction, as it will offer more equal access to the school," said Propnex's Ms Wong.
"We think the relocation ... will increase the appeal of Tengah, and draw more young couples and families to the new estate."
LITTLE IMPACT ON BARKER ROAD PROPERTIES
Besides the move to Tengah, a second ACS school - ACS (Junior) will move from Winstedt Road to Barker Road, but the move will only be completed around 2039.
The secondary school, ACS (Barker Road) which shares the site with ACS (Primary), continues to be at Barker Road.
Analysts did not think that the impact on property prices at Barker Road or the Winstedt area will be major as there are other reasons to buy properties there, but said that rents could fall when the moves happen.
"It could potentially weigh on the home prices and rentals of homes in the Winstedt Road area, although it may not be substantial since demand should still be healthy given its proximity to the Newton MRT station and Orchard Road," Ms Wong said.
"Meanwhile, home values and rents in the Barker Road area are expected to hold up."
She added the average price of non-landed private homes within 1km of ACS (Junior) at Winstedt Road was S$2,327 psf in 2022 – about 7.5 per cent higher than the District 11 average.
Mr Lee thinks that in the long run, when ACS (Junior) moves to the Barker site, there may be an impact on the rents of homes by up to 10 per cent around the Cairnhill area near Winstedt Road.