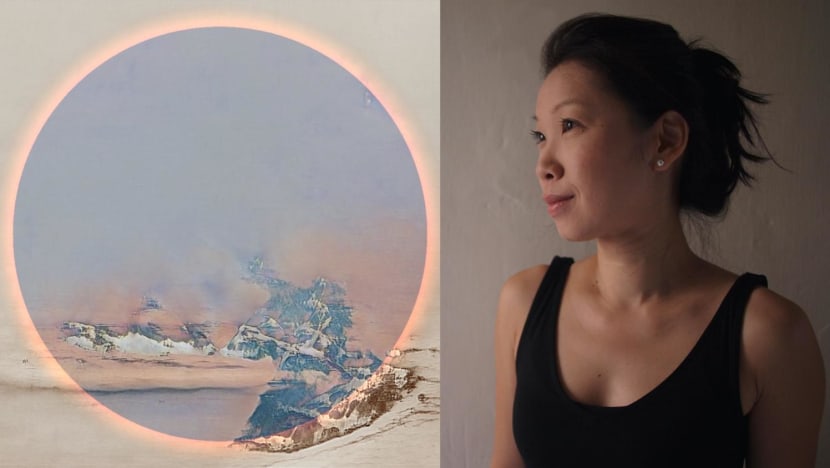 SINGAPORE: Imagine Monet in the modern world – using artificial intelligence (AI), he's created thousands more of his famous water lilies paintings. But who owns them – Monet or the AI? 
The question about copyright and AI artwork has hit headlines recently. Last week, Japan's first fully AI-drawn manga hit the shelves.
The author of the 100-page sci-fi manga, who admitted he has "absolutely zero" drawing talent, took just six weeks to finish the book. 
He entered text prompts – such as "pink hair" and "Asian boy" – in the programme to conjure images of the protagonist.
Last month, the US Copyright Office ruled that images in the graphic novel Zarya of the Dawn – which was created using the AI system Midjourney – should not have been granted copyright.
The decision was one of the first by a US court about copyright protection for works created by AI.
In Singapore, the law holds no mention of whether AI-generated works have copyright. CNA looks at how artists are using AI to create new pieces and the concerns around protecting their work.
AI ART
With AI becoming increasingly mainstream, local artists are experimenting with its uses.
Ms Wyn-Lyn Tan, a visual artist who currently has an exhibition along the Esplanade Tunnel, uses AI as a tool to develop her artistic practice.
What is copyright?
Copyright protects the expression of ideas in tangible forms, according to the Intellectual Property Office in Singapore (IPOS).
"When you own the copyright to a work, you control the use and commercial exploitation of these works. This means that you have the right to prevent others from reproducing, publishing, performing, communicating to the public, or adapting to your work," said IPOS on its website.
Examples of works protected under copyright law include literary, dramatic, musical and artistic works.
The main objective for copyright can be summarised in three things: Rewarding and recognising authors, incentivising the creation of new works and benefiting society through creative works.
In Singapore, an author is automatically granted copyright protection as soon as they create and express their work in a tangible form. No registration is required.
Her exhibition features an installation of 20 paintings and six generative AI video works. 
To create AI art pieces, Ms Tan feeds "thousands of images" of her own paintings into the machine learning programme, which generates new art based on her old pieces.
"This digital platform kind of pushed me to think about how I could use it as a tool to extend my language of painting," she added. 
Mr Lim Wui-Liang, who uses the AI tool Midjourney for his project titled AI Art News, describes it as "fast, fun and intoxicating". 
The 43-year-old tech employee said the difference between art and AI-generated art is the "speed at which it is produced". 
"It would be impossible for me to create some of the pieces on AI Art News by myself. But with AI, anything that I envision in my head can be generated in mere seconds," said Mr Lim.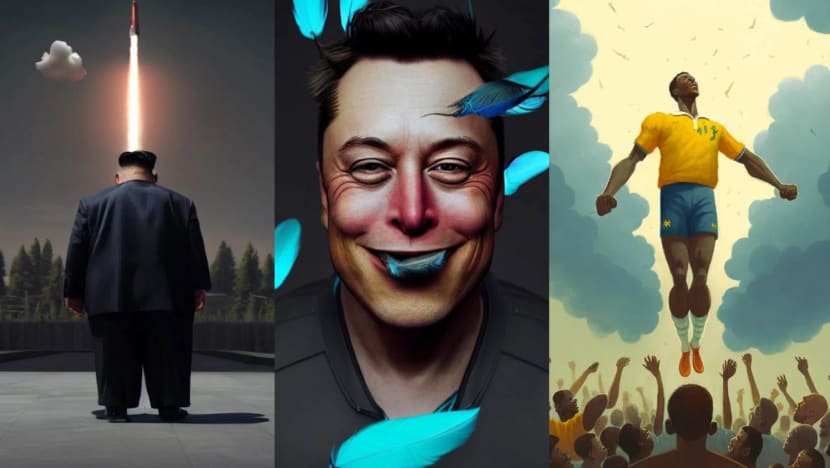 AUTHORSHIP AND ORIGINALITY
As the use of AI programmes like ChatGPT become normalised, the law has yet to fully catch up with the implications of such use.
"There is presently no legal definition for AI art," said lawyer Ronald Wong, director at Covenant Chambers.
"I would describe it as AI-generated works. The term 'works' does not assume it is artistic or art, and includes a range of forms including image, design, music, and videos."
The law does not have any specific rules on AI-generated works, explained Mr Wong, who handles legal disputes around tech and intellectual property among others.
It is unclear if AI-generated artworks will be protected by copyright. The main issues are authorship and originality.
"One legal view is that AI-generated works are produced with no human authorship whereas traditional art is created by human authors. Human authorship is required for copyright to arise," said Mr Wong.
"Originality is also a requirement for copyright. It is argued that without human authors, there is no originality." 
In 2016, Dr Stephen Thaler – who generated the artwork A Recent Entrance To Paradise using an AI system he created – was denied copyright registration. A US judge ruled that artificial intelligence cannot get a patent for its creations, ruling that such a privilege is reserved for people.
Professor David Tan, co-director of the Centre for Technology, Robotics, Artificial Intelligence and the Law at the National University of Singapore, breaks down AI's role in generating artwork and compares it to traditional tools.
Copyright law typically views art as an intellectual creation – a product of the human mind or human creativity.
"Whatever you use to produce your art are just tools to assist the humans who create the work, like when you use acrylic on canvas to paint, or when using a piano to compose music. So AI, no matter how sophisticated, when used as a tool, is similar to all these traditional tools," said Prof Tan.
Ms Tan said her pieces made with AI belong to her, not the programme because it generates pieces only from what she feeds into it – her own paintings. She said she thinks of the machine "simply as a tool".
"One cannot exist without the other ... the programme is actually learning to mimic my artistic style in order to generate this stream of unique digital artworks," she told CNA.
"Without me curating and inputting my images, the machine learning programme will not be able to get to a point where they churn out a work that I feel is me.
"I'm actually doing a lot of post-programme editing on my own because it's still an artistic medium. So I'm not just simply spitting it out with the programme."
She added: "I think when one of my physical, traditional collectors look at my digital artwork, they can say 'oh, that's a Wyn-Lyn Tan'."
Similarly, Mr Lim does not leave AI to do all the work.
Inspired by news headlines for his art, Mr Lim identifies a story and constructs the image by "running through various types of art, iconography and pop culture". 
"I break down this image into prompts which I feed into Midjourney. The first set of images generated usually doesn't make the cut," he said.
"I'll refine my prompts and re-generate again, repeating this process until I get an image I'm happy with. More often than not, there are more hits than misses." 
Listen: Will AI tools help or replace you at your job?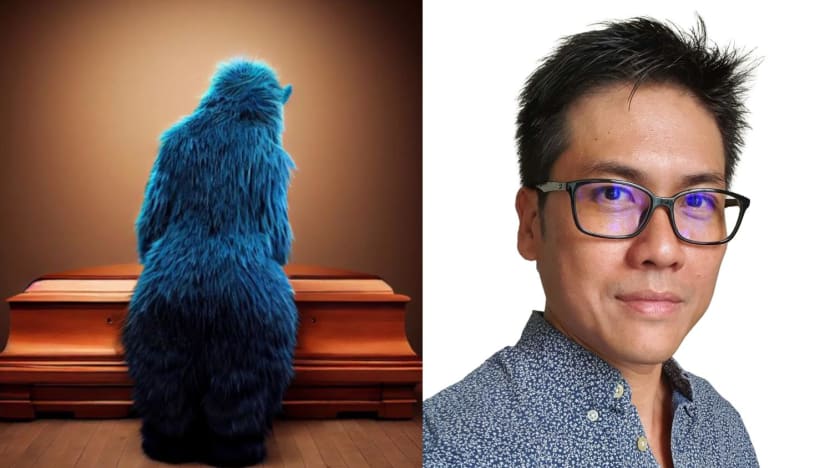 SHOULD COPYRIGHT LAWS CHANGE?
The keywords remain when looking at whether an artwork can be protected by law – authorship and originality.
Even though artists are clear about the role they play in their art, some AI works remain unprotected by copyright law.
"I wouldn't advocate that we recognise autonomous AI-generated work," Prof Tan said.
He explained that no country has recognised autonomous AI-generated work and Singapore needs not be the first to do so. 
Even in countries like England where copyright protection is available for computer-generated works, the courts still require the identification of the author as a person who had completed the arrangements necessary for the creation of the work. 
"There is a lot of noise out there and it's really people just wanting to take extreme positions so they get more media coverage. The fundamentals of copyright laws protect only human creativity," he said.
When considering whether copyright has been infringed, Prof Tan said the court will decide if enough of an artwork is copied, by looking at its protectable features. 
Ideas are not protected expressions, he added. 
Taking Monet as an example, his style of painting is "not a copyrightable expression", but Monet's particular perspective of the water lilies in a painting would be considered a protected feature, explained the professor. This would allow other artists to paint water lilies in a pond in a different way or from a different point of view. 
Mr Wong said that there are situations where artists can take legal action. He advised creators to leave "deliberate fingerprints or symbolic signatures".
"As long as there is substantial copying and there is a causal link between the copyrighted work and AI-generated work, there would be copyright infringement," he explained.
"As to who would be sued, that would depend on the technical details of how the AI-generated work is produced."
But he pointed to the other side of the legal debate, which views certain AI-generated works to have human authors and originality.
"In particular, AI-generated works created based on certain input of a human can be said to engage the human intellect and thus fulfil the authorship and originality requirements for copyright to arise," he said.
Mr Lim said AI artwork should be covered by copyright law, but it may be challenging.
"Some people may argue that since AI art infringes on the copyright of many artists because it draws on their work, it is not an original piece of art or is not eligible for copyright. Or that because AI art is produced by a machine, it cannot be copyrighted," he said.
"But the initial creative vision – that spark – came from a human."
He feels that the law has to protect not only AI artists but also artists whose work AI draws from.
"It has to be a two-way street … we need to start accepting AI artists as creators in their own right and we need to find a way for AI to ethically train on other artworks."
WHAT NEXT AS AI BECOMES MORE MAINSTREAM?
Ms Tan is not worried about her pieces being stolen by AI, but admits it "is kind of scary". She said she will continue to incorporate AI into her work.
"I am still excited about using AI as a way to extend my painting practice and my painting language. If it fits the concept of whatever it is I wish to be saying with my artwork, I would still be using AI," she added.
Mr Lim told CNA he feels "a bit uncomfortable" that his works are not safeguarded under copyright law but said that both physical art pieces and AI works "can be easily stolen by anyone if they really want to".
At the end of the day it's all about the integrity of the artists, said Ms Tan.
She added: "Of course, as an artist, I would really be glad for specific copyright rules but at the end of the day, who is able to police all this?"
You may also be interested in: