SINGAPORE: We were heading to breakfast on a Tuesday morning, and Mr Sherwin Tang was trying to tell us what was on offer at the coffee shop nearby.
The 58-year-old has aphasia, a communication disorder caused by damage to the part of the brain that controls language expression and comprehension.
There is porridge, there is meat, he said. You can have it with … he spells it out: "A, B, C, D, E …", with a slight emphasis on the "E". Then, he says with some effort: "F, G."
As he speaks, he writes out letters in the air, a strategy that he's come up with to help others understand him.
"Egg!" said Ms Evelyn Khoo, the founder of Aphasia SG, who was there to help this reporter and Mr Tang communicate.
He nods, and we feel a sense of triumph, like we just scored at a game of charades. But there's more.
He shakes his head and starts gesturing again: "Egg, but …"
After some miming, I guess: "Century egg!"
He nods and says: "I like." I reply that I like century egg too and we laugh.
A simple conversation like this would have taken most people less than a minute, and little thought. But for Mr Tang, it involved spelling, hand gestures, much effort and some guesswork on the part of the listeners.
This was just one exchange among several that morning as Mr Tang explained to us his daily routine.
Several times, he pumped his arms or slapped his forehead as he tried to express the word that was at the tip of his tongue.
It was clear that he knew what he wanted to convey but saying it out loud was just out of his reach.
THE DIFFICULTY OF ORDERING FOOD
When we reached the coffee shop, he ordered the same drink as Ms Khoo – kopi gao siew dai (strong coffee, with less condensed milk). He also orders the same chicken and century egg porridge as I do.
When we asked him about it later, Mr Tang said he usually drinks tea but ordered coffee because it's easier to order the same thing as the people he eats with due to his communication difficulties. 
It is also easier to point to a photo on a signboard or menu than to customise his order.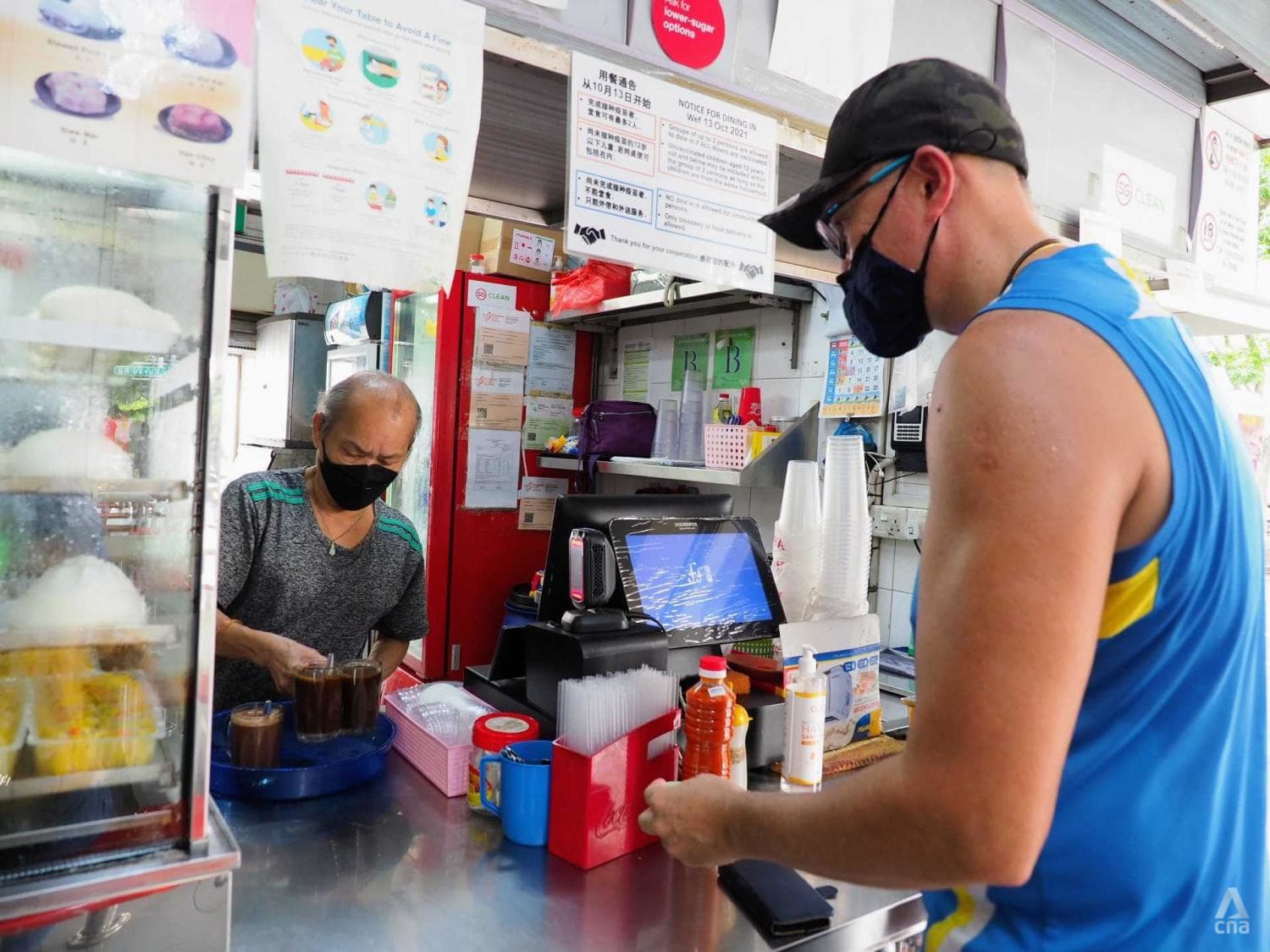 Ms Khoo, a speech therapist, said that this happens with some patients that she's worked with, although each person's condition is different. 
One patient, who can speak but has difficulty understanding others, took to saying yes to whatever hawkers ask her – with no idea whether she was upsizing her meal or adding chilli, spring onions or fried shallots to her food.
She also carries a wad of S$10 bills with her when buying food at the hawker centre.
"Rather than risk underpaying the hawker, she would give S$10 and receive whatever change is given to her," said Ms Khoo.
For some with aphasia, it's spelling and writing that they've lost, rather than speech. Some have difficulty with numbers.
In Mr Tang's case, he understands most of what is said to him but finds it hard to retrieve the words he needs to say.
This didn't stop him from greeting almost every neighbour as he went about his morning exercise at the nearby park, or trying his best to tell us about his Joo Chiat neighbourhood.
As we passed by a building, he said, while spelling the letters in the air: "B, R, A, W"
Ms Khoo guessed: "Is this a cafe?" Yes, he smiles and nods. He meant "brew", I realised, glad that Ms Khoo was there to interpret.
DAILY PRACTICE, EXERCISE
Mr Tang got aphasia seven years ago after suffering a stroke. Before that, the physical fitness trainer had no problems making himself understood, and was fluent in English and Mandarin.
After the hemorrhagic stroke, he suffered loss of motor control on the right side of his body. He could not speak a word at first and started relearning language by pointing out objects on a chart.
It took almost a year of speech therapy for his condition to improve.
But Mr Tang is much better now. He takes part in a mass exercise class every morning, and after that, he showed us how he does supported push-ups, stretches and other exercises using a bench and exercise equipment in the park.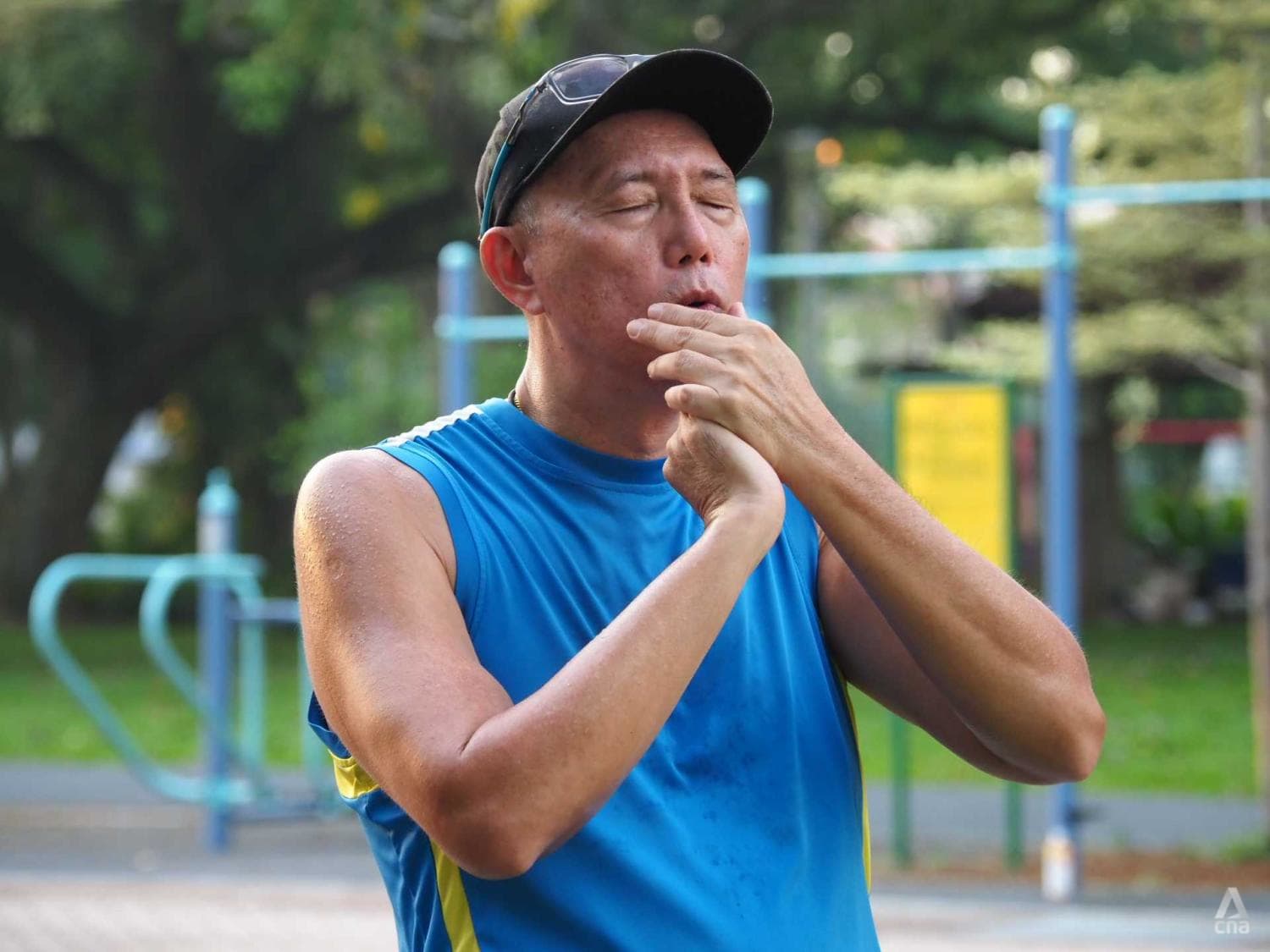 Besides the physical exercise, he updates a journal daily to practise writing and uses a speech therapy app at home every day. He also joins Aphasia SG activities such as chit-chat and choir sessions on Zoom every fortnight.
At a chit-chat session with about 30 participants one weekend, it was obvious that Mr Tang was one of the most enthusiastic speakers.
As can be expected, participants with aphasia needed some coaxing and time to process before speaking in the Zoom session, but Mr Tang chimed in frequently.
His words were misinterpreted at least once, but he pressed on doggedly to make himself understood.
Mr Tang is unusually motivated to improve, partly because of his strong family support from his wife and four children. 
Many patients become reticent and opt to deal only with people who understand their condition to avoid embarrassment, Ms Khoo said.
"Some patients withdraw from their social circles because even family and friends do not comprehend their condition. Over time, a person with aphasia might suffer from social isolation," she said. 
"INVISIBLE" CONDITION
While the most common cause of brain injury is stroke, it can result from head trauma, a brain tumour, brain infection or progressive neurological diseases – such as dementia.
Ms Khoo estimates that about 3,000 people in Singapore are diagnosed with aphasia annually. 
She started Aphasia SG because she saw a gap in the community. Patients with aphasia seldom have the safe space they need to practise speaking if they are in therapy with other patients who have no problems communicating, she said.
While they can attend speech therapy, they don't get enough practice to improve significantly with weekly sessions.
It does not help that aphasia is an invisible condition that many are not aware of. There are no physical signs and people will not notice it until the person attempts to communicate.
In particular, receptive aphasia – when someone is able to speak well but has difficulty understanding others – is "truly invisible", said Ms Khoo.
She cited studies showing that aphasia places someone at a much higher risk of developing psychological distress and depression. But mental health counselling mostly relies on communication, she points out.
"For many persons with aphasia where finding the right words even for everyday objects is a struggle, talking about feelings and other abstract concepts is simply impossible," she said. 
But she thinks that more people around the world are now coming to know what is aphasia, especially with recent news that actor Bruce Willis was diagnosed with the condition.
"With that, we believe that people will be more patient and understanding towards someone with aphasia in the community," she said.