Security agency APRO confirms 'forced demotion' of officers, says it was part of right-sizing the firm
APRO said it demoted officers as part of a company-wide exercise, but noted that salaries rose for most affected workers because of adjustments to comply with the progressive wage model.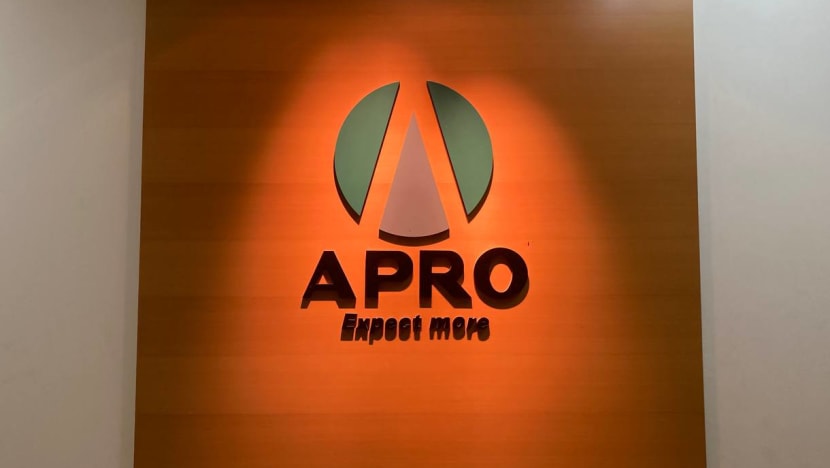 SINGAPORE: Security agency APRO on Wednesday (Feb 8) confirmed that it was the company that had tried to put 300 officers through a "forced demotion".
APRO said it demoted its officers as part of a company-wide salary and employment contract revision exercise last December, and the agency needed to "right-size" because it accumulated a "bloated rank structure" in recent years.
APRO also added that the total salary for the group of officers who were demoted would have been 7.3 per cent higher this year compared to last year. In contrast, all employees who were part of the revision exercise had a 13.6 per cent increase in total salary.
The case came to light on Tuesday after National Trades Union Congress (NTUC) secretary-general Ng Chee Meng highlighted a case of "egregious behaviour" where a security agency carried out a "forced demotion" for about 300 officers.
He added that after the Union of Security Employees (USE) intervened, the security agency backed down on the demotion but instead extended their working hours to try to "reset" their wages and employment terms.
Mr Li Xiaowen, deputy managing director at APRO, said the company carried out a revision exercise with plans to be compliant with progressive wage model (PWM) wages for 2024, to update the employment terms and to "address our business needs by right-sizing" the rank structure. The Security Tripartite Cluster committee recommends that basic wages for security officers be S$2,650 from 2024.
In the course of doing so, 98 per cent of the 1,145 members of its security guard force received a salary increase. But the company identified 362 employees who were performing duties below the ranks they had been given.
APRO offered these officers new contracts with a reduction in rank, while adjusting most of their salaries higher, to "more than just comply" with the PWM increases, said Mr Li.
"The reason why we chose this time to do it is because we wanted to mitigate any potential negative salary impact," Mr Li said. The employees who were demoted would largely still receive a higher salary because the amount would be offset by the PWM increases.
Mr Li said APRO does have more senior ranked security officers than it needs, but refuted Mr Ng's statement that it "no longer had the contracts to keep (the officers) at their current job ranks".
Instead, he said the APRO's talent management programme was mismanaged, which led to the company hiring for more senior roles than required. There was an "imbalance in the rank structure that we maintain versus the contracts we needed to fulfil".
APRO noticed this in 2021 but did not take action immediately because "we felt compassionately that we did not want to negatively affect the ranks or earnings of our employees". But it needed to take action to mitigate the effect of the salary increases to be compliant with the PWM.
Mr Li said USE informed APRO on Dec 8 that the new employment contracts amounted to forced demotions.
"I acknowledge that we failed to consider that our initial offer would be perceived by the employees as forced demotions," he said.
"I failed to think about the importance of rank, the significance of rank for some of these employees," said Mr Li.
He said the company "immediately and quite sincerely engaged with the union to try and identify a solution to the situation that was developing".
In response to queries about whether forced demotion is common among security agencies, the Security Association Singapore said it encourages companies to vary employment terms by way of mutual agreement between them and their officers.
After discussions with USE, Mr Li said his company offered new contracts to affected workers, which included retention of their original rank, an increase in salary and an increase in working hours.
"This was a complete offer with all three components," he said, adding that this is contrary to the NTUC statement. He referred to the part of Mr Ng's Facebook post that appeared to separate retaining the officers' ranks and PWM wages from increasing their working hours.
Mr Li also showed CNA an email in which a representative from USE said "we are supportive on your offer to the affected employees".
Officers were given the option of accepting the contract with the lower rank or retaining their previous rank with an increase in working hours, and the majority chose the lower rank.
He said the statement from Mr Ng yesterday came "out of the blue" for APRO, because the company assumed that feedback and concerns had been addressed in the new contract.
The statement "severely mischaracterises the events and the involvement of USE through the whole process," he said.
Mr Li said the company's last communication with USE was about conducting briefings with the affected officers to make sure they do not feel targeted by APRO.
MATTER UNDER CONCILIATION AT MANPOWER MINISTRY
USE said in a Facebook post on Thursday that its position is based on the fact that the officers would be better off if they had been retained at their original job ranks. It said there is a S$300 difference in the PWM baseline wage of a senior security officer and a security officer and that "should certainly not be undervalued".
"USE looks forward to share more details about this case at a more appropriate juncture and stands by its actions thus far. The rights of every security officer matter," it added.
In response to CNA's query, NTUC said that USE confirms "it has not reached any agreement" with APRO and that "any suggestion of the union having agreed to unfair conditions is inaccurate".
This is precisely why the matter is under conciliation at the Ministry of Manpower (MOM), it added.
The ministry said it is not appropriate for it to comment on details of the matter as it is undergoing conciliation.
It noted on Friday that in general, all employers should be sensitive and act responsibly when faced with cost-cutting measures.
"In addition, unionised companies like APRO should discuss with NTUC and USE to find an amicable solution for the affected employees," the ministry said.