IN FOCUS: When AI goes mainstream - these professionals use ChatGPT to do their job better
The mass adoption of popular artificial intelligence (AI) chatbot, ChatGPT, across professions has heralded a new era of AI. CNA explores how it is impacting the world of work and whether it is something to embrace or be worried about.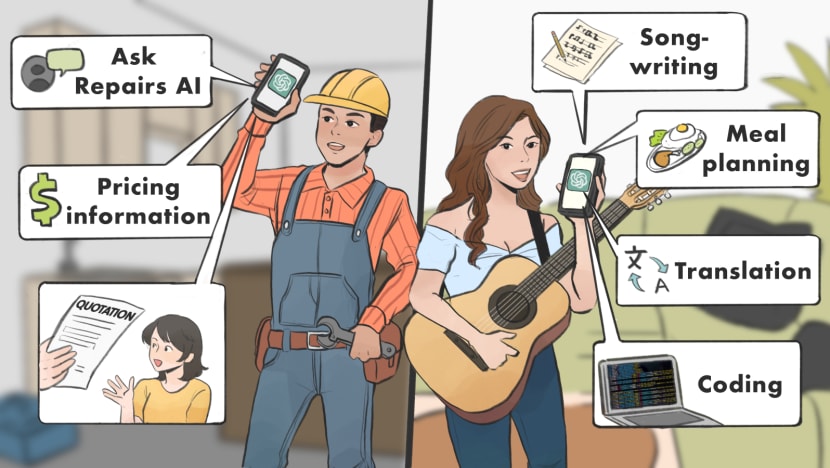 SINGAPORE: The landscape is changing rapidly in the world of jobs. You don't need to be a CEO or even work in a corporate role to have a personal assistant.
You can also be a young technician, handling an average of eight to 15 varying jobs every day with your team. These include electrical repairs, rewiring, installation and replacement of lighting, switches and sockets for customers. 
Previously, as you shuttled between jobs, you had to respond to a relentless flow of customers' inquiries via WhatsApp or phone calls. Sometimes, it took a whole day of going back and forth with a potential customer to secure the job. 
But all that has changed. The personal assistant you've taken on has helped you answer customers' initial queries among other tasks, freeing you up to focus on the core manual work of your business, which you love. 
There is a difference, though.
This personal assistant wasn't hired after advertising the vacancy. It's ChatGPT – and Mr Zames Chew, the 24-year-old handyman at the helm of Repairs.sg, is one among the 100 million active users of the popular artificial intelligence (AI) chatbot. 
Since his company brought ChatGPT on board, work has been more productive – and more enjoyable. 
Simplifying the technology behind ChatGPT
Using ChatGPT can feel akin to interacting with another human. Unlike a search engine, which merely presents you "static" information like a library, ChatGPT helps you make sense of the information. 
Here's why: ChatGPT is a chatbot that uses a technology called natural language processing (NLP). 
In short, NLP helps computers to understand human language like a human. And this technology can be found in various applications, from chatbots like ChatGPT to voice assistants like Siri. 
NLP is used in ChatGPT because ChatGPT is built on a Generative Pre-trained Transformer (GPT) model – a specific implementation of NLP that uses deep learning techniques to generate human-like text in response to a given prompt. 
Deep learning is a method in the field of artificial intelligence. In the case of ChatGPT, deep learning enables the chatbot to comb through massive amounts of text data, which pre-trains it to understand natural language and generate contextually relevant responses. 
ChatGPT is created by AI company, OpenAI.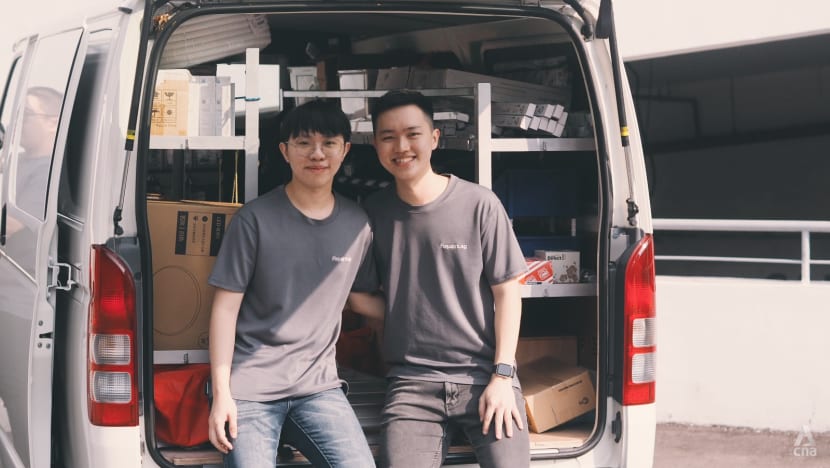 WORKING SMARTER WITH CHATGPT 
Even before Mr Chew incorporated ChatGPT into a job that isn't typically associated with AI, his electrical services company that he co-founded with his younger brother was an anomaly in an "old school" industry. Just over half of the small team are still in their 20s, while the rest are in their 30s.
Then in March, the company launched Repairs AI – a chatbot his team created for customers that's powered by the language model of ChatGPT – on its website. 
Mr Chew and his team found many customers with similar questions – for instance, "My socket melted. What should I do?" – and wanted to find a better way to help them than addressing every query individually. 
Repairs AI was thus created to provide customers with simple and succinct solutions, including a cost quotation should they choose to engage the Repairs.sg team. Within its first few days, it answered more than 500 questions from customers. 
Customers are able to "go back and forth" on a problem with the conversational chatbot, such as figuring out what to do if the power trips at home, until they arrive at a solution. In this case, they would be led to resetting the power at home, said Mr Chew. 
Once the customer reaches out to his team via WhatsApp, most already know what they're looking for. 
As Repairs AI is trained using the same documents and manuals they wrote to train their own team members, "all the things that Repairs AI (suggests) are things we would do ourselves for our customers", added Mr Chew. 
"We see it as an extension of ourselves that can be present for customers even when we're not. We think it will give more value to our customers and hopefully make it easier for them to take care of their homes. It's very empowering."
Mr Chew also outsources other tasks to ChatGPT: Writing proposals to customers by using it for "creative input" which acts as a starting point, as well as parsing long documents by breaking it down into invoices, service reports, quotations and more. 
"All these tasks are things that we could call very routine, repetitive tasks. And also, when it comes to coming up with proposals and breaking down information, like long documents, into a summary, it's not our strength and it takes a lot of time," he explained. 
"We found that over a few months of testing, ChatGPT could do it to a very high degree of accuracy, so we decided why not just use it."   
In turn, this has helped the team respond to – and secure – new customers faster. 
"Not only does it not replace any of the things we do, it just makes everything a lot easier for us so that we can spend less time doing the things that we don't want to do and more time doing the things that we are good at doing," added Mr Chew. 
A "LEVEL OF AUTOMATION" THAT FREES UP TIME   
Local singer-songwriter Inch Chua also seeks such freedom through her use of ChatGPT, having been a "big advocate of AI" since 2017. She even subscribes to ChatGPT+, an advanced version that costs US$20 per month. 
The 34-year-old sees ChatGPT as "an amazing assistant" for a variety of language-related tasks, such as "generating the skeleton of content, proofreading and providing explanations". 
More specifically, ChatGPT helps her to craft emails, generate creative writing prompts for songwriting and scriptwriting, and proofread her grammar and sentence structure.
"It's been a great conduit to domain knowledge I don't have access to and allows a level of automation that frees up my time," she said. 
ChatGPT has allowed Ms Chua to enjoy the research process more by acting as a research assistant, compared to when she uses Google, which simply provides links. 
"For ChatGPT, it curates your research for you. You're speaking to it in a communicative language. It feels less stale, compared to running through links. If it has read a book, you can have a robust literary discussion with it," she said. 
"Like I sometimes get lazy to read books, so I get ChatGPT to read for me. If I remember reading something, I'll prompt it to 'pull up every chapter that references this'. It's way better than Google in that aspect; it's very tiered in the way it grasps your needs." 
Beyond AI, staying in touch with the latest tech in the music industry has always been "pretty important" to Ms Chua, who is curious about how music is made and produced. 
"Tech has always had a big stake in shaping the industry. … The progression of analog recording gear to digital has drastically changed how we create music. The invention of auto-tune has changed the game too. I see innovation as inevitable and indifferent," she said. 
"It's up to the individual to study it, harness it, or reject it if it's not your thing." 
ADDRESSING SCEPTICISM, FEAR OF THE UNKNOWN   
Despite (or perhaps due to) the mass adoption of ChatGPT across a spectrum of professionals, the pushback against AI has been equally swift. Some speak of AI as the harbinger of a dystopian future, while others harbour more practical fears, such as asking whether AI will replace certain jobs. 
This fear of the unknown, Ms Chua believes, is normal and understandable, but also "very disproportionate to the current state of tech". 
"My hope is to advocate for AI in a sense that, yes, it won't go away. You don't have to be an AI artist, but you don't have to be afraid of it. Play with it. Then you will understand its limitations and also your strengths. It's about eliminating that paralysing fear that comes with AI," she said. 
Similarly, Dr Mikhail Filippov from the National University of Singapore (NUS) suggested that this scepticism stems from "the fact that we are seeing something that is going to change the world, but we don't know enough about it, so our first reaction is just to oppose it".
"That's why I think the best thing that we, as a society, can do is to try to use ChatGPT. So it's not unknown anymore," said the professor who teaches in the domain of sciences and technologies under the University Scholars Programme. 
Dr Filippov believes many concerns about AI and ChatGPT are "not technology specific, but human specific". For instance, the biases incorporated and propagated by the models are based on data from humans. 
But "the biases are changing too", he added. In other words, as moral and ethical standards evolve, the data collected reflects this diversity in society's positions.  
There is also a deeper existential fear around AI's upsurge, relating to people's identity at work, he believes. 
"For a very long time, we had our positions and our jobs tied to our self-identity. We were defining ourselves through our jobs. And our jobs, let's be honest, are very functional, analytical and rational. A lot of these algorithmic, analytical, rational tasks will be replaced," he said. 
"Many of us didn't like these tasks, but whether we liked it, they were part of our self-identity. Now, if all my tasks can be done by a machine, what am I supposed to do? How do I define myself? This is a mental challenge, a philosophical challenge. What is the role of work?"
WHEN AI GOES MAINSTREAM  
Even though ChatGPT appears to have catalysed the adoption of AI, much of the mathematical framework used in building AI is "not absolutely new", said Dr Filippov, who is also a mathematical physicist. 
He pointed to a startup he co-founded in 2018 called Quod AI, which translates source code to plain English.  
"Although it is impressive how different models are making a grander entrance into society in many ways, mathematically they have been with us for quite some time. It's a combination of many factors that is drawing so much attention and making such an impact," he added.
"I remember when AI was very narrow in application, and I remember also people in academia were very sceptical. They always thought it would take us 50 years, 30 years, 20 years. No one could really predict that the jump would be so fast." 
Dr Filippov speaks from firsthand experience, as one of the testers of ChatGPT last year. Witnessing its widespread adoption was "amazing", as "no one predicted that it would be used in myriad different ways", he said. 
As a professor, he is a "big proponent" of giving ChatGPT to every student, much like a calculator. Teachers will also have to shift from "preaching" to "curating" information for students, although this shift already began with the advent of the internet and then social media, he noted.
The Ministry of Education is on a similar page with the adoption of ChatGPT and similar generative AI tools. In February, Education Minister Chan Chun Sing said in Parliament that educators in schools and institutes of higher learning are provided guidance and resources to "effectively harness" these technologies to enhance learning. 
Students will also be taught to understand "fundamental concepts". They need to be discerning and critically assess ChatGPT's output for accuracy and objectivity, as well as be guided against developing an over-reliance on technological tools, the minister noted.
Doing this may give today's schoolkids key skills that they will need when entering the world of work. This is because many jobseekers and recruiters have been embracing AI. 
Ms Chua Pei Ying, head economist of the Asia-Pacific region at LinkedIn, said one of LinkedIn's new features leverages an advanced GPT model from OpenAI to help professionals highlight their "most important" skills and experiences, allowing them to showcase their "unique voice and professional journey more effectively".  
As for recruiters, they can tap into "AI-powered job descriptions" to "simplify the process of drafting job postings", said Ms Chua. They only need to provide "basic information" for the AI tool to generate a job description which they will be able to review.
Both features for professionals and recruiters are not available in Singapore yet. 
Still, she reiterated that authenticity remains "invaluable" to both recruiters and jobseekers, especially as OpenAI models become more mainstream. 
"As with all technology, AI tools cannot replace the human touch required in the recruitment and job-seeking journey. Recruiters will still need to build relationships with candidates and find the best talents for the job, while jobseekers will still need to acquire and highlight relevant skills, and personalise their resumes to align with their tone and experience," she said. 
AI job trends
Not only are AI-related jobs on the rise in Singapore, but the growth in hiring for AI talent outpaced the growth in overall hiring by 14 per cent in 2022, according to LinkedIn data shared with CNA. 
The "exponential growth" in the share of AI talent in Singapore between 2016 and 2022 by 565 per cent makes Singapore the fastest-growing market for AI talent in the Asia-Pacific region, ahead of Australia (527 per cent) and India (487 per cent), said LinkedIn's APAC head economist Ms Chua.
Examples of AI roles in Singapore currently include algorithm engineer, data analyst, data science specialist and machine learning engineer. 
And there could be an increasing demand for roles that advise on the "implementation, maintenance and optimisation of generative language models like ChatGPT" in 2023, she added. 
Among LinkedIn members, the largest share of AI talent in Singapore work in technology, information and media, employing 11.2 per cent of AI roles. This is followed by professional services (4.7 per cent), financial services (4 per cent) and manufacturing (3.2 per cent).
DISRUPTIVE "IN A GOOD WAY" 
As such, while there is still a place for the good old curriculum vitae (CV) and cover letter, the widespread use of ChatGPT by jobseekers may spell the end of a hiring process that prioritises the two documents. 
And this is a good thing, the managing director of education and career coaching company EduCareerSG believes. 
Mr Michael Teo said ChatGPT will make the job market more competitive. Due to the increasing "overall similarity" of resumes churned out by ChatGPT, hiring managers will be "forced to find alternative ways to differentiate applicants".
As candidates find different ways to help themselves stand out, hiring managers will also place more emphasis on metrics like the cost of hiring that candidate, their length of service with previous companies and even credible referees, he added. 
Mr Teo, whose company has helped about 800 individuals since he co-founded it in 2018, acknowledged that ChatGPT potentially increases a candidate's chances of securing an interview via, for example, helping them write more attractive cover letters by identifying keywords of interest to the hiring manager. 
But this is a "double-edged sword". One would only reap these benefits "if the individual is able to adapt these improvements to their CV and learn from them", he explained. 
In that sense, ChatGPT should be used for resume "enhancement" purposes, not to generate "something out of nothing". 
ChatGPT's shake up of the norm also excites Ms Chua for the future of the music industry. She enjoys the technology because it "forces" a lot of people, including herself, and industries to step up, "almost like creative natural selection is going to happen". 
"What I love about tech is systemically, it breaks down or accelerates already failing systems. To me, the creative industry has always had an issue … (where) people are overpaid to do the most generic work that can be replicated by AI," she said. 
"Tech is an equaliser. It brings an awareness level to people. It's disruptive in a good way, to break the wheel." 
Ms Chua added, in fact, that one's ability to create effective prompts on ChatGPT "requires a combination of domain knowledge and the ability to contextualise it to solve problems". 
"In many ways, AI will cull mediocre, replicable, formulaic outputs. And true creativity will harness its capabilities."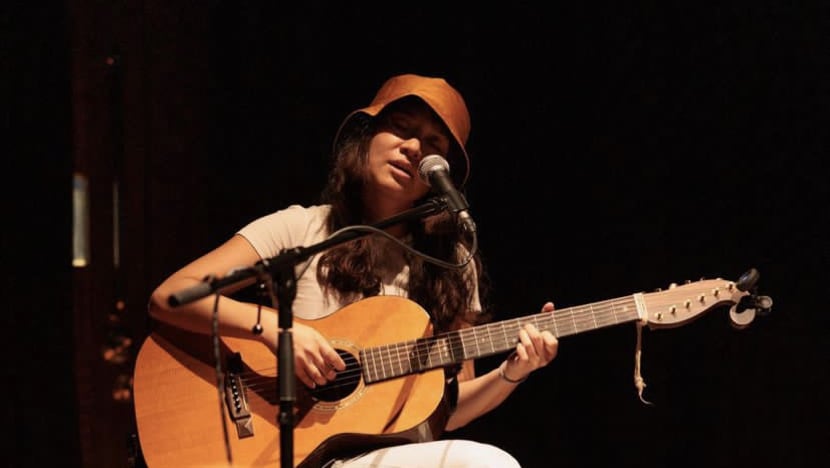 HUMAN EMPATHY, EXPERTISE IRREPLACEABLE 
Ms Chua's embracing of ChatGPT and other AI technologies might appear to make her an outlier among fellow creatives, not least since artists who use AI to produce art have come under fire from those who believe AI ideologies conflict with the originality and authenticity supposedly inherent in an artist's creative expressions. 
But while she believes it's "very ignorant" to believe all creative ideas are original, she understands the hostility towards AI. She doubts AI will replace "the human experience" even as its capabilities continue to accelerate, and calls herself "a purist in that aspect".
In terms of songwriting, ChatGPT doesn't have the capacity to do something "more abstract", such as when you interpret a texture as a sound by describing the feelings it evokes, she explained. 
"Sense-making is quite unique to the human experience. It's very different from when the machine sense-makes, because it's using the things that humans have sense-made," she said, adding that ideas which are "lost in translation" could result in a "creative loss" too. 
"AI tools in general have been a great assistant for music composition and production ideating. However, while it's able to imitate quite flawlessly, it is still missing the human element, such as emotions and personal experiences. Creativity can be performed, but not ideated." 
Likewise, even as an AI advocate, NUS' Dr Filippov is "absolutely certain" that careers that allow individuals to "relate to other human beings" are not going anywhere. 
At EduCareerSG, which sees clientele from the hospitality and lifestyle industries, Mr Teo coaches these individuals in "emotional intelligence" to help them continue to stand out in today's job market. 
This comprises "an ability to both manage and understand the emotions of the opposite party to better react accordingly", and such people skills cannot be performed by ChatGPT, he believes.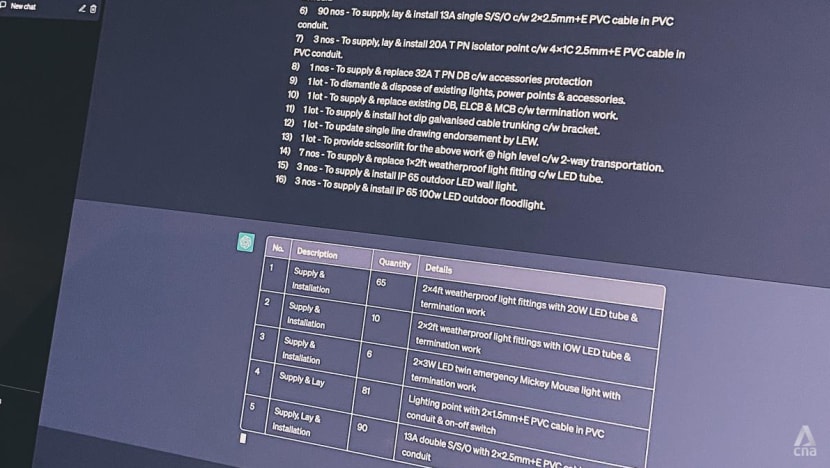 Echoing the pitfalls of taking ChatGPT as gospel, Mr Chew, the technician who meets several customers daily, pointed out that he wouldn't have spotted ChatGPT's inaccurate answer while creating content for his company's website if not for his expertise. 
"It was a guide for how a customer could basically fix a light in their homes, and ChatGPT was giving advice that would be dangerous or that might cause harm to the person if they tried to follow those instructions accurately," he recalled. 
"We know how to do the thing and we know the precautions to take. But if someone just took the output of ChatGPT and gave it to a consumer, it might be dangerous from time to time." 
As such, the "modified" version of ChatGPT's model that Mr Chew's team used to build the Repairs AI chatbot is what customers get to experience.
Initial output from the "original" ChatGPT, however, like proposals or email drafts, is only for their own perusal. They ensure the work from their "personal assistant" meets their professional standards before sending it off to customers.  
After all, the landscape is changing rapidly in the world of jobs, and we might all have a personal assistant – but we also have personal agency.