Free AI training programme aims to prepare 15,000 students for STEM careers
The three-year AI Student Outreach Programme has beginner, intermediate and advanced levels, and participants will be able to complete them through self-paced online learning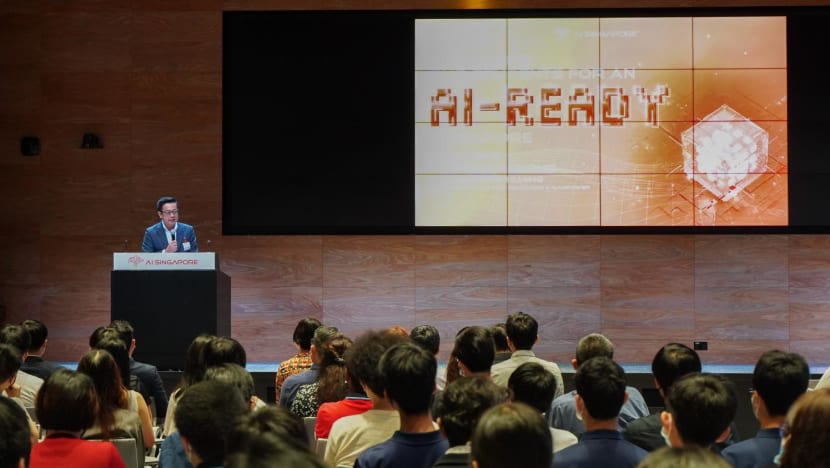 SINGAPORE: A free programme designed to help students gain literacy and proficiency in artificial intelligence (AI) was launched on Wednesday (Jul 27) by AI Singapore (AISG).
The three-year AI Student Outreach Programme aims to reach more than 15,000 full-time secondary and tertiary education institution students.
Through multi-level, self-directed online training, participants will receive industry-recognised certifications, AISG said in a statement.
They will also have the opportunity to work on real-world projects with AI engineers through an internship programme.
The programme, which is supported by the Ministry of Education's STEM and Innovation & Enterprise Promotion Funding Initiative, is designed to prepare students for career opportunities in science, technology, engineering and mathematics (STEM),
It also aims to help companies identify AI talents and nurture an AI engineering talent pipeline, AISG said, pointing to a 2021 Amazon report which found that Singapore will need 1.2 million additional digital workers by 2025 in order to remain competitive.
"As implementation of AI continues to accelerate, there is a need for us to develop nationwide AI literacy and develop meaningful learning experiences that ensures a mastery of AI skills to meet the demands in our digital economy," said AISG director of AI innovation Laurence Liew.
"With this newly launched AI Student Outreach Programme, we look forward to nurturing the next generation of AI practitioners and help them unlock career opportunities in STEM industries," he added. 
SELF-PACED ONLINE LEARNING
The new programme has beginner, intermediate and advanced levels, and participants will be able to complete them through self-paced online learning.
Interested participants must first form Student User Groups (SUG) with a minimum of ten members from the same educational institution to complete each level.
"The teams are given access to AISG Community Groups as well as monthly Ask-Me-Anything sessions to support their learning, networking, and career development.
"Through the three levels, the students can pick up programming skills like Python and R, explore machine learning topics such as deep learning (and) develop statistical thinking and critical thinking skills needed to navigate the changing world," said AISG. 
Each level of the programme comes with certifications for students, with 500 students who complete the advanced level each year able to obtain Google Professional Machine Learning Engineer certification from Google Cloud.
Following an early engagement process conducted by AISG in April, 47 Student User Groups consisting of more than 1,100 students have already been formed.
PAID INTERNSHIPS
Each year, 21 students under the programme will also have the opportunity to participate in three- to six-month paid internships.
They will work with AISG engineers and apprentices on "real-world industry projects with deployment deliverables", AISG said.
The Centre for Strategic Infocomm Technologies (CSIT) is the first partner on board this programme and will be providing projects and a monthly stipend for the interns.
"Under the joint internship programme, there will be dedicated technical mentorship under which interns will learn to apply their know-how on practical challenges and be exposed to possible career opportunities in the defence science and technology sector," it added. 
Applications for the beginner and intermediate levels of the programme can be made at any time via the AISG website.
The next application window for the advanced level will be open from Aug 1 to Aug 31, with a subsequent window open from Jan 1 to Jan 31 next year.