CNA Explains: When are dogs allowed on flights and what can I do if I'm seated next to one?
Are pets allowed on flights? Do they have to be in a carrier? What documents do you need to bring your pet on a plane?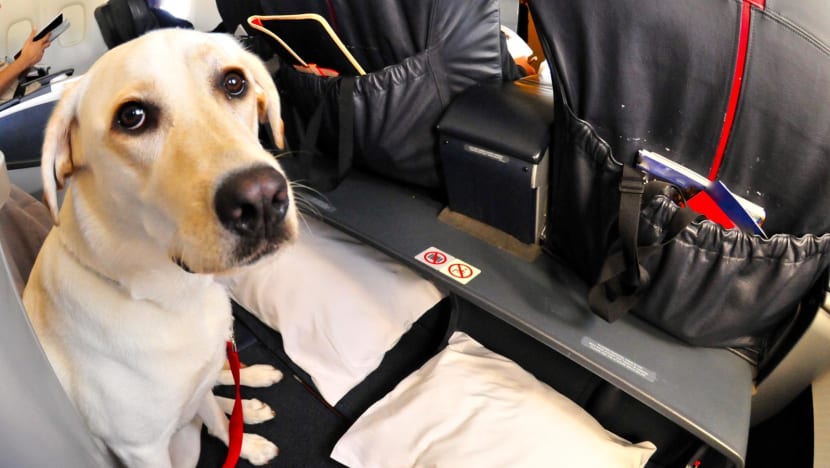 SINGAPORE: What can you do if you are seated next to a passenger with a dog on a flight?
A New Zealand couple were travelling on a Singapore Airlines (SIA) flight from Paris to Singapore when they were seated next to a passenger with a dog. The dog was snorting, farting and drooling, the couple told New Zealand website Stuff.
The woman said that she overheard the dog's owner telling another passenger that he had the dog with him because he gets anxious. 
SIA moved the couple from the premium economy class cabin to the economy class after take-off. SIA apologised and offered KrisShop vouchers and travel vouchers, which were rejected by the couple.
The airline told CNA on Saturday (Sep 9) that it "endeavours to notify customers" who may be seated next to an assistance dog prior to boarding, and that it will move passengers to another seat in the same cabin if space permits.
When are dogs allowed on airlines, and what can you do if you are seated next to one?
What are assistance dogs?
Assistance dogs are animals which are trained to perform certain tasks to assist people with disabilities, SIA said on its website. These dogs are allowed on SIA flights.
They are different from emotional support dogs, which are companion dogs that alleviate psychological disabilities. Since April this year, passengers have not been able to bring on board their emotional support dogs.
An SIA spokesperson told CNA previously that customers departing from Singapore may still travel with their emotional support dogs after Apr 1 if they submit a request before this cut-off date.
Other airlines like British Airways and Qantas have also made the distinction between assistance dogs – also called service dogs – and emotional support dogs.
Qantas said emotional support dogs are not appropriately trained to perform tasks to "alleviate the effects of a person's disability" and are not considered service dogs.
British Airways said an emotional support dog is not a service dog and will need to travel as a domestic pet.
Scoot does not accept emotional support dogs for travel. It only allows service dogs for guests with visual or hearing impairment, it said on its website.
Is a service dog allowed in the plane cabin?
Passengers travelling with assistance dogs need to comply with the specific conditions and regulations of departure, transit and destination countries, according to SIA's website.
The dogs have to be at least four months old and be trained to obey commands and behave appropriately. They must also not pose a direct threat to the health and safety of other passengers, said SIA.
The airline's guidelines also stipulate that the dogs must not occupy a seat.
Small dogs no larger than the size of a two-year-old child may sit on a passenger's lap, while larger dogs must sit on the cabin floor in front of the passenger's seat.
Dogs must be leashed or kept in a carrier, and must not obstruct the legroom of other customers or block the aisle or emergency exit. 
Moisture-absorbing mats must also be placed on the cabin floor beneath the dogs at all times.
Those travelling with an assistance dog must provide SIA with: Import and export permits, subject to country-specific regulations; a transshipment licence if the dog is transiting through Singapore; a veterinary health certificate; and a rabies vaccination letter.
Passengers will also have to show documentation that the dog was trained at a member organisation of the International Guide Dog Federation or Assistance Dogs International.
If the flight duration is more than eight hours, passengers will have to provide additional paperwork to certify that their assistance dog will not need to relieve itself on the flight, or that it can do so in a way that does not create a health or sanitation issue on the flight, said SIA.
If the assistance dog is of a restricted breed, passengers must provide additional documents regarding the dog's behaviour.
They must do so "well in advance" of the flight, informing the local SIA office at least 48 hours before their departure.
Assistance dogs that meet these requirements are allowed to fly without additional charges.
Scoot said that entry certificates or approvals must be obtained by the destination country if required.
Passengers with assistance dogs are also required to carry a muzzle for their dog, an absorbent mat measuring at least 20 inches by 30 inches, and a dog quarantine certificate. A seatbelt will be provided for the dog.
For safety reasons, Scoot is only able to accommodate a maximum of two service dogs – one service dog per passenger – on board each aircraft.
Can other pets be brought into the plane cabin?
While service dogs are allowed in most plane cabins and do not have to be in carriers or containers, there are different requirements for other pets.
Pets can travel with passengers as checked baggage or in cargo, but not in the plane cabin for SIA flights.
The pet and its container are not counted as part of the passenger's free checked baggage allowance, SIA stated on its website. They are considered additional baggage and will incur additional fees. 
The pet cannot be pregnant, and it must be at least three months old.
If the weight of the pet and its container exceeds 32kg, pets must travel via cargo due to occupational health and safety rules.
Certain dog breeds such as the Chow Chow, Shih Tzu, and pit bulls are not permitted to travel on SIA flights as checked baggage or in cargo. Crossbreed dogs are also prohibited. Some cat breeds, such as the British Shorthair and Persian, are not accepted for travel.
List of restricted dog and cat breeds
SIA cannot accept the following dog breeds – including crossbreed dogs – for carriage on its flights, whether as cargo or as checked baggage: 
Akita
Boerboel
Boston Terrier
Boxer
Brussels Griffon (Petit Brabancon)
Bulldogs, including American, French, and English bulldogs
Chow Chow
Dogo Argentino
Fila Brasileiro
Japanese Chin (Chin, Japanese Spaniels, Japanese Pug)
Lhasa Apso
Mastiffs, including Neapolitan, and Dogue de Bordeaux
Perro De Presa Canario
Pit Bull (American Pit Bull Terriers, American Staffordshire Terriers, American bulldog, and Staffordshire Bull Terrier)
Pugs, including Carlino, Chinese, Mopshond, Mops Hund, and Pekingese
Shar-Pei
Shih Tzu
Brachycephalic Spaniel, including Cavalier King Charles Spaniel, English Toy Spaniel (King Charles Spaniel), and Tibetan Spaniels
Tosa
The restricted cat breeds, including crossbreed cats, are: 
British Shorthair
Burmese
Exotic Shorthair
Himalayan
Persian
Scottish Fold
The design and construction of the pet's container must conform to IATA standards. Containers must be of the right size depending on which aircraft the pet is travelling in. It needs to be well-ventilated, properly secured, and come with food and water containers.
If more than one pet is travelling with the passenger, they must be housed in separate containers. A maximum of two puppies or kittens are allowed in each container.
Passengers travelling with pets must provide SIA with: Import or export licences, a transshipment licence if the pet is transiting through Singapore; an indemnity form; a veterinary health certificate; and a rabies vaccination letter and other vaccination records.
Some other airlines also allow pets to be brought into the cabin as carry-on baggage.
For British Airways, pets up to 6kg are allowed in the cabin. They must be transported in a waterproof bag or cage, with maximum dimensions of 20cm by 30cm by 20cm. 
Air France allows pets to travel in the cabin, but if the pet weighs between 8kg and 75kg, it must travel in the hold.
For passengers travelling on United Airlines, their pets must travel in a carrier that can fit under the seat in front of the passenger. There are no weight or breed limitations. The only animals allowed without a pet carrier are service animals.
Each carrier must only contain one pet, and they must be able to stand up and turn around while inside. There is a US$125 (S$170) fee each way for travelling with a pet.
Delta Air Lines – another airline in the US – stated that the pet must be at least 10 weeks old for domestic trips, 16 weeks old if travelling to the US from another country, and must be at least 15 weeks old when travelling to the European Union.
Pets cannot fly with passengers on Jetstar and AirAsia.
What can I do if I don't want to sit next to a dog?
Some passengers may not want to sit next to a passenger with an assistance dog. 
Customers have the option to be moved to a different seat in the same cabin if they cannot sit next to an assistance dog due to allergies or a fear of dogs, said British Airways in response to CNA's queries.
The airline tells a customer at the airport if they are seated near an assistance dog. Those seated in either the same row, the row in front, or the row behind the owner and their assistance dog will be told about the dog.
SIA said it "endeavours to notify customers" who may be seated next to an assistance dog prior to boarding.
If a passenger does not want to do so and requests to be moved, the airline will move the customer to another seat in the same cabin, if space permits.
In the case of the New Zealand couple, they were moved from premium economy class seats to economy class seats as the premium economy class cabin was full, said SIA.
In response to CNA's queries on what can be done if a passenger has an allergic reaction or is bitten by a dog, SIA said that cabin crew who are trained in first aid will offer medical assistance if needed.
An investigation will be carried out, said the airline.