Commentary: Blanket bans on emotional support animals may not be the right move
Airlines around the world have ended accommodations for emotional support animals on flights. It's understandable when passengers abuse such policies, but unfair to those who have legitimate need for them, says clinical psychologist Michael Thong.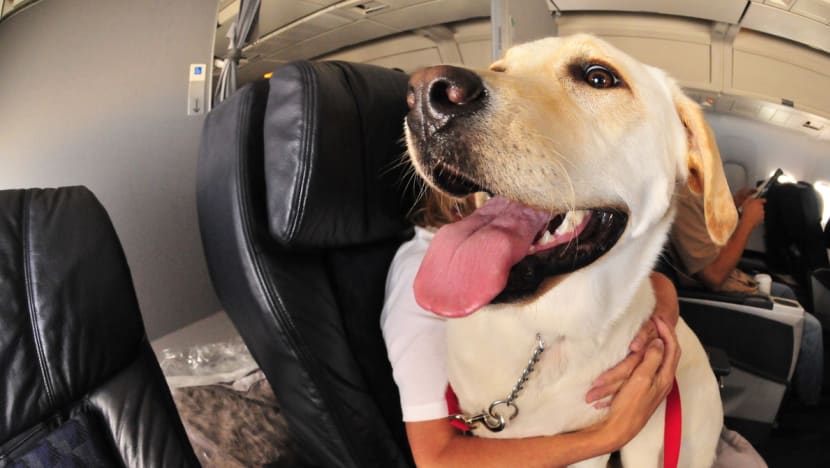 SINGAPORE: Singapore Airlines, beginning Apr 1, will no longer allow passengers to bring emotional support animals on flights. This triggered discussion online about whether emotional support animal should be allowed on planes and other public premises.
Do emotional support animals really make a difference for people with mental health conditions? If they do, should they be recognised on the same level as assistance dogs in Singapore, so that they can accompany their owners to more public settings?
Many other countries such as the United States, Australia and the United Kingdom, have had their fair share of debates about these questions over the years. Airlines, in particular, are ending accommodations for emotional support animals.
As of December 2020, US airlines are no longer required to accept emotional support animals on flights. This followed incidents of passengers bringing along unruly animals or exotic ones such as peacocks, horses and pigs. Only service dogs, defined as "individually trained to do work or perform tasks for the benefit of a person with a disability", are now allowed on planes.
From a commercial standpoint, I do understand why airlines have made such a stance. It is difficult to validate the legitimacy of emotional support animal when mental health concerns are not always visible to the untrained eye.
Further complicating the situation, there will be passengers who take advantage of such accommodations, which causes a nuisance to other passengers and cabin crew, as well as financial losses for airlines when animals get to travel for free.
BENEFITS OF EMOTIONAL SUPPORT ANIMALS LONG ESTABLISHED
As a mental health professional who works with individuals that utilise pet therapy, I have seen first-hand its benefits in areas such as anxiety, depression, post-traumatic stress disorder (PTSD), claustrophobia and social anxiety.
In certain cases, having pets give meaning to the client's life and helps them feel a sense of purpose and responsibility. It also serves to protect patients who struggle with persistent suicidal ideations.
Scientific research has drawn the same conclusions. A 2018 literature review by University of Liverpool psychologists suggests that pets do indeed provide positive benefits to those with mental health conditions.
Much like other psychotherapy options, there is clinical evidence that animal-assisted therapy is effective in contexts such as dementia support, disability and outpatient pain management.
Emotional support animals took the lead from more established pet therapy or animal-assisted therapy, where the animal accompanies owners in day-to-day situations. Though emotional support animals do not solve long-term problems, their presence usually gives ease to clients.
In the US, the Department of Housing and Urban Development recognises the benefits of emotional support animals and provides regulations for them to live with an owner in designated non-pet housing (with a few exceptions) without requiring a pet deposit fee.
There are also arguments on whether the emotional support animal should be officially trained as such, just like guide dogs. But being "trained" is a highly subjective idea depending on the context and who provides the "training".
LEGITIMISING THE NEED FOR EMOTIONAL SUPPORT ANIMALS
With vague criteria for emotional support animals, recognition of them remains grey. In the case of flight passengers, some may just want to have their pets with them during the flight, or have their pets relocated from one country to another without extra costs and hassle.
But a blanket ban on emotional support animals may be unfair to individuals who need their pets to keep them calm as they struggle with anxiety or claustrophobia on flights.
A better approach may be stringent guidelines on what is considered an emotional support animal, who has the right to such privileges, and which professionals can provide such certifications. These will keep abuses in check and address the legitimate mental health needs of individuals.
However, it is uncertain that there is momentum in this direction, given that the number of airlines that allow for emotional support animals is diminishing after US airlines ceased boarding them in 2020.
In Singapore, awareness on the ground about assistance animals is another issue. Even though public premises are legally obliged to allow guide dogs, paralympic athlete Sophie Soon describes getting turned away from restaurants and concert venues when she brings hers, or getting yelled at by fellow commuters.
If guide dogs for the visually impaired haven't yet received mainstream acceptance, then it's harder to envision a day where emotional support animals can too. But mental health needs are equally as important as physical health needs, so stronger regulations for emotional support animals would be a positive development.
When that day comes, these regulations need to minimise abuse, shams and other questionable practices. In most developed countries, only licensed mental health professionals are allowed to assess, evaluate and certify such needs. These professionals are also held accountable should there be any evidence of due diligence not done correctly.
This is a challenge in Singapore since mental health professionals, except psychiatrists, psychiatric nurses and occupational therapists, are technically not regulated by governmental authorities, though organisations such as the Singapore Psychological Society and the Singapore Association for Counselling provide guidance for their conduct.
To normalise emotional support animals, formalised recognition would be needed to legitimise health needs and prevent abuses. It will also lead to greater trust among mainstream consumers as well as businesses who intend to accommodate assistance animals.
Michael Thong is a chartered registered Clinical Psychologist and counsellor with Rogerian Psychology Centre.