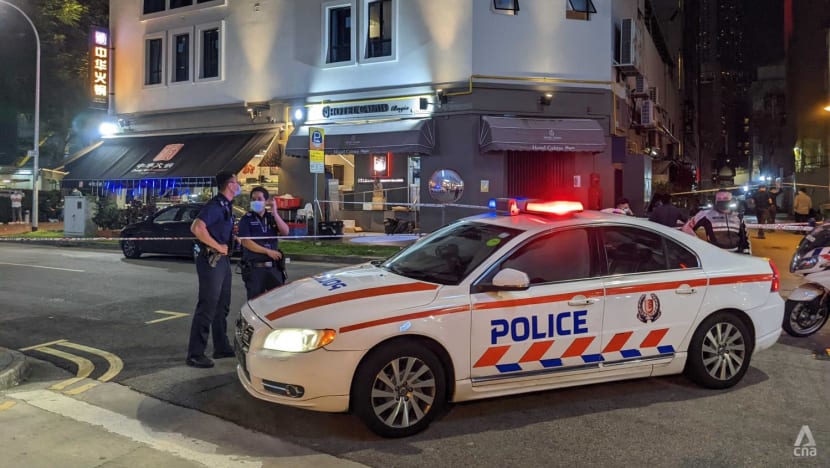 SINGAPORE: When he heard shouts from outside his restaurant, Mr Wei Chen Xiang looked out and was shocked to see a man attacking a woman with a chopper. 
But the 32-year-old staff member at Zhong Hua Steamboat restaurant quickly regained his composure and sprang into action.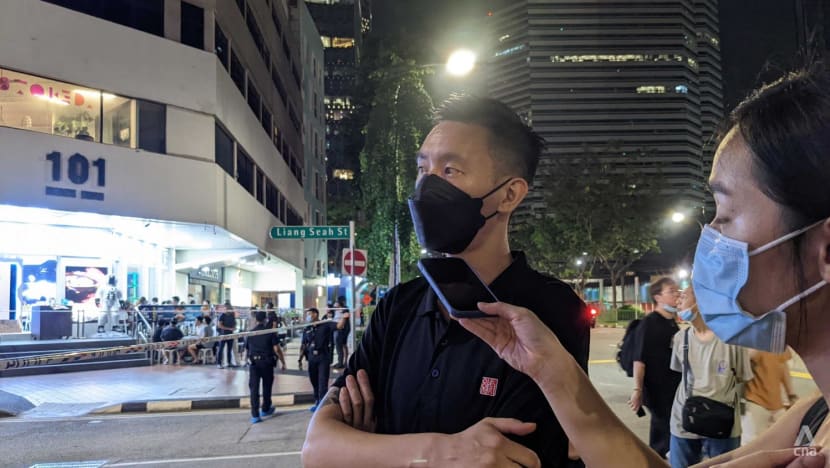 Speaking to CNA, Mr Wei said he did not have time to feel afraid, he just knew that he could not let the man get away. 
"I just grabbed a chair and threw it at him, after that, whatever I could find, I threw at him," he said in Mandarin. 
 
Mr Wei was one of the several individuals at the scene on Thursday (Apr 14) evening when the 46-year-old man wielding a chopper allegedly attacked a woman in the Beach Road area.
The police said they responded to the case at 75 Beach Road at about 5.30pm. 
Footage of the incident circulating on social media showed a man dressed in black apparently slashing the woman several times, as she laid on the road behind a parked car. 
Building signage identified the location as next to Zhong Hua Steamboat and Hotel Calmo Bugis.
Another Zhong Hua Steamboat employee who only wanted to be known as Mr Lin, said he jumped in to help out of fear that the man would attack more people.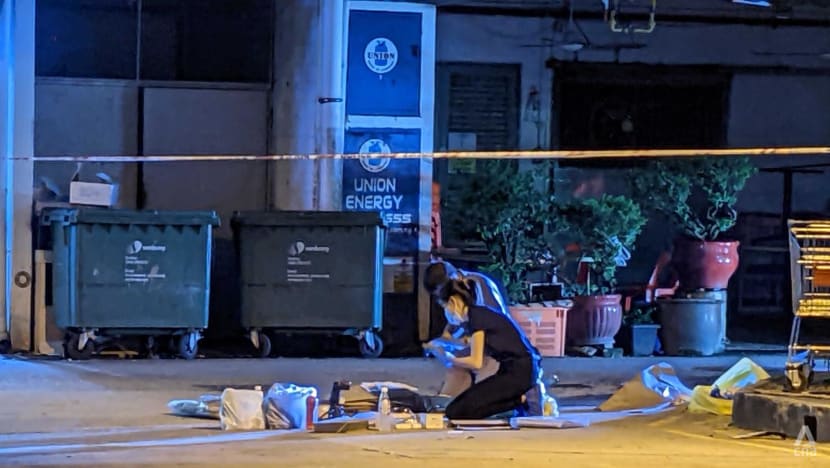 "He already looked like he was in a frenzy, so I was just scared that he would hurt more people," said the 43-year-old in Mandarin.
"We had customers eating here and I was afraid that if he rushed in and attacked the customers, it would be too late, so I knew I had to stop him right there and then." 
As his colleagues and members of the public threw things to block the attacker, Mr Lin rushed back and forth to supply them with chairs and other items.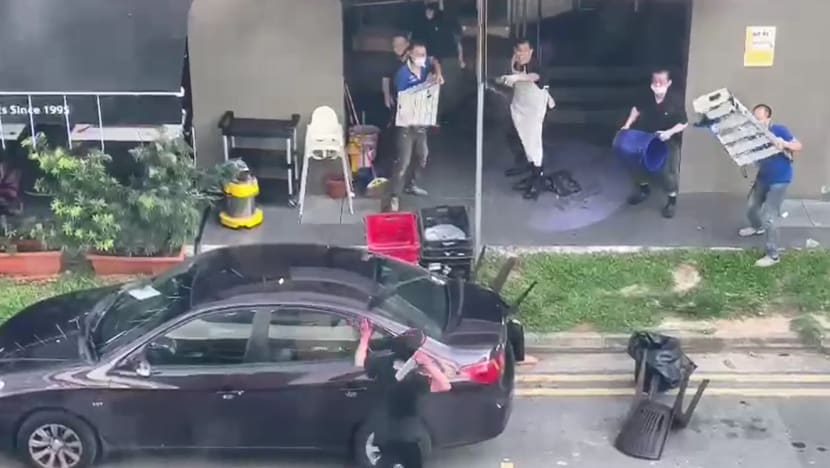 "BRAVERY AND HEROISM"
On the opposite side of the road, staff members from another hotpot restaurant Chef China frantically called the police.
"Everyone was calling the police, and we saw more than 10 people surrounding the attacker, just trying to stop him from escaping," said Mr Jin Xiao, a staff member at Chef China who witnessed the incident.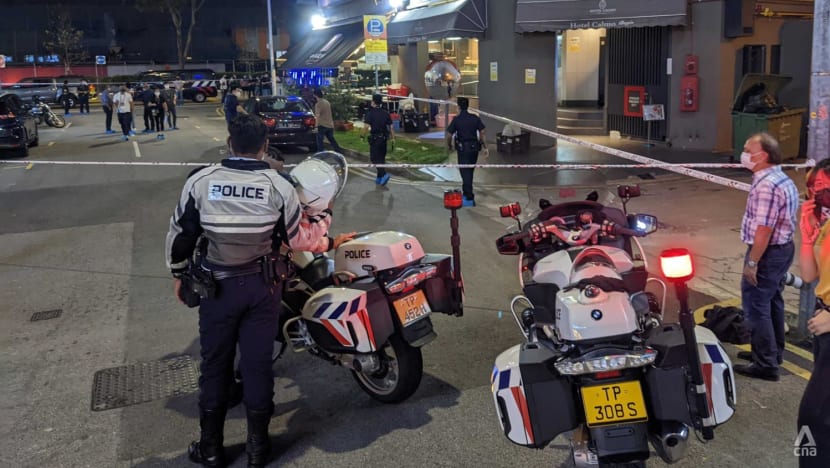 "It was really a display of bravery and heroism. The opposite restaurant's dishwasher da ge (Chinese for big brother) was especially brave, he was throwing things and shouting at the attacker," he said. 
"Even when the guy was threatening him with the knife, he continued to fend him off." 
CNA was unable to interview the man Mr Jin mentioned, as he was speaking to the police.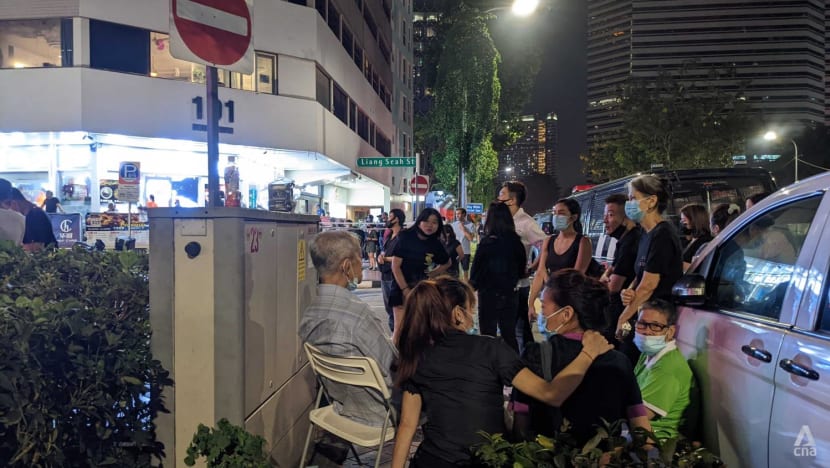 When CNA spoke to Mr Wei and Mr Lin at 10.30pm, they said they had been waiting outside the restaurant for nearly four-and-a-half hours. The police had cordoned off the area and their belongings were still inside the eatery. 
Tired, hungry and thirsty, they said they just wanted to go home and rest. Mr Wei's phone had also run out of battery. 
Since the incident made its rounds on social media, the public has praised them for being heroes.
However, Mr Lin and Mr Wei shrugged it off, saying that anyone would have done it.
"It's not just me, anyone who saw such a thing would have done the same," said Mr Wei. 
"We are all neighbours and they were shouting for help. It wasn't just me who went, there were more than ten of us helping," said Mr Lin.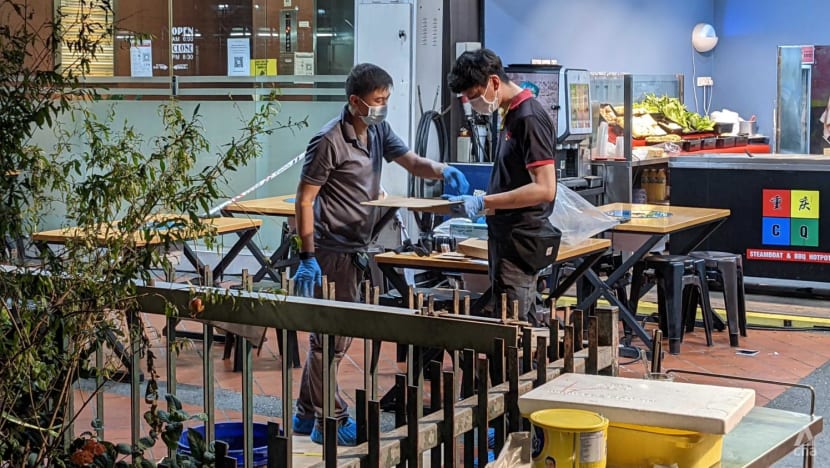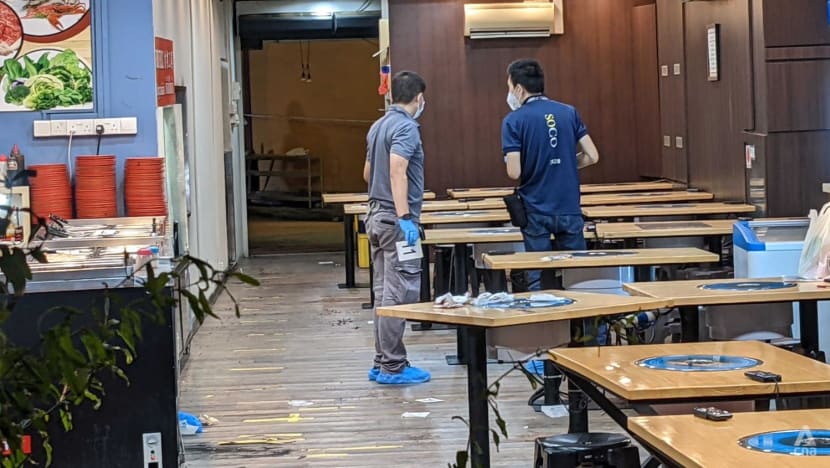 CNA reporters at Liang Seah Street on Thursday night observed a small crowd of curious onlookers as the police investigated the area. 
In a small dark alley behind Zhong Hua Steamboat restaurant and away from the public, officers from the Criminal Investigation Department sorted through the evidence gathered from the scene.

Under the warm yellow glow of the street lamp, officers knelt on the ground arranging various items, and packed them into transparent as well as yellow biohazard bags.
Crime scene investigators were also seen at a restaurant along Beach Road adjacent to Zhong Hua Steamboat.
Earlier, employees from Hotel Calmo were observed disinfecting the hotel's entrance.
A front desk staff member who identified himself as Mr Nazri said bloodstains were found at the building's entrance where the victim is believed to have sought cover.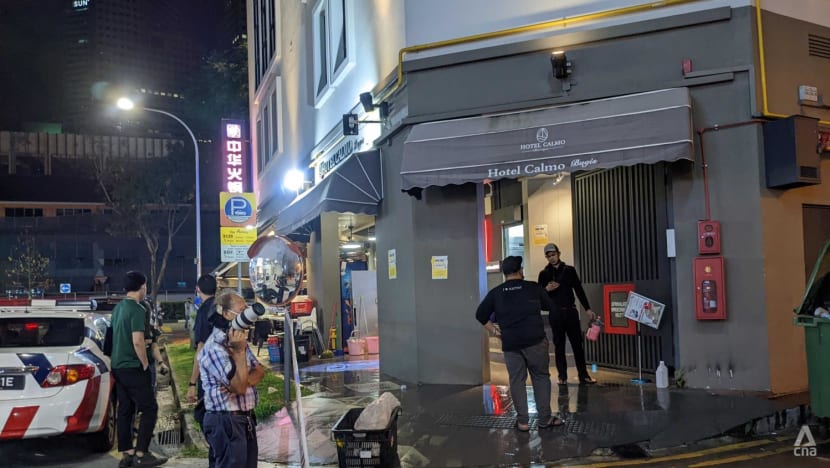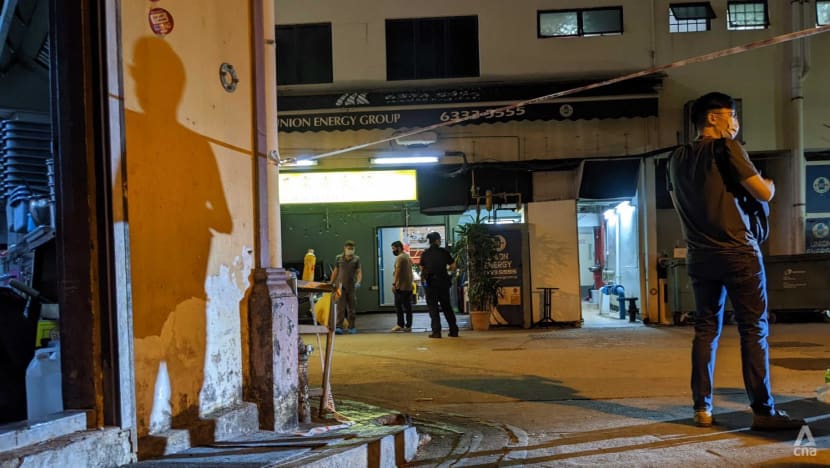 ATTEMPTED MURDER
The man was arrested for attempted murder on Thursday evening after the attack which left the woman bleeding profusely from slash wounds. 
The 41-year-old victim is believed to be his wife, the police said in a news release. The man is also believed to have slit his own wrists before authorities arrived at the scene.
He will be charged in court on Saturday. If found guilty, the man faces life imprisonment, a jail term of up to 20 years and a fine, or both.