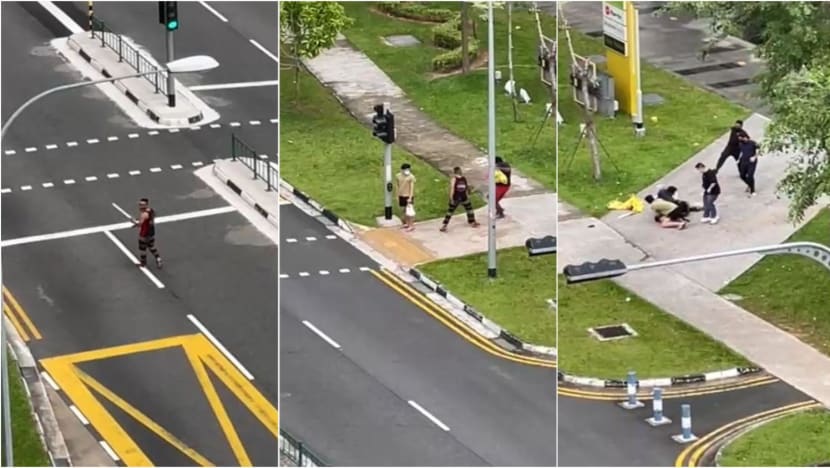 SINGAPORE: A man who was seen wielding a sword at Buangkok Crescent, swinging it at a pedestrian and hitting passing cars, was charged on Wednesday (Mar 16).
Singaporean Fadhil Yusop, 37, was given one charge of voluntarily causing hurt by means of a "samurai sword" at about 1.58pm on Monday at Buangkok Square mall.
He is accused of cutting Mr Kumarapeli Arachchige Amila Chinthana three times, causing the victim to suffer one cut on his left arm and two cuts on the left shoulder.
Fadhil appeared in court via video-link from remand, with his left arm in a cast. He was wheeled in on a wheelchair, but stood up when the charge was read to him by a court interpreter. He later limped in when his case was mentioned before the judge.
The judge ordered him to be remanded in Changi Prison Complex's medical centre for three weeks for psychiatric observation. He will return to court on Apr 6.
If convicted, he could be jailed for up to seven years, fined, caned or any combination of these punishments.
The incident on Monday afternoon went viral after a video of the incident was widely circulated on social media.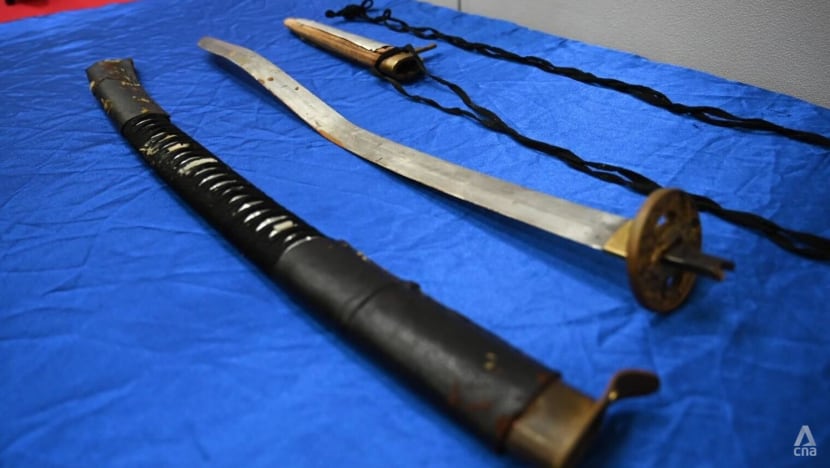 The police said on Monday that they received multiple calls at about 2pm that a man was swinging a sword in the middle of Buangkok Crescent and stopping oncoming traffic.
After a "brief altercation" with members of the public at the lift lobby of his housing block, Fadhil jaywalked across the road and allegedly used the sword to hit five passing cars.
At the traffic junction in front of Buangkok Square Mall, he allegedly swung the sword against another man.
Members of the public came forward and helped to restrain the accused until the police arrived and arrested him.
One man was taken to the hospital with two superficial slash wounds on his left arm, while another suffered abrasions on his left knee.
The police subsequently raided Fadhil's home and seized two packets of "yellow pills".
"Preliminary investigations revealed that the man had allegedly consumed some unknown pills prior to leaving his home with the sword," said the police.
NO SUGGESTION OF TERRORISM: ISD
On Tuesday night, the Internal Security Department (ISD) said that Fadhil allegedly shouted "Allahu Akbar" during the incident, and that it was working with the police to investigate the incident.
"Fadhil is believed to have acted alone, and preliminary investigations thus far do not suggest that the incident is an act of terror," said the department.
ISD said it previously investigated Fadhil in 2016 for sharing images of militant groups online, but "there was no indication that he was radicalised or intended to engage in armed violence". He was given a written warning for his social media posts.
In January 2020, Fadhil was arrested after approaching the imam at Masjid Al-Mawaddah with a knife. ISD said its joint investigations with police at the time did not suggest that the attack was terrorism-related.
He was found to have consumed a large number of pills containing dextromethorphan, which contributed to his behaviour, said ISD.
He was sentenced to nine months and two weeks' jail and released from prison in July 2020 after his sentence was backdated.
"Although Fadhil was assessed not to be radicalised, he was referred for religious counselling after this second incident as a matter of precaution," said ISD.
The police also said that Fadhil was previously remanded at the Institute of Mental Health and diagnosed with substance abuse disorder.
On Tuesday, six members of the public who helped to restrain the accused were given Public Spiritedness Awards.
They included the man at whom Fadhil allegedly swung his sword and a Temasek Polytechnic student who walked past during the incident.