Segregating staff resting and dining areas among tighter measures at bus interchanges after COVID-19 clusters
SINGAPORE: Bus interchanges have segregated staff resting areas from dining areas, as part of enhanced measures following the detection of several COVID-19 clusters.
A total of 284 frontline staff members at bus interchanges have tested positive for the coronavirus from July to Sep 1, said the Land Transport Authority (LTA) in a media statement on Thursday (Sep 2).
"This represents less than 3 per cent of our 11,000 frontline staff in the bus sector," it added. "The public transport operators have taken the 'vaccinate, test and trace' approach to ensure the safety of their frontline workers."
Fifty-five per cent of the cases were detected through active testing and were asymptomatic, while the rest reported sick or tested positive during their quarantine order.
All the cases detected at bus interchanges have so far been confined to employees and some of their household members, said LTA. Almost 95 per cent of those infected are bus captains.
Besides segregated resting and dining areas, other measures put in place include single seating at dining areas, as well as setting up physical separators at designated smoking areas.
The frequency of cleaning of "high touch points" at staff areas will be doubled to at least once every hour, said LTA.
These are aimed at reducing the likelihood of "further workplace transmissions", said the authority, which has worked with public transport operators and the National Transport Workers' Union to enhance safe management measures.
These measures have been implemented progressively over the past few weeks. In addition, the testing of all frontline staff at bus interchanges will also be carried out at least once a week.
As of the Health Ministry's update on Wednesday night, a total of 314 COVID-19 cases have been linked to clusters at eight bus interchanges – at Tampines, Boon Lay, Jurong East, Toa Payoh, Bishan, Punggol, Clementi and Sengkang.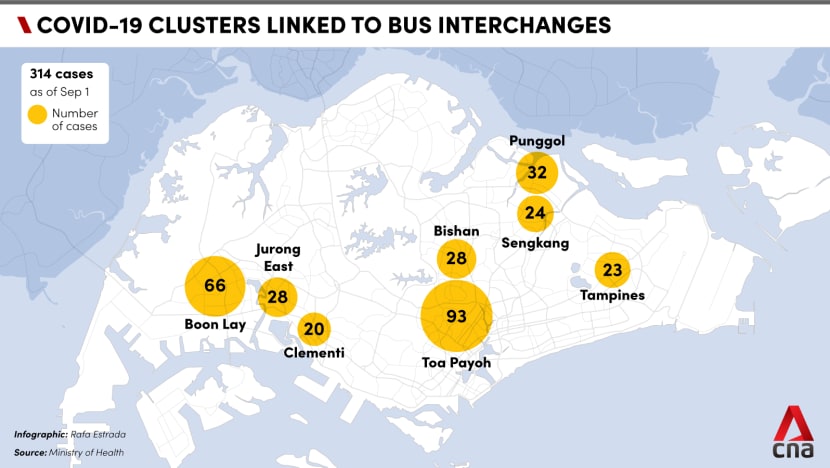 Sengkang and Bishan bus interchanges were first named as clusters on Aug 14, with Toa Payoh, Punggol, Clementi, Jurong East and Boon Lay bus interchanges announced as clusters between Aug 26 and Aug 29.
Tampines interchange was named as a COVID-19 cluster on Aug 30.
LTA noted that more than 99 per cent of frontline public transport workers have taken their first dose of vaccination, with more than 95 per cent fully vaccinated. 
Since July, public transport operators have implemented regular testing for employees who work near existing COVID-19 clusters, so that positive cases can be isolated and detected early, said LTA.
"The proactive testing regime, coupled with community surveillance testing by the Ministry of Health, helped to detect and isolate close to half of the bus captains who recently tested positive for COVID-19 at bus interchanges," said LTA.
"The infected workers are mostly asymptomatic or showing only mild symptoms. No one has fallen seriously ill."
CONTINGENCY PLANS
LTA reiterated that there has been "no major impact" on bus operations so far.
"However, LTA has worked with PTOs (public transport operators) to develop contingency plans that can be implemented quickly to minimise the impact on commuters should more cases emerge from ongoing community surveillance testing," it added.
If lengthening of bus service headways is required, it will be "progressive", said LTA, starting with low-demand bus services to minimise the impact on commuters.
"Our public transport workers have been working tirelessly to keep public transport running smoothly in the past 18 months," said LTA.
"We wish to put on record our appreciation for our public transport workers' sacrifices and continued cooperation, and for the support from our tripartite partners."