Businesses help suppliers sell surplus, expiring goods, at discounts to curb wastage
This comes as higher energy costs, inflationary pressures, logistical disruptions and labour shortages drive up food prices, forcing consumers to tighten their belts.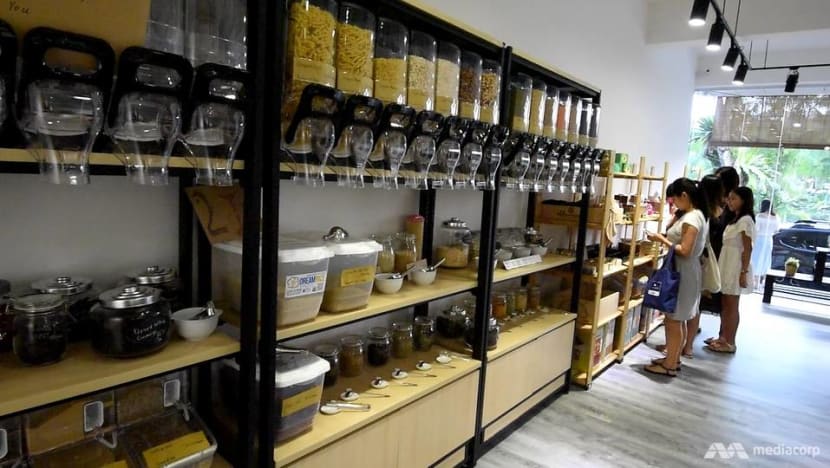 SINGAPORE: Some businesses in Singapore are helping grocers and retailers to sell their surplus or near-expiry food items at discounts, as part of efforts to reduce wastage. 
Zero-waste grocery and lifestyle store Unpackt, for instance, helps suppliers to sell short-expiry products at cheaper prices. 
Ms Florence Tay, the store's co-founder, said the discounts can range from between 20 and 80 per cent. 
"So it depends on the condition, like how blemished the item is or maybe how short the expiry is," she added. 
"We have a pork chop that is 13 days before the expiry date, so it's going at like an 80 per cent discount. If let's say we have cheese that is three months before the expiry date, it will be like a 50 per cent discount."
With higher energy costs, inflationary pressures, logistical disruptions and labour shortages driving up food prices, such initiatives help customers to keep their expenses low while building sustainable habits. 
SELLING SHORT-EXPIRY ITEMS AT A DISCOUNT
This year, Unpackt has seen an increase of about 20 per cent of such products.
"As we procure quite a fair bit from importers, we do get, once in a while, calls or messages that there are certain items that are nearing expiry. Instead of throwing away, they would like us to help them to clear," said Ms Tay. 
"We also encourage them to give it at a certain discount, so as to incentivise people to purchase. We have managed to help quite a few importers to clear in bulk."
Over the past few years, more people have become aware about food wastage, noted Ms Tay, adding that Unpackt will be opening a new concept store, which includes a sustainable cafe and surplus market, in the second quarter of this year.
"Customers who walk in see that it is very practical to purchase what they need… and they also enjoy the savings from being sustainable."
USING TECHNOLOGY TO TACKLE WASTAGE
A start-up tackling the problem of food wastage through the use of technology, treatsure, is also part of the solution.
It connects hotels, retailers and grocers with surplus food to consumers through its mobile application, by listing products that would otherwise be thrown out at about half the original price. 
It has seen an up to 30 per cent increase in Chinese New Year-related groceries from its suppliers, ranging from snacks to fresh produce like oranges and steamboat ingredients.
Mr Preston Wong, co-founder and chief executive of treatsure, said: "This year, we've been getting a lot of enquiries from businesses as well that had Chinese New Year-related goods. It could be cookies or even produce, all the way to packaged drinks."
The app has more than 70,000 users in Singapore. 
"Many of them have embraced the concept of surplus food, reducing wastage from our partner grocers and hotels," said Mr Wong, adding that his company will continue to reach out and partner with more merchants, including restaurants and grocers.