Buskers riled by year-end restrictions on performing at Orchard Road due to crowd control
Buskers have been informed that they can't perform from 7pm to 10pm on Fridays and Saturdays in December, at eight locations on Orchard Road.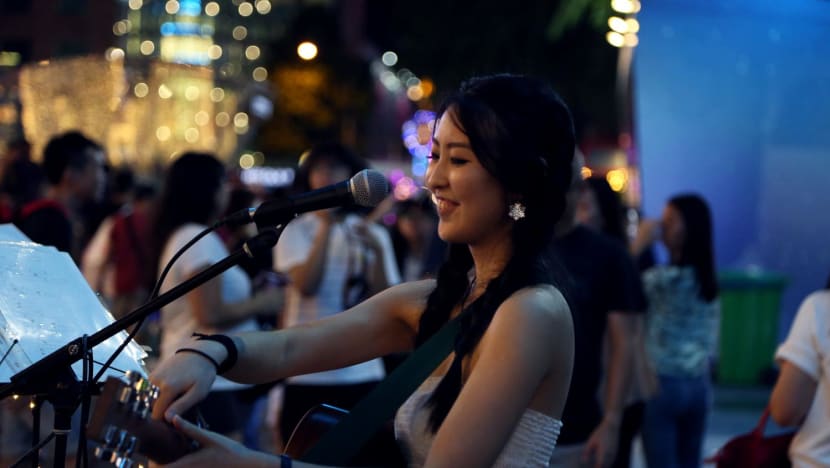 SINGAPORE: A move to restrict busking during peak hours on Orchard Road to control crowds during the year-end holiday season had some buskers crying foul.
Buskers were informed this week that they will not be able to busk from 7pm to 10pm on Fridays and Saturdays in December, at eight locations on Orchard Road. These are popular spots outside ION Orchard, Wisma Atria, Ngee Ann City, The Heeren, 313@Somerset, Knightsbridge and Mandarin Gallery.
The eight days affected include Christmas Eve and New Year's Eve, but not Christmas Day.
This was said to be due to "considerations for public safety and advisories from the relevant agencies", according to email notices sent to the buskers.
In a statement on Thursday (Nov 17), the Buskers' Association (Singapore) called upon the National Arts Council (NAC) to reconsider this decision. 
It said that it was "a shock to hear from NAC that buskers could potentially pose a threat to public safety".
A spokesperson said that buskers have always worked with the security management of the malls in the area to ensure a safe distance between performers and audiences, and that the street performances help enliven the shopping district.
"For several years, buskers have played an integral role in elevating the atmosphere of Orchard Road, especially during the Christmas period. It is common to see families and tourists along Orchard Road singing along with and enjoying various Christmas-themed performances by buskers," said the spokesperson.
DEPENDENT ON EARNINGS AT CHRISTMAS
The association also highlighted that buskers are highly dependent on their earnings during the December festive period.
"This is especially so for full-time buskers, who rely significantly on earnings from the increased footfall during this period to help tide them through the projected down periods of January, February and March," said the Buskers' Association.
"The irony is not lost that in this season of giving, NAC is in fact taking away both the enjoyment of the public as well as the livelihood of such buskers by banning busking activities."
Ms Delvina See, who has been busking in the Orchard area since 2016, called the restrictions a "very one-sided decision".
"The entire community is once again, disappointed and exasperated, with how things have been handled and unfolding," she said.
Responding to media queries, NAC said that leading up to the festive period, there is anticipation of larger crowds of Singaporeans and visitors, especially with travel restrictions lifted.
"Singapore Police Force prioritises public safety and advised the suspension of activities at eight busking locations, out of a total of 12 along Orchard Road," said Ms Elaine Ng, senior director of engagement and participation at NAC.
She added that buskers will still be able to busk on Orchard Road from Sundays to Thursdays from 10am to 10pm, and on Friday and Saturday from 10am to 7pm; and all other busking locations around the island continue to be available.  
But Ms See said that the hours that have been blocked off are peak hours for buskers.
She usually sets up for her act from 4 or 5pm, and busks until 11pm, she said. Since it takes time to warm up, the performance will only get going from 6 or 7pm onwards.
"For the first half of the day ... people don't stop to watch as much as during night time, when people will come after they finish dinner or they will buy food and watch us," she said.
She said that reducing the time she can busk means she may barely earn enough. As a result, it may not be worth her while to make the trip to Orchard Road. Earnings in December can be 40 to 50 per cent more than in the subsequent months, she added.
NEW BOOKING SYSTEM
Such restrictions are not the norm. In the past, advisories were issued to remind buskers of crowds at locations with high footfall, said NAC.
An online booking system for busking was piloted just before the pandemic started, and only became widely used after COVID-19 restrictions were lifted, so blocking off sites in this way was not possible in the past.
Before the busking e-service portal came into use, licensed buskers would be given a list of five sites they can busk at. They had to negotiate for space with other buskers at times, but there were no official booking timeslots.
Ms See said: "Before the e-system, as long as we are all at a reasonable gap from each other, it works."
With e-booking, the busking sites are listed online and they need to book before heading down to perform.
Another busker, who did not want to be named, said that while he does not busk at Orchard, it is already challenging to book popular busking spots and he's concerned about even more competition in December now that there are restrictions.
"If there are places they want to 'lock down' for Orchard, then people will start to move into the neighbourhood areas ... it will be more challenging to try to book," he said.
Using a Chinese idiom, he added: "There will be more monks and less porridge."
RESTRICTIONS AT OTHER SITES
Buskers also shared with CNA examples of restrictions at other busking sites, sometimes due to complaints from residents about noise levels.
One busker said it was sometimes only one particular busker who was too loud, and they used to work these issues out with the residents or shops in the area, rather than stop busking there.
The Buskers' Association said that while they were assured by NAC that the new booking system would make their lives better, it has resulted in such "bans" without consultation with the buskers.
"We have now observed how the booking system has become a tool for NAC to control busking locations and timings at its whim. This has undermined any goodwill that NAC had sought from the buskers," said the spokesperson.
But NAC's Ms Ng said that with the online booking system, buskers have been able to bring their performances "closer to more Singaporeans" with access to over 70 locations island-wide.
She added that following feedback from the busking community, further enhancements are in the works, including a feature that enables buskers to indicate their interest to share their booking slot with another busker.
Ms Ng added that it is important for the busking community, venue partners, authorities, and various stakeholders to work together to bring vibrancy to the streets of Singapore in a safe manner.
"We seek buskers' understanding to continue exploring new locations including other popular and high traffic ones such as Paya Lebar Square, Hougang Central Court, Clarke Quay Central and Taman Jurong Shopping Centre, to bring performances closer to more Singaporeans where they live and play too," she said.