Limited charging points, rules over sales hamper electric vehicle adoption in Singapore
Parallel importers fear being left behind in Singapore's road to electrification, as many customers would rather pay a bit more to get the support that authorised dealers offer.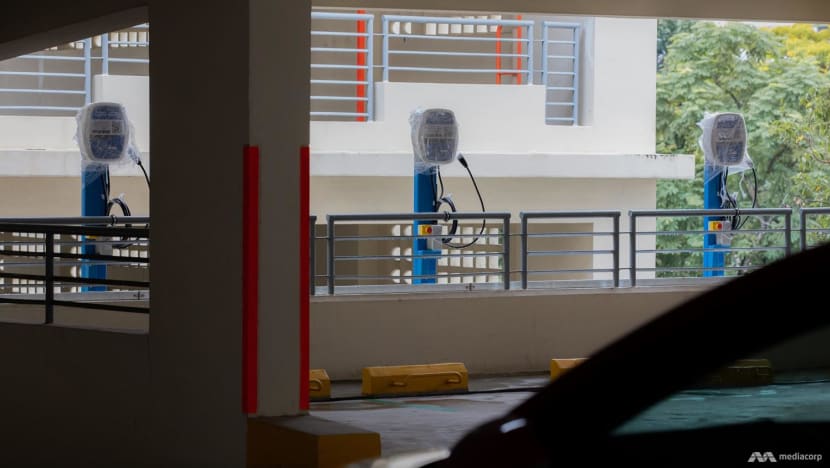 SINGAPORE: Car buyers may soon have more electric vehicles (EVs) to choose from in Singapore's nascent EV market, but roadblocks on both the demand and supply sides continue to slow the adoption of such vehicles. 
Limited charging infrastructure is holding people back from buying EVs, while some rules are keeping dealers from selling these vehicles. 
This comes even as Singapore sets out on a major push for the adoption of EVs. 
The country is accelerating its target of making every Housing and Development Board (HDB) town EV-ready by 2025, earlier than its previous target of the 2030s in a bid to drastically cut down land transport emissions.
In 2022, electric car registrations formed 11.8 per cent of all new car registrations, according to the Land Transport Authority (LTA). 
There are more than 6,500 registered electric cars on the roads, and nearly 10,000 EVs after including other vehicle classes.
LIMITED CHARGING POINTS HOLDING CAR BUYERS BACK
South Korean vehicle manufacturer Hyundai Motor's fast-charging Ioniq 5 electric sport utility vehicle is among the new cars slated to be produced this quarter at the company's Singapore plant.
The Hyundai Motor Group Innovation Centre in Jurong is set to produce 30,000 vehicles a year by 2025. The newly unveiled Ioniq 6 and new Kona Electric will also be assembled there.
For the local market, the company has modified the motor power of the battery EV to meet the Certificate of Entitlement (COE) criteria for Category A vehicles. It also considered the current limitations in charging infrastructure.
"At this moment, easy access to charging facilities is a key factor to boost EV sales in this regard," said Mr Andy Kang, vice president of the Sales Innovation Group at the Hyundai Motor Group Innovation Centre. 
"We are continuously working hard on how we can provide better charging solutions, especially to the people who do not have a charger in their residential area."
At least 12,000 EV charging points will be installed across all HDB car parks by the end of 2025.
However, installing enough charging points is not the only hurdle in Singapore's push for wider EV adoption.
PARALLEL IMPORTERS FEAR BEING LEFT BEHIND
On the supply side, parallel importers are concerned that they are being left behind in the country's road to electrification.
These third-party car sellers said they are limited in what EVs they can put on the road, as compared to the authorised dealers. 
This is partly because of how road tax is calculated, which is pegged to the EV's power rating. 
"We are also encountering some problems with the homologation or registration for EVs," said Mr Galvin Khong, business development director at Vin's Automotive Group. 
"So for certain models like the Mercedes EQB, we are facing some problems with LTA in order to get these cars ready for the road."
Currently, EV models with dual electric motors require proper documentation from manufacturers to confirm their power rating.
This makes it tougher for parallel importers to register these cars for road use. 
Unlike authorised dealers, they do not have direct contact with the carmakers. 
Ms April Koh, general manager at Cars & Stars, said: "EV options are quite limited for parallel importers like us, and we do hope for better support in terms of clarity on importing rules."
Consumers' hesitation over EV adoption is also hitting parallel importers harder, even if their prices are generally more competitive.
Because of the relatively new technology, many customers prefer to buy from authorised dealers and are willing to pay a bit more for the warranty and support they offer, parallel importers said.
LEVELLING THE PLAYING FIELD
The Singapore Vehicle Traders Association is looking to the LTA and the National Environment Agency to help level the playing field.
"With less quota and high COE, the (authorised dealers) will start to have all the EVs, which has affected all the (parallel importers)," said Mr Neo Tiam Ting, president of the Singapore Vehicle Traders Association. 
"We hope that both agencies can help us to clear whatever things that they need so that we can bring in and compete in the market."
If the problem continues, parallel importers that generally charge less than authorised dealers could eventually lose all their market share, leaving consumers paying more for their vehicles, he added.
You may also be interested in: