IN FOCUS: Singapore's electric vehicle revolution is coming - does this spell the end for petrol stations?
With Singapore aiming to phase out petrol and diesel vehicles by 2040, CNA looks at what this means for the nearly 200 petrol stations here and what will become of them.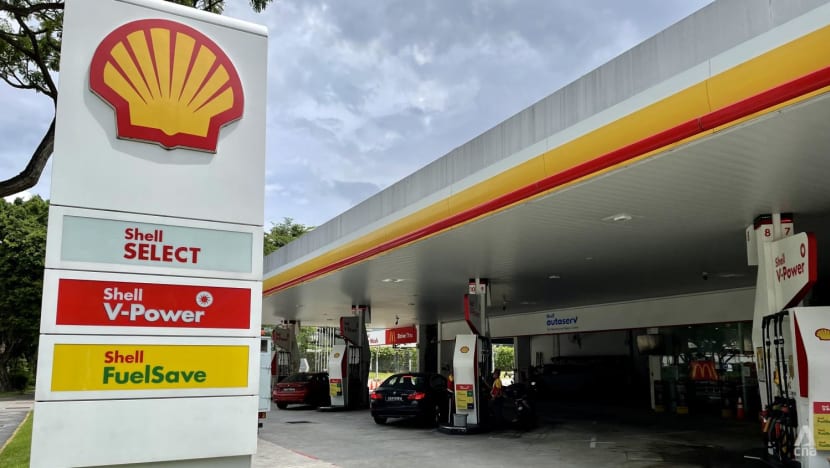 SINGAPORE: Tucked inside a petrol station along Tampines Avenue 2 are things you wouldn't normally expect to find.
The service station, which was revamped in 2017, now boasts a 24-hour fast-food drive-through, a parcel collection station and even a bicycle bay where cyclists can rest or pump up their tyres.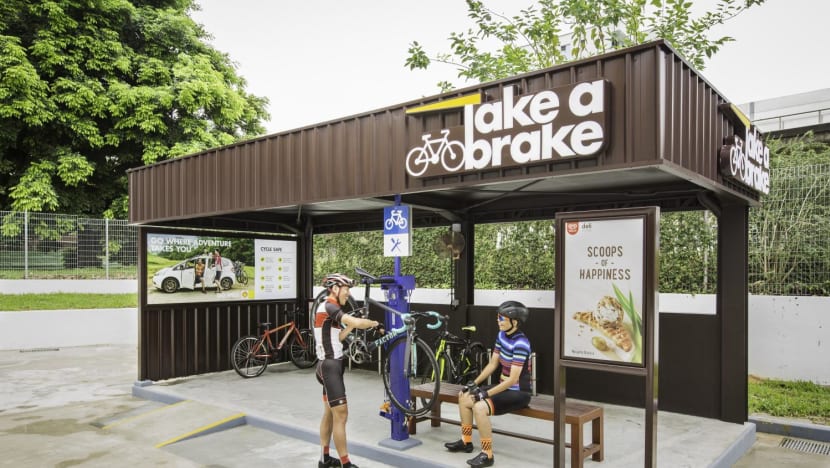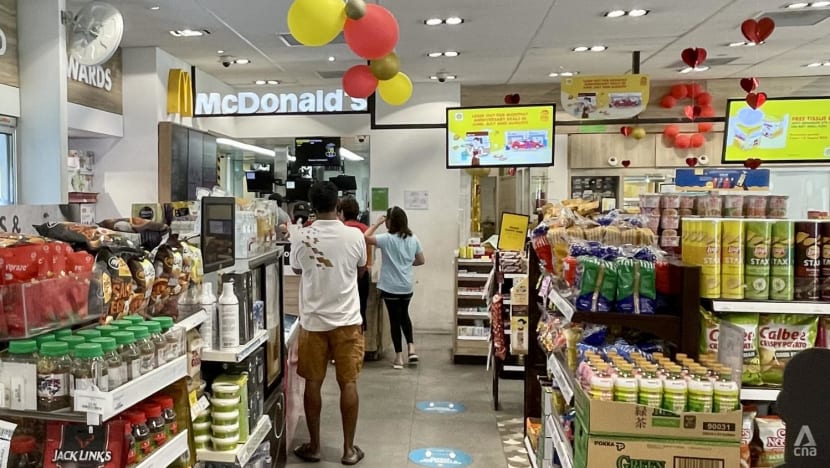 At another petrol station along Sengkang West Way, motorists can expect to find bubble tea, fresh produce and other grocery essentials all under one roof.
These are part of a growing number of stations in Singapore that have evolved over the years to offer a more diverse range of non-fuel retail services to enhance convenience and attract more customers.
Today, there are around 180 petrol stations in Singapore, according to estimates by the Urban Redevelopment Authority (URA). These are mainly operated by Shell, Exxonmobil, Chevron and SPC.
But the days of a petrol station's role simply as a convenient fuel stop appear to be numbered as the oil and gas industry increasingly comes under pressure amid growing concerns over sustainability.
Already, Singapore has seen a surge in take-up for electric cars, with new registrations this year more than double the rate for all of 2021. In the first five months of this year, electric cars made up 8.4 per cent of all new car registrations.
Compared to the whole of 2020, just two years ago, this represents a 20-fold jump.
With the country looking to have all vehicles run on cleaner energy by 2040, this momentum is expected to grow as the country invests more in charging infrastructure and rolls out tax incentives for hybrids and electric vehicles (EVs). It means that demand for petrol and diesel fuel will decline in tandem.
These trends are forcing fuel retailers to reassess their position in the future of transportation, and explore how to reshape petrol stations to better meet the needs of the changing market.
Singapore's URA said it is closely monitoring these trends and will continue to study how such sites may be repurposed for alternative uses, where appropriate, depending on the site context and localised land use needs.
TO BECOME OBSOLETE OR EVOLVE?
With the world moving away from fossil fuels, the question is whether there will still be a need for petrol stations, which have traditionally focused on the retail sale of fuel.
While some have installed EV charging points, Singapore's plans to have an islandwide network of EV chargers - including in residential estates - means that motorists will soon be able to charge their vehicles anywhere instead of being limited to petrol stations.
According to a study published by Boston Consulting Group in 2019, at least a quarter of petrol stations worldwide could be at risk of closure by 2035, if they don't change their business model.
Under its most aggressive scenario, the report projected that 80 per cent of stations could close.
With most petrol stations already strategically placed in locations according to driving patterns, they should consider investing in fast-charging infrastructure to differentiate themselves from home charging and draw more customers, said EY's global transport leader Tony Canavan.
"With that, for time-starved drivers needing a fast recharge, fuelling stations can become the place of choice. This complements the slower home chargers, which can be the place for regular charging, but for a fast recharge, refuelling stations would be preferred," he said.
But even fast chargers take much longer than the few minutes needed to pump a tank of petrol. Currently, a fast charge can take anywhere between 30 minutes and an hour, depending on factors including the make of the car and the battery capacity. This means that fuelling stations will need to offer customers other services and facilities to attract their business.
Beyond offering high-powered electric chargers, fuel retailers will also need to pursue new avenues of growth in order to cushion the possible decline of their traditional business, said Dr Lynette Cheah, who is an associate professor of engineering systems at the Singapore University of Technology and Design (SUTD).
"These stations will have to very quickly try to reinvent themselves in order to keep up with the changes and remain relevant," said Dr Cheah.
"So if they offer fast chargers, there'll be an opportunity for these stations to offer more services for their customers while their vehicles are being charged – such as a place for them to have their coffee break, pick up their groceries or even parcels," she said, noting that some stations have already established themselves as mini convenience stores.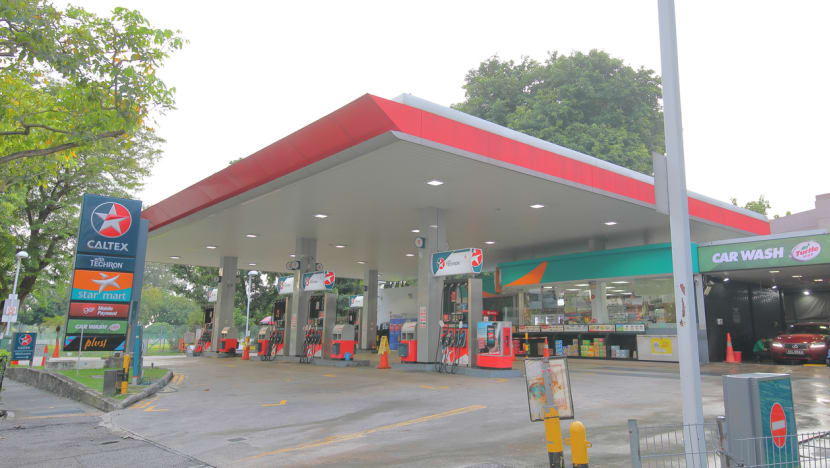 According to a Mckinsey & Company report, the global value of forecourts - which refers to the open area in front of the petrol station - is estimated to increase from US$22 billion in 2019 to US$30 billion in 2030. These gains could help to offset the decline in the fuel retail value pool, the report said.
In Singapore, oil and gas companies like ExxonMobil, which owns the Esso brand, and Chevron are already monitoring current consumer purchase behaviour and working with partners to provide new retail options such as bubble tea outlets, bakeries, car washes and car workshops at selected service stations.
Despite this, the share of operating profits for non-fuel retail in Asia is still very low compared to Western countries, according to EY's head of oil and gas for Asia-Pacific Sanjeev Gupta.
"In European and North American economies, the share of operating profits for non-fuel retail is up to 40 to 50 per cent, while in Asian economies, it is significantly lower at less than 10 per cent. Hence there is a significant market with upside potential," he said.
"Retailers at fuelling stations today already have the capability to collect huge amounts of data at their sites," he said.
"By integrating store and point-of-sale data with third-party data from financial services, telecommunications and social media firms, and comparing it at a postal code level, this large dataset can profile the exact demographics of customers visiting a store."
This includes the customer's age, income, driving patterns and shopping style, which could help fuel retail companies to better create a customised retail experience at each station.
GOING ELECTRIC
As the world prepares for an EV boom, major oil and gas companies are also placing their bets on cleaner energy and setting their sights on charging infrastructure companies to remain relevant in the market.
Gaining operational control and owning a significant number of existing EV charging points would allow them to grow their consumer base.
While the value of EV charging may still be negligible today, it is estimated to reach £14.55 billion (S$24.7 billion) by 2030, according to McKinsey & Company.
With plenty of other players willing to tap into this revenue stream, fuel retailers will need to venture beyond their traditional capabilities to remain relevant.
Last year, oil giant Shell acquired charge point operator Ubitricity, adding 2,700 charge points in the UK and 1,500 charge points across the rest of Europe to its ever-growing charging network.
It also opened its first EV charging hub in the UK in Fulham, London, replacing the petrol and diesel pumps at the existing fuel station with nine ultra-rapid charge points rated at 175kW each. These are capable of recharging most vehicles up to 80 per cent capacity within 30 minutes.
The EV hub features solar panels as well as a cafe and a more extensive shopping selection, so drivers can make the most of their time while waiting for their vehicles to be charged.
Meanwhile, Chevron acquired biodiesel maker Renewable Energy Group in June, with the aim of growing its renewable fuels production capacity to 100,000 barrels per day by 2030 and provide lower carbon solutions for the transportation sector.
These companies have also been investing in fuel retail in Singapore to adapt to changing needs.
Chevron Singapore, the operator of retail brand Caltex, has partnered with SP Group to provide 50kW direct current (DC) rapid chargers which are compatible with most EVs at four "strategically located" service stations in Singapore.
Similarly, Shell, which operates 57 service stations across Singapore, said 21 of its stations now offer the 50kW DC rapid chargers. These chargers can power up most EVs within 30 minutes.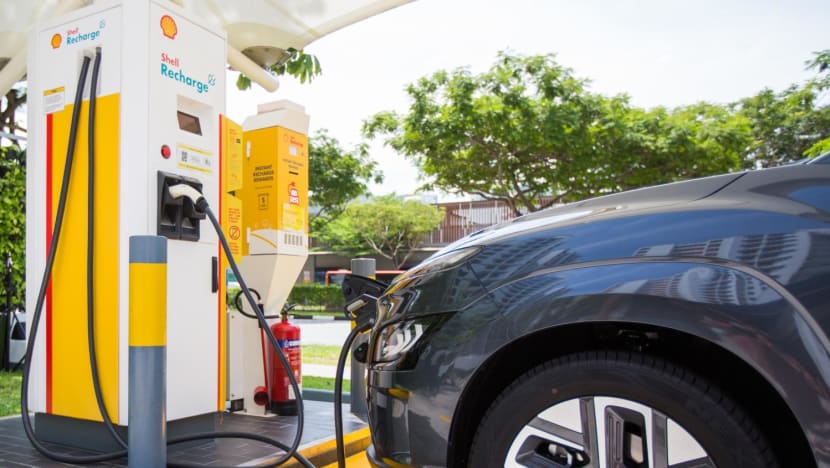 By the end of this year, three of Shell's stations - located in Tampines, Pasir Ris and Lakeview - will be fitted with high-powered 150kW chargers, making them among the fastest available to the public in Singapore.
These will be powered by solar photovoltaic (PV) panels installed onsite and integrated with energy storage systems to mitigate intermittency due to weather conditions, as part of a pilot by the Energy Market Authority (EMA) and Shell.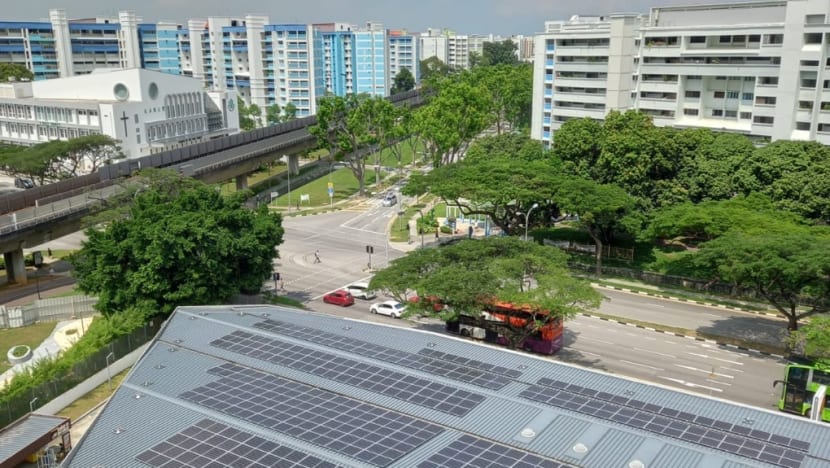 Findings from the project will also be applied to improve safety and lower the compliance cost of future energy storage systems deployments in Singapore. 
Mr Doong Shiwen, general manager of Shell Mobility Singapore, said the pilot could be a good alternative to costly grid upgrades as it provides higher energy supply and ultra fast EV charging while significantly reducing the charging time.
"We are pretty confident that it will be successful and this will then pave the way for the same solution to be deployed in other areas and again, substantially reduce the time to charge," he added.
But whether Singapore could see its existing petrol stations being converted into all-EV charging hubs like the one in Fulham, London, remains to be seen.
Given Singapore's limited land, space needs to be optimised which means some of these petrol stations may have to be repurposed for other needs or amenities, said Dr Cheah.
There are also infrastructure considerations in retrofitting a petrol station, especially with the EV landscape rapidly evolving over time, she added.
In comparison to a relatively standardised petrol station, an EV charging station or hub involves considerations around power generation, charge cycles, as well as the type of charging points used today and in the future.
For instance, if a petrol station installs three chargers and builds the power grid connection accordingly, it will be difficult to scale up when demand for charging grows. 
"There are a lot of uncertainties but we are focusing on the opportunities. Now that the Government's 2040 timeline is clear, we will need to accelerate the change," said Mr Doong.
"We are driven by the needs of drivers so it could be that, in future, instead of having just one charger and many pump islands, we have more charging stations and fewer pump islands.
"What is absolutely certain is that we will constantly monitor what the customer and statistics are telling us - is it 3,000 electric vehicles or is it 30,000 electric vehicles?" he said.
"That's why we put in the infrastructure and subsequently added more because we saw that there was a need for it."
TRANSITION WON'T HAPPEN OVERNIGHT
While the future of petrol stations in Singapore - and around the world - remains uncertain, it's unlikely that they will disappear overnight as new registrations of diesel cars and taxis will only cease from 2025. From 2030, only cleaner-energy models will be allowed for registration.
"EV sales are growing quickly but they're still only going to be a small fraction of the fleet in Singapore until much later on because of the way our (Certificate of Entitlement) is set up," she said. "So it'll be another 10 years before we'll eventually see the fleet turn over to all-electric."
Each COE - which gives vehicle owners the right to own and use a vehicle in Singapore - lasts for 10 years, after which vehicle owners will either need to pay for a new COE at prevailing rates or get rid of their vehicle.
At the same time, kinks still need to be ironed out with concerns over costs and battery issues remaining barriers to wider EV adoption.
Grab, which has nearly 5 million drivers and delivery riders in the region, recently pledged to replace its ride-hailing fleet with low-emission vehicles such as hybrid or electric vehicles by 2030.
However, during a panel discussion on reducing emissions in land transport earlier this month, Grab's group head of marketing and sustainability Cheryl Goh shared that most private-hire car drivers are still unable and unwilling to make the switch to electric vehicles.
"Our drivers are generally low- and middle-class and for them, a vehicle isn't a luxury item or a status symbol but a way in which they can earn an income," she said, adding that the total cost of owning an electric vehicle is 82 per cent higher than an equivalent four-wheeled ICE (internal combustion engine) vehicle in the region.
"Our drivers are very sensitive to vehicle-related costs because it directly impacts how much money they can bring home to their family."
With Grab drivers travelling 230km a day in Singapore alone - seven times more than the average driver - she said making the switch to electric would result in lost opportunity costs as they would have to spend a lot of time charging their batteries in a charging station.
"Since they frequently need to charge, they frequently need to think about mileage, range anxiety is real and something that truly makes them think before they transition to EVs," said Ms Goh.
Dr Cheah warned that in the transition to EVs, there will also be teething issues.
"It's not just about the numbers of these chargers but where they are located and it has to be compatible with the mobility patterns of drivers so we'll need to have some near homes, workplaces, schools and other commonly visited places," she said.
"There might be a mismatch of where EV chargers are available versus where the demand actually is, and this will be naturally discovered by the market and so I expect that this might be a little bit painful at the beginning but eventually we'll figure it out."
However, what is certain according to experts, is that consumer demand, government regulations and business commitment and opportunities will continue to drive demand for electric vehicles, resulting in more and more EVs on the roads.
For fuel retailers, those who want to stay in the game will need to transform and make investments before reaping the rewards.
And if they don't, it could mean the end of the road for them.