'A gross failure of morals': The extra trauma when a father sexually abuses his child
Disclosing child sexual abuse is already difficult for a child, but even more so when the perpetrator is their father. CNA looks into why this specific relationship dynamic makes the abuse more horrific. 
SINGAPORE: In the past few months, several court cases involving incestuous sexual abuse have made headlines. Many of these crimes involved a father figure perpetuating the abuse. 
A 39-year-old man was sentenced to 11 years' jail and 15 strokes of the cane for sexually assaulting his 13-year-old daughter, who later ran away from home. 
Another man raped his 11-year-old daughter after being advised by a "feng shui master" to have sex with a virgin to avoid a life-threatening mishap. The 50-year-old father was sentenced to 23 years' jail. 
In another instance, a man began sexually assaulting his daughter from when she was nine, even when his wife was asleep in the same room, and escalated to raping her when she was 11. The 45-year-old man was sentenced to 21 years' jail and 24 strokes of the cane. 
In an "unprecedented" case, a man was given 29 years' jail and 24 strokes of the cane after he raped his 13-year-old daughter and forced his 15-year-old son to rape his own mother. 
All four accused in these cases were sentenced in October. 
According to statistics available on the Ministry of Social and Family Development's (MSF) website, the number of child sexual abuse cases investigated by Child Protective Services has increased over the last decade. 
A total of 72 incidents were investigated in 2011, compared to 181 in 2017, 248 in 2018, 210 in 2019 and 261 in 2020. 
None of the public agencies and non-profit organisations that see child sexual abuse cases that CNA spoke to measure granular details, such as whether there was an increase in child sexual abuse cases specifically involving fathers or father figures. 
But it is undeniable that such cases are repulsive.
"Words cannot adequately describe the abhorrent nature of the acts by the accused," said Justice Dedar Singh Gill about the case involving the man who raped his daughter and forced his son to rape his own mother. He added that the man's acts were "an assault on the basic values of being human".
CNA spoke to organisations to understand how sexual abuse cases involving a father as the perpetrator may differ from other instances of child sexual abuse. 
SHAME AND CONFUSION
Agencies that handle such cases highlighted a common thread: Fathers are in a position of trust and authority, so such offences typically happen in secret. 
"Child sexual abuse involving offenders within the family is especially hard to detect, given the dynamics involved and the fact that such offences are typically perpetrated behind closed doors. Such offences are viewed as especially egregious when the offenders are in positions of trust and authority vis-à-vis their victims," a spokesperson from the Attorney-General's Chambers (AGC) told CNA. 
AGC said the courts consider these factors as "aggravating" and it would typically result in the prosecution seeking and the court imposing a higher sentence. 
"When the perpetrator is a father or a stepfather, the aspects of secrecy and violation of a close familial relationship can cause additional issues of shame and confusion in survivors," added a spokesperson from MSF.
Being sexually abused by a father figure is a violation of the child's trust that the relationship would be "safe and protective". In comparison to receiving abuse from a stranger or non-family member, survivors of abuse by a close family member can develop "more issues with betrayal or develop difficulties trusting others".
The ministry added that in some cases, the perpetrator may have even led the child to believe the sexual abuse was "an acceptable way to show affection between family members or to be educated about sex".
In other cases, some children may be misled to feel "responsible for meeting the perpetrator's sexual or emotional needs". 
Due to the relationship dynamic, children can feel pressure to keep the sexual abuse under wraps, because revealing what's going on may impact their whole family. 
"This (pressure) can be due to direct threats of shame or physical harm from the perpetrator if others found out about the abuse, or the child's fear of repercussions such as the family losing their sole breadwinner, being blamed for the perpetrator going to jail, or having their family broken apart," said MSF.
Moreover, children typically have a "high level of dependence" on fathers or stepfathers. They have strong feelings of love or loyalty and "genuinely want to spare them from harm", even though the price children pay is "continued harm to themselves", added Ms Shailey Hingorani, head of research and advocacy at the Association of Women for Action and Research (AWARE). 
But perpetrators, she said, are conscious of their child's dependence and may even exploit it by emphasising the disastrous consequences of disclosing the abuse.
It can result in victims being more likely to blame themselves for the abuse, compared to those who may be abused outside the family unit, added Ms Fiona Tan, a senior clinical psychologist at IMH's Department of Developmental Psychiatry.
"This is especially so for older children, who may be (more) aware of the effect that disclosing the abuse will have on other family members." 
In the end, if and when reports of abuse are lodged, other non-offending caregivers may find it incomprehensible that someone they love could commit such acts. 
"The discovery of sexual harm towards a loved one by another is often distressing to non-offending caregivers, who experience various emotions such as confusion, anger and guilt," said MSF, adding that such emotions could make them unable to be emotionally present and supportive of their child. 
"Thus, even when a child expresses fear of spending time with a father or stepfather, the myth of 'stranger danger' (i.e. that children are more likely to be abused by strangers) makes it hard for others to consider the possibility that the father figure might be a perpetrator," said Ms Hingorani. 
After all, there are many "legitimate reasons" for a father, as opposed to other relatives or teachers, to spend time alone with his child.
When family members are unable to be there for the child in ways they need or instead support the alleged perpetrator, it is common for victims to "recant on their disclosures in an attempt to make everything better in the family", added Ms Tan. 
As a result of the myriad issues that may occur after the abuse is revealed, the abuse could "carry on undetected and may also become more severe over time".
Do perpetrators share a common trait?
In response to CNA's query on whether perpetrators tend to share a certain pattern of behaviour, such as a need for power or control, Dr Kenneth Koh from the Institute of Mental Health (IMH) said that IMH doesn't assess such factors, even though perpetrators may indeed have "inordinate needs to exert power over their children or stepchildren".
Instead, they primarily look for "psychiatric disorders that may have contributed to the offences", such as paedophilia. 
While many offenders they see end up being diagnosed not to have mental illness, one similarity across these offences is that they happened because of proximity and the assailant and victim were living in the same housing unit, added Dr Koh, who is a senior consultant at the Department of Forensic Psychiatry. 
"And ultimately, that (the abuse) was a gross failure of morals rather than a consequence of any mental illness." 
In cases where offenders are paedophiles, Dr Koh noted that the victims are "greater in number and oftentimes extend outside of the family".
SYMPTOMS AFTER ABUSE 
Children who have suffered sexual abuse by a fatherly figure may experience various symptoms of complex trauma.
These include a loss of trust, feelings of betrayal, guilt (especially if the abuser is jailed or the family is broken up), anxiety, depression and post-traumatic stress disorder, said IMH's Ms Tan. 
And these symptoms may manifest in varied ways, from relationship to physical health problems. 
"Children and adolescents may have difficulty developing a strong healthy relationship with their caregivers and may in the future have problems with romantic relationships, friendships and with authority figures, such as teachers," said Ms Tan. 
As for their physical health, the child's immune system and body stress response system may not develop normally after growing up in constant fear or stress. 
"When this individual is exposed to normal levels of stress, these systems may respond as though they are under extreme stress. For instance, hyperventilation or total 'shut down' which may be out of proportion in the context of normal stress and can be perceived by others as overreaction or detachment," added Ms Tan. 
She pointed out that children who suffer from complex trauma also often struggle with chronic or recurrent physical complaints, such as headaches or stomachaches, which are considered psychosomatic symptoms.
Their sleep may also be affected, she added. Children or teenagers might experience sleep difficulties due to fears or worries, nightmares and hypervigilance towards a "violent event occurring during their sleep".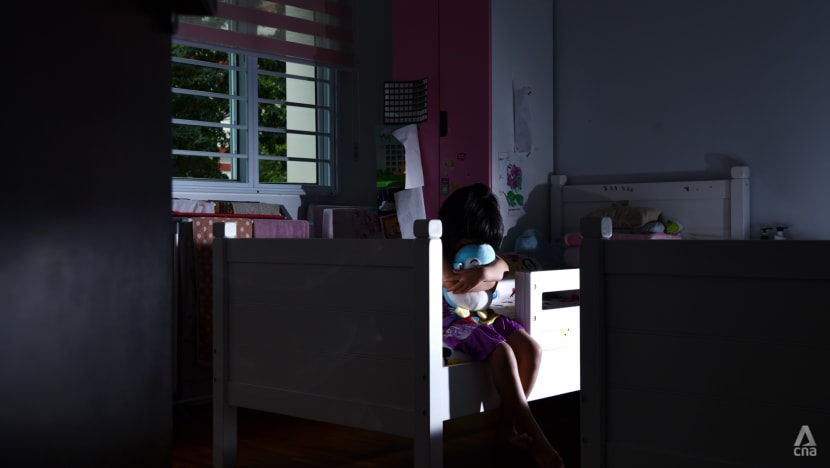 Emotionally, youth may find difficulty identifying, expressing and managing their emotions. This may lead to depression, anxiety or anger issues, said Ms Tan. 
Their emotional responses can be "unpredictable or explosive", and they may display "aggressive behaviour" due to feeling overwhelmed by their feelings and not knowing any other way to express them, she added. 
To an outsider, Ms Tan said the individual may appear to be "easily triggered" or "set off" and is more likely to react more intensely. They may struggle to "regulate themselves and lack impulse control or the ability to think through consequences before acting".
She noted that younger children may also resort to aggression to feel in control or as a defence against "their own feelings of helplessness or vulnerability".
In the jarring aftermath of child sexual abuse, dissociation can also occur. This means the child feels "disconnected from their thoughts, feelings, sense of identity and their surroundings under stress", said Ms Tan. 
"The dissociation can affect an individual's ability to be fully present in activities of daily life and can significantly fracture an individual's sense of time and continuity. Therefore, it can adversely impact social interactions, work performance, learning."
Finally, children who have experienced sexual abuse from a father figure may develop a skewed concept of self. 
"They may learn that they cannot trust, the world is not safe and they are powerless to change their circumstances. Negative beliefs about themselves, others and the world will diminish their sense of competency, interfering with positive problem solving and reducing opportunities for them to make a difference in their own lives," said Ms Tan.
These children have trouble feeling hopeful, she added. Having learnt to operate in "survival mode", the individual lives in the moment, without concern for the future. 
What is important to note is that the above symptoms may be also present in a child who has experienced physical and emotional abuse or neglect, albeit not from a father figure.
But those who have been sexually abused by a father figure may also have "sexual knowledge, language and behaviour inappropriate for children", added Ms Tan. 
"For instance, they might display inappropriate sexual behaviour such as pretending to have sexual intercourse with another child. As they grow up, their difficulties may worsen and they are likely to engage in more high-risk behaviours such as substance abuse or promiscuous sexual behaviour."
That said, the impact of any form of childhood abuse depends on a range of factors, stated MSF. 
These include the child's life experiences, such as whether they have experienced other adversities; the duration and severity of the abuse; the amount of social support they have; their coping strategies; and their beliefs about the abuse they experienced, such as whether they feel responsible for causing it. 
Not all survivors will experience the same symptoms. 
"Survivors whose resilience are supported by healthy coping strategies, and who have good emotional support from family, friends and the wider social environment, can function well in daily life," added MSF.
Child sexual abuse by fathers is domestic violence: AWARE
In comparison to cases where the perpetrator is someone outside the family, such as a teacher, coach or community leader, child sexual abuse involving the father may involve "coercive control", said Ms Hingorani from AWARE. 
This implies behaviour that seeks control over a "wide swath" of a victim's life.
A 2020 study by the University of British Columbia examined all Canadian judicial decisions involving sexual offences against girls between the ages of 12 and 17 over a three-year period, and suggested that sexual abuse by fathers is "the easiest to perpetrate, the hardest to uncover, and the most damaging to victims", added Ms Hingorani. 
The study found that such abuse often featured "patterns of violence similar to those of coercive control described by adult women in intimate relationships, with men exerting controlling behaviours that extended beyond the sexual activity itself".
EARLY CHILDHOOD SEXUALITY EDUCATION AS PREVENTION
In January 2020, the law was amended to allow the courts to impose harsher punishments in selected instances where accused persons prey on vulnerable victims and young persons. But though the law may help, detecting such abuse remains tricky.
So what can be done?
Starting comprehensive sexuality education at a young age is recommended, but some parents may be reluctant as they believe it isn't necessary, said AWARE's Ms Hingorani. 
She believes such reluctance, however, may stem from "an inaccurate and overly narrow conception" of what such education entails. For example, parents may believe these lessons only focus on sexual activity. 
"On the contrary, comprehensive sexuality education can be age-appropriate and involve a wide range of skills and awareness beyond sex itself, such as understanding agency and bodily autonomy," she said.
Toddlers are "naturally curious" about their bodies, so parents can harness this curiosity to educate them. 
"Parents could use this curiosity in everyday settings, such as bath time, to teach them the names of different body parts for clear and precise communication in case of abuse, and stress to them that their bodies are theirs," said Ms Hingorani. 
She added that such sexuality education classes could teach pre-schoolers that "they need a person's consent before touching them, and that (other people) can touch them in some, but not in other, ways". 
"Terms like 'safe', 'unsafe' or 'confusing touch' can come into play here. Kids should also be taught what to do when they experience unsafe touch, like tell a trusted adult when they can," she said. 
Imparting such knowledge to children from a young age in proper lessons can be particularly important since many of such child sexual abuse cases involve grooming, which is the process of "establishing trust with a child and gradually escalating sexual behaviour over time", added Ms Hingorani. 
"The gradual nature of this process makes it confusing for the child, who is often unable to draw the line between acceptable and unacceptable behaviour."
She added that some children don't even realise what they're experiencing is abuse or inappropriate, and may only come to the realisation after taking sexuality education classes in school.
"This critical point should not be overlooked, as it speaks to how we might be able to both bring more abuse to light, and prevent it from happening in the first place."