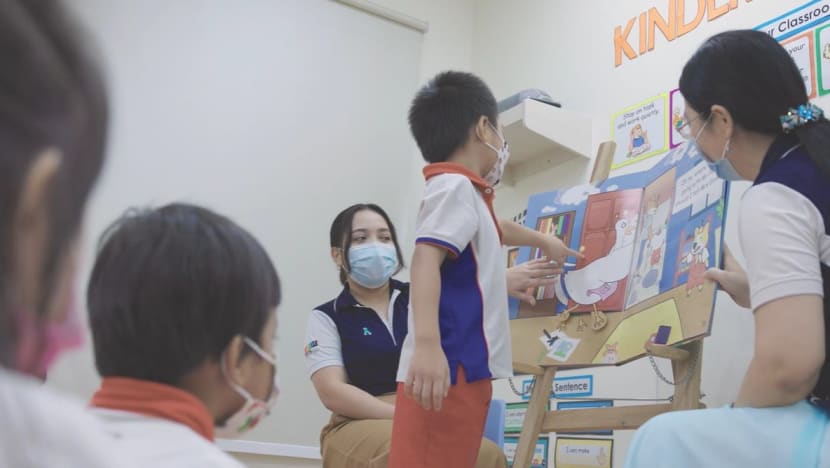 SINGAPORE: Since January this year, children from lower-income families have been prioritised for enrolment into anchor operator pre-schools, the Ministry of Social and Family Development (MSF) said on Friday (Mar 3).
This applies to children from families with a gross monthly household income of up to S$6,000.
Families with a gross monthly household income of S$3,000 and below, as well as those supported by KidSTART and the Preschool Outreach Programme, will be given higher priority.
The five anchor operators are PCF Sparkletots, My First Skool, M.Y World Preschool, Skool4Kidz and E-Bridge Pre-school. Together, these operators run about 600 pre-schools. 
Monthly fees at these pre-schools are capped at S$680 for full-day childcare, S$1,235 for full-day infant care and S$150 for kindergarten, excluding Goods and Services Tax (GST).
More children will also be included in the KidSTART programme, which will be extended to Jalan Besar, Toa Payoh, Sengkang, Hougang and Serangoon in the coming year. It is meant for families with a gross monthly household income of S$2,500 and below or per capita income of S$650 and below.
The programme, introduced in 2016, supports lower-income parents with the knowledge and skills for their young children's development, health and nutrition, from when the mother is pregnant until the child is six years old.
It has supported more than 6,200 children aged six and below from lower-income families, and targets to onboard 80 per cent of children from eligible families, up from the current 20 per cent, when it is scaled up nationwide by 2026.
It will also be easier for families to get a place in an early intervention centre for children below seven with developmental needs.
A total of 1,400 places will be added over the next two years in new centres offering the Early Intervention Programme for Infants and Children as well as through a private providers programme.
The second programme, called the Enhanced Pilot for Private Intervention Providers, offers another option for children who need early intervention to enrol at ECDA-appointed private centres at subsidised rates. 
From Jul 1, ECDA will introduce caps on the maximum amount that families will pay for this programme. 
Fees differ across providers and range from S$900 to S$2,100 before subsidies. A middle-income family, with a per capita household income of S$1,801 to S$2,300, can expect to pay around S$190 per month after subsidies, less than half of what they are paying today, said Minister of State for Social and Family Development Sun Xueling. 
In addition, ECDA plans to implement the Inclusive Support Programme in more pre-schools from 2026.
Together, these efforts will serve 80 per cent of children with developmental needs requiring medium to high levels of early intervention support by 2027, up from 60 per cent today, said MSF.
"A good start in life begins at birth. The Government is committed to supporting couples as they embark on their parenting journey," said Ms Sun.
SINGLE TOUCHPOINT FOR COMLINK
Families with children living in rental housing will get more support, with Community Link (ComLink) expanded nationwide to cover 21 communities. 
The current and planned programmes at ComLink communities include reading and numeracy for young children, sports activities and after-school enrichment classes for children and youth, coding lessons, basic financial literacy workshops, and skills upgrading and job matching services, among others.
More than 2,400 volunteers have been recruited to support ComLink efforts, including outreach, befriending and programmes. 
Since November 2022, all families living in rental flats with children have been offered ComLink support. 
ComLink will also streamline common functions across multiple programmes. Today, ComLink families may be approached by befrienders from multiple agencies to offer support.
"Families living in rental flats often run pillar to post, filling out multiple forms, repeating their stories and struggles at different offices to receive all the help they need," said Senior Parliamentary Secretary for Social and Family Services Eric Chua.
"These families are also visited by befrienders from different agencies and organisations, each sharing their own programmes and criteria. This creates plenty of confusion and adds to these families' bandwidth tax. This must change."
ComLink officers will now partner volunteer befrienders to coordinate across programmes and to be the contact person for ComLink families. 
They will work with agencies to address families' needs and organise the interventions in an action plan that supports families across multiple domains, said MSF. 
Since August last year, 60 ComLink families in Jalan Besar have benefited from this approach, which will be rolled out progressively to more families, said Mr Chua.
MORE FAMILY PROGRAMMES IN THE COMMUNITY
The Families for Life's FFL@Community programme will be expanded beyond the current two towns at Choa Chu Kang and Yishun to nine towns by end-2023, and to all towns by 2025, said Minister for Social and Family Services Masagos Zulkifli.
FFL@Community aims to strengthen family relationships through marriage preparation, parenting and grandparenting programmes.
In addition to its current marriage and parenting programmes, FFL@Community will also offer marriage mentoring and set up parent peer support groups. 
The marriage and parenting programmes are expected to benefit 4,000 couples and 20,000 parents annually by 2025, an increase from 1,300 couples and 10,000 parents currently. 
Another initiative under FFL, the National Family Week, will be held annually in June following its inauguration last year. 
Mr Masagos said: "Families are the bedrock of our society and our first line of support … A strong society is thus built on strong families, and we must continue our efforts to strengthen families."