Rising cost of living, increased competition result in slow sales for Chinese New Year snacks
Retailers selling festive goodies say they had been anticipating higher demand, following the removal of social restrictions after nearly two years.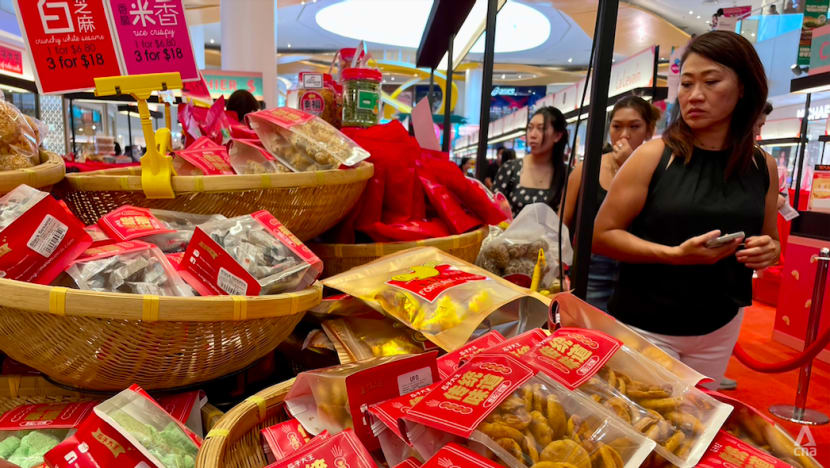 SINGAPORE: After two pandemic Chinese New Year seasons messed with reunion plans and party sizes, confectionery retailers were hoping that this year would be a return to normalcy.
But lower-than-expected demand for festive goodies has dashed their hopes, with many seeing slower sales and rushing to clear leftover stock.
When CNA visited a Chinese New Year fair at Vivocity during lunch hour on Tuesday (Jan 17), dozens of shoppers were seen sampling various snacks but few left with actual purchases.
Sales promoters working at the fair told CNA that they had been anticipating higher demand this year, following the removal of social restrictions after nearly two years of caps on household visitors and group sizes.
"Sales is slightly better than last year but it's still slow because a lot of people here are just window shopping but not actually buying," said one promoter for local cafe Careshop de Cafe, who declined to be named.
"It could be that the economy is not so good, so they don't want to spend so much on these things," she added.
Another freelance promoter, Ms Sally Tay, chalked up lower sales to the reopening of the border between Singapore and Malaysia, increasing competition among confectionery retailers on both sides.
"Most of our regulars still come here to buy (our snacks) but not as much as previously. So instead of their usual 10 boxes, they would probably buy only four," she said.
"The ones that are moving faster are our signature items like pineapple tarts and pumpkin seed crisps but for more common snacks like love letter biscuits, customers might be going elsewhere like Malaysia to buy them because it may be cheaper there," she added.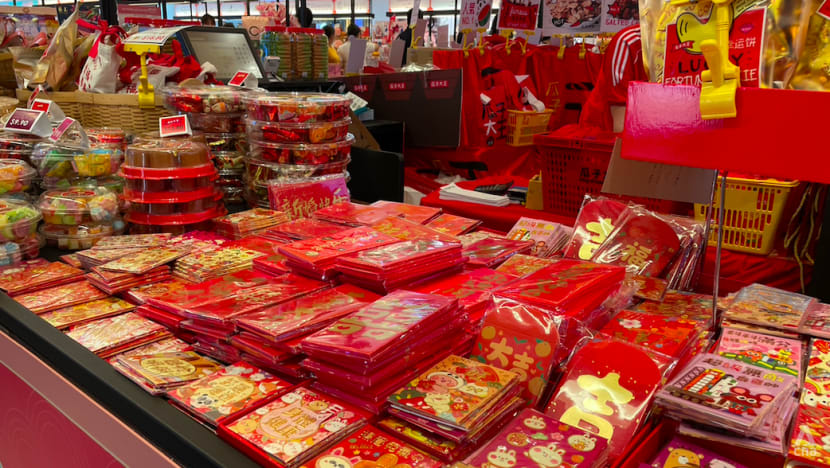 With Chinese New Year falling on Jan 22 this year, some said the shorter lead-up has also affected sales.
"In the past two years, Chinese New Year was in February, so retailers have more time to sell the snacks. But this year, it's quite close to Christmas," said Mr Jason Lee, managing director of local bakery Home's Favourite.
"Some of my corporate customers said they would just send one hamper instead of two."
PRICE INCREASE
Amid rising costs, some retailers have also increased the prices of their products ahead of the festive period.
Home's Favourite said it increased its prices by 5 per cent, despite sales being slightly lower than pre-pandemic levels.
"We have no choice because everything has gone up (including the cost of) ingredients, labour and even deliveries," said Mr Lee.
"But we've tried to absorb some of it so that we can keep the price affordable (for customers."
According to various media reports last month, prices of bak kwa (barbecued meat) went up by a few dollars per kilogram across shops in Singapore ahead of the Chinese New Year period. 
This was attributed to increasing manpower and raw ingredient costs as well as rental.
A check by CNA found that popular retailers such as Fragrance and Bee Cheng Hiang have increased their prices of bak kwa again this month. 
The price of Fragrance's signature sliced bak kwa has gone up to S$64 per kg, up from S$62 previously, while Bee Cheng Hiang's applewood sliced pork was increased by a dollar to S$40 per 500g. 
While bak kwa retailer Lim Chee Guan was among those who raised prices last month, it did not appear to have increased prices again this month. 
Responding to queries from CNA, a spokesman from Lim Chee Guan said that rising costs have been a challenge for the company.
"The main challenges we face are namely, higher raw material cost, higher shipping cost, erratic lead times, inflation and a lack of manpower," said the spokesperson.
"Having said so, we are trying to absorb the cost as much as possible so that it will still be affordable to our customers." 
Despite rising costs and slow sales, retailers said they remain optimistic about the outlook.
"We're seeing stronger demand from our corporate customers and also regular consumers so, it's definitely getting better," said Mr Peter Thang, business development director of food products supplier BizGen International.
"We can see that the buying power is slowly coming back."