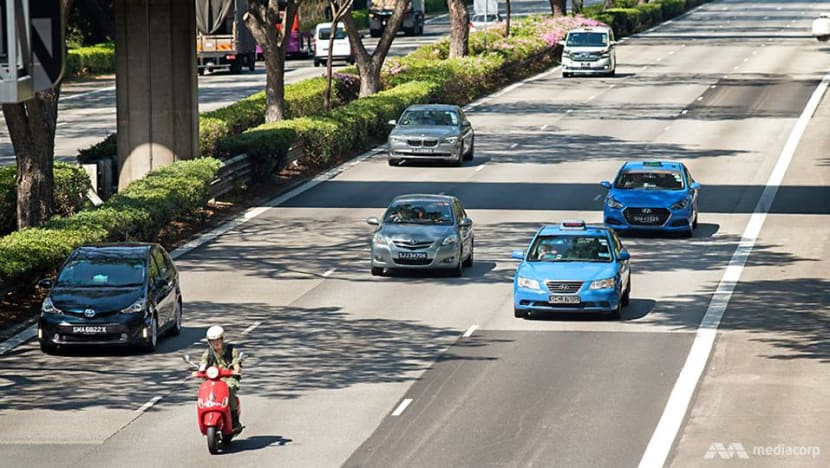 SINGAPORE: Certificate of Entitlement (COE) premiums closed higher across the board on Wednesday (Jul 8) in the first bidding exercise since tenders were suspended because of COVID-19 restrictions.
For Category A cars, or those 1,600cc and below with horsepower not exceeding 130bhp, premiums closed at S$33,520, up from S$31,210 in the last exercise in March.
Premiums for larger and more powerful cars in Category B rose to S$35,889 from S$30,012.
Open category COEs, which can be used for any vehicle type but end up being used mainly for large cars, rose to S$34,989 from S$32,500.

COEs for commercial vehicles, which include goods vehicles and buses, rose to S$24,502 from S$22,002 in the previous bidding exercise.
Motorcycle premiums closed at S$7,702, up from S$4,489 in the last exercise.
A total of 9,635 bids were received, with a quota of 4,382 COEs available.
Retiring Transport Minister Khaw Boon Wan noted that COE premiums for motorcycles saw "a significant spike" despite a 50 per cent increase in quota.

"We are analysing the bids. If it was due to pent-up demand for motorbikes, I expect it to peter out," Mr Khaw said in a Facebook post, adding that premiums for motorcycles are still below the historical high of S$8,451 in February 2018.

COE bidding exercises were suspended in April when Singapore entered its "circuit breaker" period. 
When motor vehicle dealerships and showrooms opened for business in Phase 2 of Singapore's reopening, the Land Transport Authority (LTA) announced that COE bidding exercises would resume from Jul 6. 

The accumulated COE quota of 19,490 from the suspended bidding exercises from April to June would be returned to the market over the next 12 months, from July this year to June 2021, LTA had said.
One-third of the accumulated quota would be returned over the first three months from July to September, with an additional 6,494 COEs across all categories. 
The remaining two-thirds would be returned over the next nine months from October 2020 to June 2021, with an additional 12,996 COEs across all categories.
"COE bidding is market-driven, and it is hard to predict exactly how much demand there will be, especially under such unusual circumstances. We hoped that frontloading the COE reinjection would ease the pent-up demand," said Mr Khaw on Wednesday. 

"I am relieved that the COE market did not crash, as that would cause a lot of misery to secondhand dealers and existing car owners who may need to sell their cars," he added.

"Overall, this is not a usual COE cycle, given the three months' suspension. We will continue to monitor."