'Just jump': In commercial diving industry, claims of risky practices surface
Commercial divers speak out against what they see as a lax safety culture entrenched in some diving companies, a claim that the diving association's chairman says is not surprising. But the chairman pointed out that most companies are not like that.
SINGAPORE: As a commercial diver, his job that day was to conduct underwater inspection works. But the sea was clearly choppy, and the 35-year-old felt it was unsafe to dive in.
But when he alerted his supervisor, he recalled being told: "Just jump only bro, don't care. Because the vessel wants to sail, the boss says must finish it now."
The same has happened at times when the underwater current was too strong. "They'll tell you to go and try," said the diver, adding that he encounters such practices in 60 per cent of jobs while freelancing for various companies.
Such practices are "more or less" par for the course in "quite a few" companies, said another diver, 46. "Even if it's not safe, they will try to make you do the job," he added.
The two men, who have a combined experience of more than 20 years working freelance and full-time jobs, told Channel NewsAsia that some companies risk divers' safety to cut costs and complete jobs on time. They spoke on the condition of anonymity because they fear for their careers.
Their claims come after the death of fellow diver Jake Seet, 33, who went missing while conducting underwater operations at the Western Anchorage near Sentosa. His body was found on May 5 in the sea off Sentosa. The circumstances of his death are being investigated.
There are other challenges, the divers said. Equipment like diving helmets and tank compressors can go years without being serviced, they claimed.
For diving helmets, which supply air to the diver, this poor maintenance can lead to faulty valves, the 46-year-old diver said. "When you go deep, water will start to seep into the hat," he said. "Sometimes when you report it to the company, they will tell you (they will fix it), but after four months, the same thing happens."
In addition, the divers alleged, these unsafe practices are compounded by a culture that punishes dissent. The 35-year-old diver said voicing out against non-compliance means getting blacklisted by the company. "If you're not happy, you can go work for another company," he would be told.
On one occasion, he asked divers on the same job to follow the dive table, which shows how long someone can spend underwater in one dive. When one supervisor found out, he was pulled out from the team.
"They tekan (punished) me by giving me extra tanks to carry down," he said. "What most of these companies do is, once they know you dare to speak out, they bully you to a point where you think twice.
"So it's whether you want your rice bowl or continue arguing. They give you all the rough jobs; the easy jobs they give the guys who keep quiet. If you're five minutes late, they tekan you. They make your life very difficult because you go against them."
The 46-year-old diver said he's argued with supervisors on a number of occasions. "They didn't call me for a while," he said. "But after they couldn't get divers, they started calling me back, but I didn't entertain them."
NOT SURPRISED
Responding to these claims, Commercial Diving Association Singapore (CDAS) chairman Abdul Malik said he's heard of similar reports from "a lot" of divers.
"I won't be surprised that this kind of activities occur in the commercial diving industry," he told Channel NewsAsia. "Because it happens everywhere." He added that in any industry, "there will be some companies who try to squeeze the employees as much as possible".
In response to queries from Channel NewsAsia, a Ministry of Manpower (MOM) spokesperson said commercial diving companies are required to take "reasonably practicable" measures to ensure the safety and health of their workers.

"These include conducting risk assessments to identify hazards and implement effective risk control measures, making sure the work environment is safe, and making sure adequate safety measures are taken for any machinery, equipment or process used at the workplace," the spokesperson added.
"Employees who spot unsafe work practices can make a report to MOM through the SnapSAFE app or through the hotline at 6317 1111. Their identity will be kept strictly confidential." 

For company divers with such grievances, Mr Malik urged them to approach MOM, the Shipbuilding and Marine Engineering Employees' Union or CDAS itself. "On their behalf, we can move forward and find some solutions to this," he said.
For freelance divers, Mr Malik said they should stop taking up jobs from such companies. "Among themselves, I'm sure they know which companies are better to work for," he added. 

He continued: "If there's a genuine safety concern, they should raise it up, and if it's not being addressed, they should not feel a threat.
"If they get marked and they don't get called for other jobs, for me there's nothing to lose. They shouldn't be working those jobs."
And if they feel their options are limited, Mr Malik said they should attend skills upgrading courses that allow them to work for different types of jobs in the commercial diving industry.
WHY IS IT STILL SO UNSAFE?
Commercial divers work in jobs that include inspecting and maintaining ships, assembling and demolishing jetties, and docking and repairing ships in a shipyard.
It is a physically demanding industry that pits divers against poor visibility, strong currents and falling objects, Mr Malik said. This makes threats ranging from drowning to decompression sickness very real.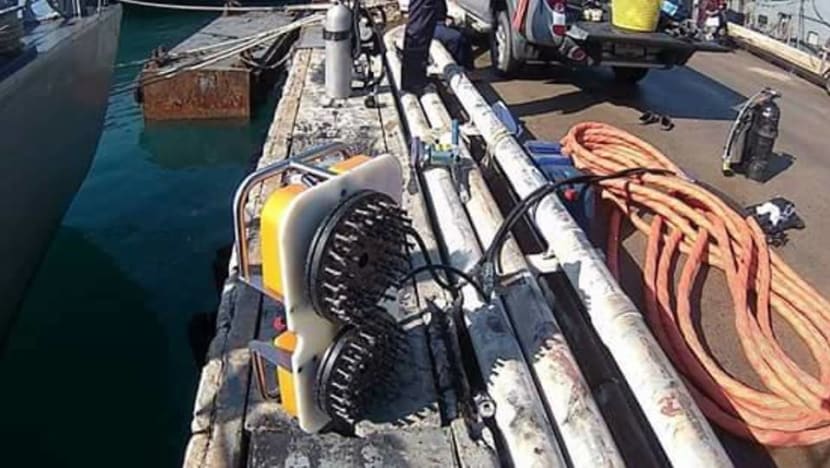 According to media reports, there have been at least five commercial diving-related deaths since 2010. 
Mr Malik said some companies still adopt unsafe practices because they are "squeezed" by clients whose vessels are docked for only a few hours. "If they want the job, they have to cut corners because they cannot meet the time," he explained.
Another reason, Mr Malik said, is the cost of safety. While diving helmets already cost S$10,000 a piece, sending it in for minimal servicing can cost S$200. Training an in-house technician is not cheap either. "Some companies are a bit tight on budget, so these things can happen," Mr Malik added, referring to reports of poorly-maintained equipment.
WHAT IS BEING DONE?
To tackle the problem, Mr Malik said MOM has been carrying out enforcement operations, but added that this is still a work in progress. "They can't be everywhere all at once," he said.
On CDAS' part, Mr Malik said it will advise member companies that are found to be unsafe on how to improve their operations.
"If we kick them out of the association, what happens is they will just go on with their own way and continue to put divers at risk," he said. "So, we feel it's better to engage them and promote safety within their company."
Nevertheless, Mr Malik said CDAS will have "no qualms" about reporting recalcitrant companies to MOM. The industry is regulated under the Workplace Safety and Health (WSH) Act, meaning companies convicted of lapses face a maximum fine of S$500,000, while individuals may be fined up to S$200,000 and/or jailed for up to 24 months.
Industry safety standards are also outlined in the Code of Practice for Diving at Work (SS 511) and the Technical Advisory for Inland/Inshore Commercial Diving Safety and Health. While these are not legal guidelines, they can be used as reference during prosecution under the WSH Act.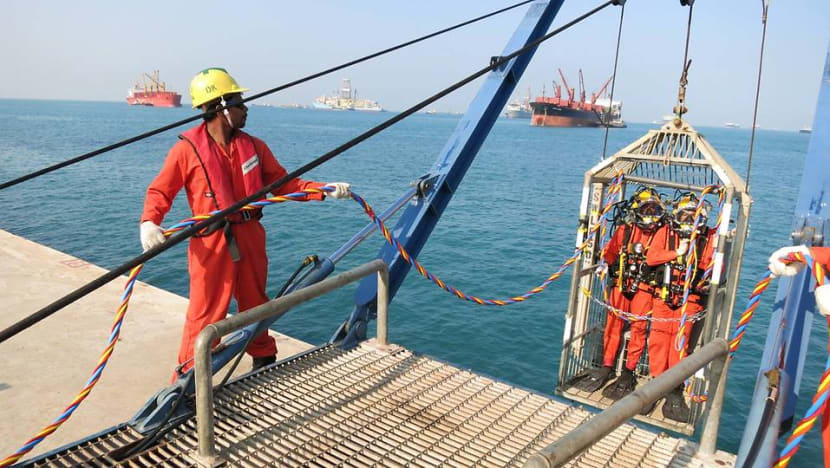 The SS 511 is also being revised and is expected to be published by the end of the year, a spokesperson from national standards body Enterprise Singapore told Channel NewsAsia.
Drafted changes include specifying that commercial divers need to be certified by an authorised training school in addition to in-house training provided by companies, Mr Malik said.

BLACK SHEEP
Still, Mr Malik said he observes that more than half of commercial diving companies comply with safety standards.
"A lot of members feel they put in a lot of effort to ensure the divers are diving safe," he said. "They have the best equipment and do thorough risk assessments. They're spending thousands of dollars sending the divers for training.
"There are companies who treat their divers fairly and provide the best safety precautions, some maybe not."
The owner of a prominent commercial diving company, who has more than 20 years of diving experience, said the divers making the claims should understand the standards stipulated in the SS 511 and technical advisory.
For example, the technical advisory states that diving using commercial scuba gear is still allowed in currents of up to one knot, although it should not be routine.
The advisory doesn't prohibit diving in choppy water either, explaining that "it is a matter of judgment by the diving supervisor onsite, to decide when diving should stop due to an adverse sea state".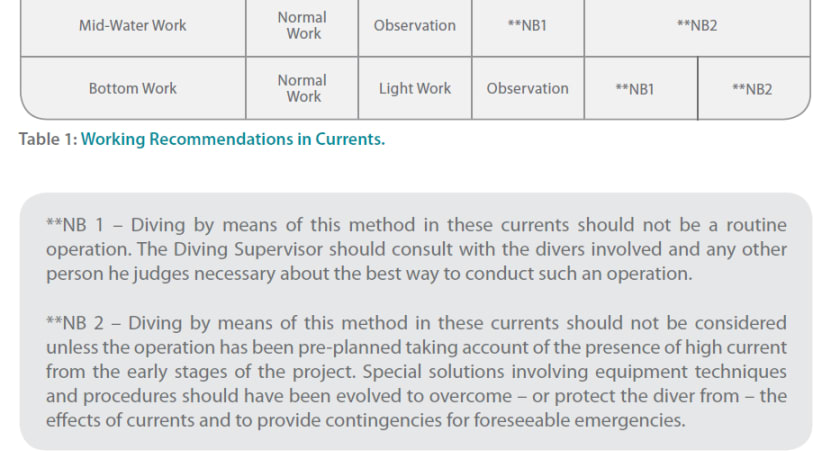 "If the company forces him to do anything outside of the standards it adopts, then of course he has a right to complain," said the owner, who did not want to be named. "If there are companies that have less stringency or do not follow a standard, then I would say that it's only a matter of time before the law catches up with them."
As for the culture of punishing those who stand up for safety, the owner said responsible employers would send safety officers to the ground to ensure protocol is followed.
"I don't have a right as a supervisor or employer to force the diver to dive if he feels it's unsafe," he said. "We have a stop work policy, and at any one time when he feels it is unsafe, he has right to say he does not want to dive."
Similarly strict policies are applied to the maintenance of equipment, the owner said, adding that he hires dive technicians to keep track of servicing schedules while regularly updating them in a database.
So does he feel there are companies that still scrimp on safety?
"In any case, there would be," he said. "But lately, MOM has been policing this and they are doing their work. So whether or not there are still companies behaving in this manner, I'm not sure. In the past, yes. Now, it is much better."
The 46-year-old diver said while the industry is much safer now compared to a decade ago, there is still a long way to go.
"Most experienced divers dare to tell the supervisor off, but we are trying to protect the younger ones," he said. "Because they are the ones who are putting their lives in danger."