New brand of COVID-19 ART kit in stores from March; demand almost doubled in February, says one retailer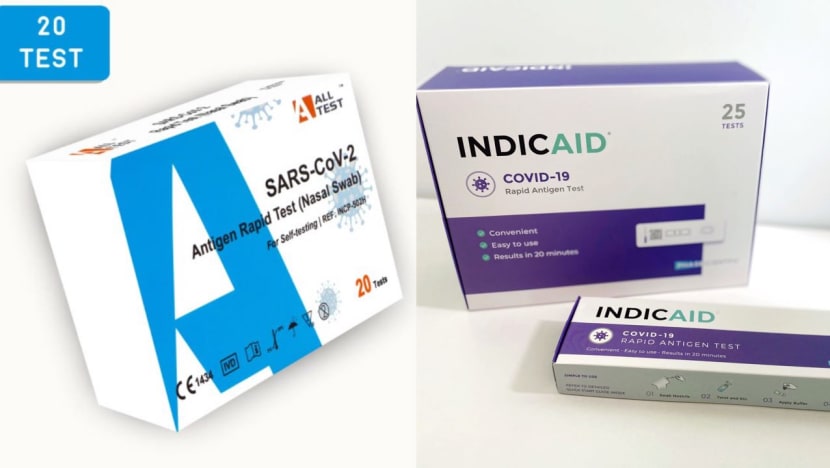 SINGAPORE: Demand for COVID-19 antigen rapid test (ART) kits in February at one retailer has "almost doubled" from the month before but at least one new brand will appear on store shelves from March.
Alcotech, a distributor of medical devices, told CNA on Thursday (Feb 24) it is bringing in five million AllTest ART kits from China.
The kits, which will come in various pack sizes, will be available in March in stores and online marketplaces such as Guardian, Watsons, 7-11, Amazon, Lazada and Shopee. 
The company added that its warehouse can take up to 80 million kits at a time.
Meanwhile, SDT Molecular, a medical device wholesaler, said in a media statement on Tuesday that it is in discussions to bring in the first batch of 20,000 to 50,000 Indicaid test kits, which are made in Hong Kong.
The kits are expected to arrive around March to April this year, it said.
The company added that the limited supply was due to the recent global surge in ART demands, especially in the US and Hong Kong. However, it expects the number of kits to increase in the next shipments.
Both the AllTest and Indicaid test kits will be priced below S$5, the two wholesalers said.
The two kits were authorised for use by the Health Sciences Authority (HSA) in January this year, bringing the total number of self-test kits approved for use in Singapore to 14.
The new ART kits come as retailers reported "elevated" demand for ART kits in the past weeks.
The Ministry of Health had said last week that the Government has built up a stockpile of ART kits and released supplies to retailers to cope with the surge in demand.
The demand is "reflective of the testing needs among the population as the COVID-19 situation evolves", the Health Ministry had said.
DEMAND FOR ART KITS "STILL GOING STRONG"
Healthcare chain store Watsons told CNA on Thursday that the demand for ART test kits is "still going strong".
It said it would be working closely with suppliers of AllTest and Indicaid to "explore the possibility" of selling these new brands. It said it has also added Flowflex, which is distributed by Alcotech, to its existing ART brands.
"Currently, we have healthy stocks of ART kits across physical stores and Watsons Online and will be monitoring the trend closely to ensure adequate supplies," said the retailer.
Supermarket chain FairPrice said it would work with suppliers to "bring in new options" to meet an "elevated" demand for test kits. 
Responding to CNA queries, a Guardian spokesperson said that demand in February has "almost doubled", compared to January.
"Guardian has sufficient supplies and we are working closely with our suppliers to ensure a steady supply of ART kits, including the new ART kits, AllTest and Indicaid," the spokesperson said.
"We encourage customers to purchase only what they need to ensure there is sufficient stock for everyone," the spokesperson added.
Singapore, which saw a daily record of 26,032 new infections on Tuesday, reported 20,312 new COVID-19 cases on Wednesday, the bulk of which were local infections.