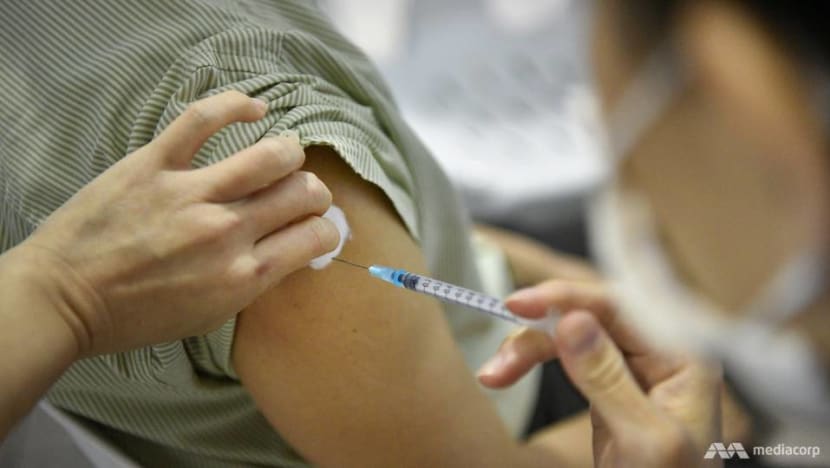 SINGAPORE: The bivalent Moderna/Spikevax COVID-19 vaccine will be offered to people aged 18 to 49 from Nov 7, said the Ministry of Health (MOH) on Friday (Nov 4).
Eligible individuals will receive an SMS with a personalised booking link to make an appointment at one of the ministry's Joint Testing and Vaccination Centres (JTVCs), to get an additional dose of the vaccine. 
"In particular, those who have yet to complete their minimum protection series should do so as soon as possible," said MOH.
The ministry will begin inviting those aged 40 to 49 in the initial phase, before gradually moving on to the lower age groups.
"We seek your patience and understanding that the SMS may take a couple of weeks to reach everyone. To avoid overcrowding the JTVCs, we will only facilitate walk-ins for persons aged 50 years and above and healthcare workers," said the ministry.
 
MOH said that with the latest extension, all adults aged 18 years and above should ensure that they keep up to date with their COVID-19 vaccination.
This means that after achieving minimum protection, these individuals should receive an additional booster dose - recommended to be the updated bivalent vaccine - between five months to one year from their last jab.
"Individuals will be considered up to date with their COVID-19 vaccination if they have received at least the minimum protection and their last vaccine dose was received within the past one year," said MOH.
Supplies for the Pfizer-BioNTech/Comirnaty bivalent Original-Omicron BA.4/5 vaccine, which has been approved locally for use in individuals aged 12 years and above, are expected to arrive towards the end of the year.
"Individuals, including children, are encouraged to receive COVID-19 vaccines recommended for them as soon as they are eligible to do so to ensure timely protection. They are encouraged not to delay vaccination to wait for specific vaccines that may become available only in the future," said MOH.
From Oct 7, those aged 18 years and above can also take the Sinovac-CoronaVac as a booster, without the need for proof of medical ineligibility for mRNA or Novavax/Nuvaxovid vaccines.
"This is to encourage those who have been vaccinated with three doses of Sinovac-CoronaVac to achieve a minimum level of protection against COVID-19 with the fourth dose, although the recommendation is still for these individuals to receive the updated Bivalent Moderna/Spikevax, Pfizer-BioNTech/Comirnaty or Novavax/Nuvaxovid vaccines for better protection," said MOH.
It strongly urged individuals who have received three doses of Sinovac-CoronaVac to receive their fourth vaccine dose if they have not yet done so.
The ministry also noted that the Omicron XBB variant wave, which has been driving a recent resurgence of cases, is subsiding.
It added that with multiple subvariants circulating globally, new variants may also form.
"With the recovery in international travel, a new highly transmissible variant can enter and spread in Singapore without much advance warning. As such, we cannot be complacent. It is now even more important that we shore up our defences ahead of any future evolution of the COVID-19 virus, and prepare in advance to respond quickly should the need arise."
The bivalent vaccine was first rolled out on Oct 14 to people who have not achieved minimum protection, or those aged 50 and above who received their last dose more than five months ago.
It was then extended to healthcare workers in the public and private sectors from Oct 25.