CNA Explains: What you need to know about the XBB COVID-19 variant
How widespread is the XBB variant globally and in Singapore? Are you protected from it if you are vaccinated and how effective will the bivalent COVID-19 vaccines be?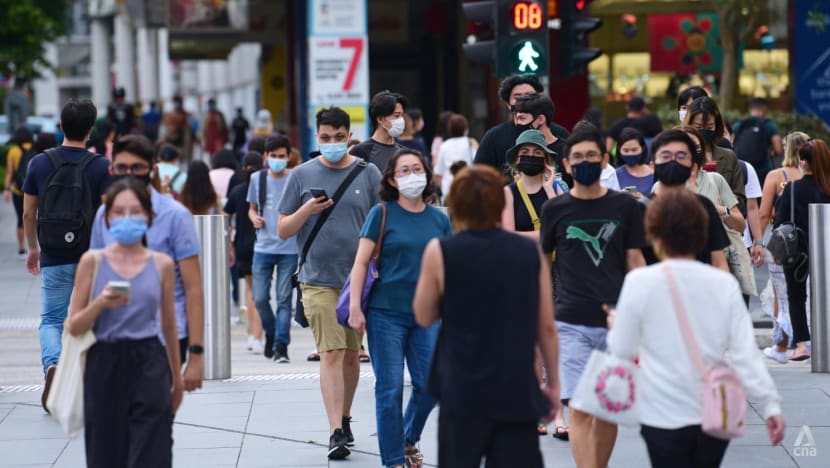 SINGAPORE: The Ministry of Health (MOH) on Tuesday (Oct 11) debunked rumours that Singapore is seeing a significant increase in severe COVID-19 cases and deaths due to the XBB strain.
MOH also said that while there has been an increase in local cases driven by XBB, including the post-weekend spike of 11,732 cases on Tuesday, the number of severe cases has remained relatively low. 
So how dangerous is the XBB strain and how effective are vaccines against it? CNA spoke to a few experts. 
NOT A "SINGAPORE VARIANT"
The XBB strain, also known as BA.2.10 is an Omicron subvariant that has been detected in several countries such as Australia, Bangladesh, Denmark, India, Japan and the United States since August.
Responding to CNA's queries about overseas media calling the XBB strain the "Singapore variant" or suggesting that it was first found in Singapore, Dr Sebastian Maurer-Stroh, executive director at A*STAR's Bioinformatics Institute said that the claim was incorrect.
He explained that the first occurrences of the XBB variant documented on GISAID were already in other countries, a few weeks before the first cases in Singapore.
"The numbers of genomes known for a variant vary greatly between countries simply due to the intensity of the sampling and genomic surveillance strategy," he added.
Dr Maurer-Stroh also said that Singapore is among the world's leading nations to sequence virus genomes fast and "in a smart way selecting quality over quantity".
"This will amplify visibility of new variants early."
IS IT A CAUSE FOR CONCERN?
Health Minister Ong Ye Kung on Tuesday spoke about the strain, adding that MOH is watching it very closely.
"XBB is demonstrating characteristics that it is dominating over all other sub-variants. It has been detected in many parts of the world but in Singapore is rising very fast - within three weeks from nothing, it is now over half of all the daily cases," Mr Ong added.
Dr Maurer-Stroh told CNA that the virus behaves as expected and that new variants will always replace old ones.
He added that the speed of replacement depends on many factors and is not unique to Singapore.
Meanwhile, Dr Leong Hoe Nam, an infectious disease specialist at Mount Elizabeth Novena Hospital said that the variant has the potential to replace the BA.4 and BA.5 variants.
Dr Leong said that the variant will cause more infections because "it can outrun and dodge better than the existing strain".
However, he also said it is not a cause for concern because severe illness numbers are "not much more" and within expectations.
Mr Ong also said on Tuesday: "But so far, what is good is that there's no evidence that it leads to more severe outcomes."
Based on preliminary local data, XBB cases are not more serious than other Omicron subvariants, said MOH.
HOW VIRULENT IS XBB?
Dr Leong said that it is not clear yet how virulent the XBB variant is, but it is more transmissible and "out-infecting BA.5".
MOH said on Monday that the XBB strain is gaining share, with 55 per cent of infection cases comprising this strain. It is a 22 per cent increase from the previous week. 
Dr Maurer-Stroh said that like other variants before, "a hallmark of new variants like XBB is an accumulation of changes in the spike surface protein".
"It is like the virus getting a new coat, and our immune system needs to learn again how to recognise it.
"This makes it stealthier but typically not more virulent," he said.
HOW EFFECTIVE ARE BIVALENT VACCINES?
Dr Leong said that the bivalent shots are expected to be "more effective than the ancestral strain-based mRNA vaccine which we have used previously".
"Effectiveness should be measured against the risk of causing severe disease," he added.
Professor Lisa Ng, executive director at A*STAR's infectious diseases labs concurred. She said that the bivalent shots will be more effective than the original vaccine in triggering an immune response against newer COVID-19 variants.
MOH brought forward the administration of the Moderna/Spikevax bivalent vaccine to Oct 14, three days ahead of the previously announced date.
"The bivalent Moderna/Spikevax vaccine is based on the same original vaccine, with the same dosage for boosting," it said.
"Instead of targeting only the original COVID-19 virus, the updated version also targets the Omicron variant. It therefore will provide better protection against newer COVID-19 variants. It is proven to be safe and effective," MOH added.
HOW PROTECTED ARE YOU WITH THE CURRENT VACCINATION RECOMMENDATIONS?
Dr Leong said that the vaccine model of either three complete mRNA or Novovax shots or four Sinovac-CoronaVac doses is "still very effective against preventing severe illness", but he added that those who are unvaccinated are at risk.
Prof Ng also said that vaccination will reduce the probability of contracting severe illness, adding that like all vaccinations, there will be protective effects.
Those aged 50 and above should also receive an additional booster dose between five months and one year from their last dose, to keep up to date with their COVID-19 vaccination, said MOH.
MOH announced last week that the current mRNA vaccines will be replaced by bivalent vaccines, as recommended by the expert committee on COVID-19 vaccination.