30 new COVID-19 cases in Singapore, including 2 in community, forming new cluster linked to para-vet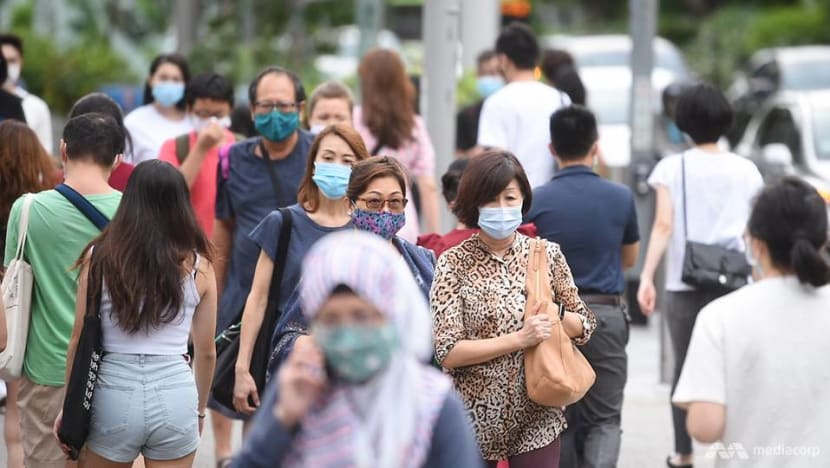 SINGAPORE: Two new community COVID-19 cases were reported on Sunday (Jan 17), forming a new cluster linked to a Singapore Police Force (SPF) para-veterinarian.
The two community cases were among Singapore's 30 new COVID-19 infections reported as of noon on Sunday (Jan 17), according to data released by the Ministry of Health (MOH).

Sunday's two community cases are linked to Case 59280, a 32-year-old male Singaporean working as a para-vet with the K-9 Unit at the SPF. He was confirmed to have COVID-19 on Jan 13 and his wife also confirmed to have the disease on Jan 15.

TWO NEW COMMUNITY CASES
One of the two linked cases reported on Sunday is a 44-year-old male Singaporean (Case 59365). He works as an administrative officer at SPF at the same location (2 Mowbray Road) as the para-vet. He developed a dry throat on Jan 7 but had not sought medical treatment. 

He was tested on Jan 15 as part of the special testing operations commenced by MOH at his workplace following the confirmation of Case 59280. His test result came back positive the next day. 

Case 59365's serological test result has come back negative, indicating that this is likely a current infection.

The other community case today is a 44 year-old female Singaporean who is a family member of Case 59365, the administrative officer. She is listed as a homemaker. 
She developed a fever and chills on Jan 9, and subsequently loss of smell and taste on Jan 13, but had also not sought medical treatment.
The woman was contacted by MOH on Jan 16 following the confirmation of Case 59365, and was tested for COVID-19 when she reported these symptoms. 
Her test result came back positive for COVID-19 infection the next day, and she was conveyed to Ng Teng Fong General Hospital in an ambulance. Her serological test result has come back negative, indicating that this too is likely a current infection.

The size of the COVID-19 cluster linked to the para-vet stands at four.
Epidemiological investigations are ongoing. In the meantime, all the identified close contacts of the cases, including their family members and co-workers, have been isolated and placed on quarantine, and will be tested at the start and end of their quarantine.

IMPORTED CASES
Sunday's 28 other new infections were imported cases, all of whom were placed on stay-home notice or isolated upon arrival in Singapore, said MOH.

Among this group, two are Singaporeans and one is a Singapore permanent resident who returned from India, Indonesia and the United Arab Emirates (UAE).
Three are dependent's pass holders who arrived from India and the UAE.
Two others are long-term visit pass holders who arrived from India. 
Five are work pass holders who arrived from India, Lebanon, the Philippines and the UAE.
Another 14 are work permit holders who arrived from Bangladesh and India, of whom one is a foreign domestic worker.
The last imported case is a short-term visit pass holder who arrived from India to visit her Singaporean child.

WORK PERMIT HOLDER
Case 59376 is a work permit holder who arrived from Bangladesh on Dec 26 and served stay-home notice at a dedicated facility until Jan 9. His swab done on Jan 6 during the stay-home notice period was negative for COVID-19, and subsequent tests on Jan 10 and Jan 12 were also negative. 
However, his test on Jan 15 came back positive for COVID-19 infection, although the Ct value was very high. This is indicative of a low viral load, MOH said. 
His serological test result was also positive. 
"Given that these indicate likely past infection, we have classified the case as imported," MOH said.
He is likely to be shedding minute fragments of the virus RNA, which are no longer transmissible and infective to others, the ministry added.

UPDATE ON CONDITION OF CONFIRMED CASES
Sixty-two more cases of COVID-19 infection have been discharged from hospitals or community isolation facilities. In all, 58,846 have fully recovered from the infection.
There are currently 49 confirmed cases who are still in hospital. Of these, most are stable or improving, and none is in the intensive care unit. 
A total of 189 are isolated and cared for at community facilities. These are those who have mild symptoms, or are clinically well but still test positive for COVID-19. 
Twenty-nine people have died due to complications arising from COVID-19. 

LOCATIONS VISITED BY INFECTIOUS COVID-19 CASES
Three places were on Sunday added to the MOH's list of public places visited by COVID-19 community cases during their infectious period.

The list of locations is as follows: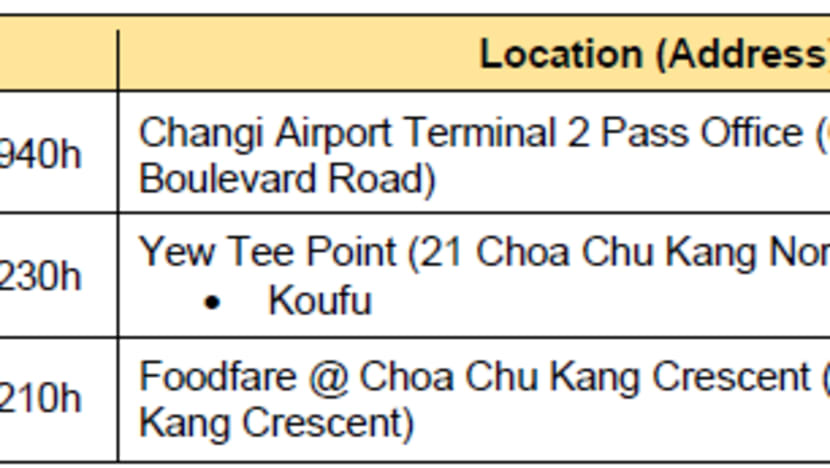 Those identified as close contacts of confirmed cases would already have been notified by MOH.
As a precautionary measure, individuals who were at these locations during the specified timings should monitor their health closely for 14 days from their date of visit.
"They should see a doctor promptly if they develop symptoms of acute respiratory infection (such as cough, sore throat and runny nose), as well as fever and loss of taste or smell, and inform the doctor of their exposure history," said MOH.
There is no need to avoid places where COVID-19 cases have been, added the health ministry.
"The National Environment Agency will engage the management of affected premises to provide guidance on cleaning and disinfection," said MOH.
NEW BORDER MEASURES
As part of tighter border measures to manage the risk of imported COVID-19 cases, MOH on Saturday announced that all travellers must take a COVID-19 polymerase chain reaction (PCR) test upon arrival in Singapore.
The new measures also apply to Singaporeans and permanent residents, and will take effect from 11.59pm on Jan 24.

Currently, travellers who are not Singaporeans or PRs and who have a recent travel history to high-risk countries or regions are required to take a PCR test within 72 hours before departure.

Singaporeans and PRs returning from the United Kingdom and South Africa will be subject to an additional seven days of self-isolation at their place of residence, following their 14-day stay-home notice period at dedicated facilities. 
This takes effect from 11.59pm on Jan 18.

As of Sunday, Singapore has reported a total of 59,113 COVID-19 cases.
Download our app or subscribe to our Telegram channel for the latest updates on the coronavirus outbreak: https://cna.asia/telegram