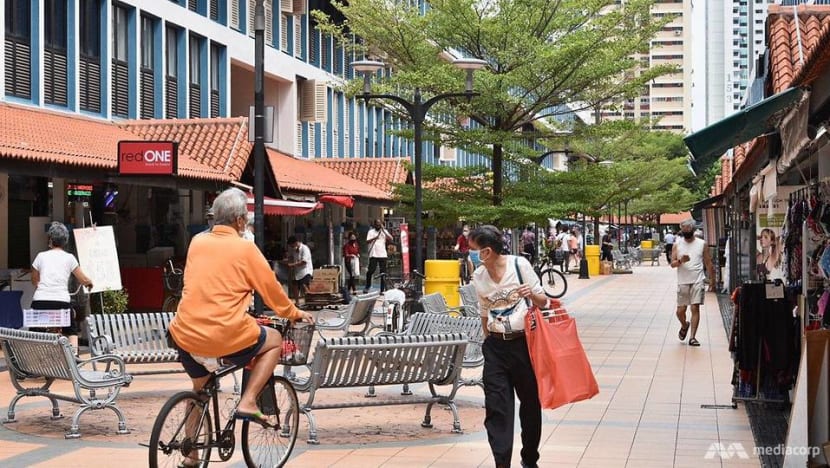 SINGAPORE: Singapore reported 347 new COVID-19 cases as of noon on Tuesday (Jul 14), with seven infections in the community, the Ministry of Health (MOH). 
MOH also reported the country's 27th death from the disease - a 62-year-old man known as Case 17168. 
The Singaporean man was confirmed to have COVID-19 infection on Apr 30. He also had a history of diabetes mellitus, hypertension and hyperlipidaemia.
"Sengkang General Hospital has reached out to his family and is extending assistance to them," said MOH. 
The man was a household contact of Cases 19136 and 19343​​​​​​​ - a 58-year-old Singaporean woman and a 24-year-old Singaporean man respectively. 
He was also a contact of Case 20058, a 48-year-old Singaporean woman. 
SINGAPOREAN, 3 WORK PASS HOLDERS AMONG COMMUNITY CASES
Among the community infections, there was one Singaporean and three work pass holders and three work permit holders.
Of the seven cases in the community, four were picked up as a result of proactive surveillance and screening, and three had already been placed on quarantine earlier. 
Six of the cases were asymptomatic, and were detected through proactive testing.
This brings the total number of cases in the country to 46,629. 
MOH said that three of the community cases are linked to previous cases or clusters. 
"They had all been identified as contacts of previously confirmed cases, and had been tested during their quarantine to determine their status, even though they are asymptomatic," the ministry added. 
Four of the community cases are currently unlinked. 
They are all in the construction sector, and had been swabbed as part of our periodic screening of workers in essential services who are living outside the dormitories. Three of them were asymptomatic, added MOH. 

"Overall, the number of new cases in the community has decreased, from an average of 14 cases per day in the week before, to an average of 13 per day in the past week," said MOH. 

It added that the number of unlinked cases in the community has increased, from an average of six cases per day in the week before, to an average of seven per day in the past week.
TWO IMPORTED CASES RETURNED FROM INDIA
There were also two imported cases who had been placed on stay-home notice upon their arrival in Singapore and were tested while serving their notice, MOH said.
Both are Singaporeans who returned from India on Jul 9. 
The other new 338 cases were work permit holders residing in foreign worker dormitories.
MOH said it has tested and cleared more than 215,000 workers to date, or two-thirds of those living in dormitories. 
"Work is ongoing to prepare these dormitories to be declared cleared, and for workers to resume work. We are on track to clear about 80 per cent of workers staying in the dormitories by end-July, and to complete the testing of dormitory residents around mid-August," said the ministry.
In the next few days, MOH said there will be a larger population of migrant workers in various purpose-built dormitories completing their isolation period and being tested for COVID-19. 
"As some of them came from dormitories with higher prevalence of COVID-19 infection, we can expect a higher number of confirmed cases in the next few days from this group of migrant workers," it added. 
MOH also reported a new cluster at a dormitory at 96 Kaki Bukit Industrial Terrace, where there has been eight earlier confirmed cases linked to it. 
JEM shopping mall and a food facility at Admiralty have also been added to the list of places visited by COVID-19 cases in the community during their infectious period. 

196 MORE CASES DISCHARGED 
A total of 196 more cases of COVID-19 infection have also been discharged from hospitals or community isolation facilities, said MOH. 

"In all, 42,737 have fully recovered from the infection and have been discharged from hospitals or community care facilities."
There are currently 161 confirmed cases who are still in hospital, the ministry added. Of these, most are stable or improving, and none is in the intensive care unit.

Another 3,704 are isolated and cared for at community facilities.

These are those who have mild symptoms, or are clinically well but still test positive for COVID-19. 

CROSS-BORDER TRAVEL WITH MALAYSIA
Singapore and Malaysia announced on Tuesday they aim to resume cross-border travel for business travellers and residents on long-term passes on Aug 10, subject to COVID-19 precautionary measures.
Both countries have agreed to implement two schemes – the Reciprocal Green Lane and Periodic Commuting Arrangement – that target different groups of travellers. 
The Reciprocal Green Lane will allow travel between Singapore and Malaysia for "essential business and official purposes".
The Periodic Commuting Arrangement will allow Singapore and Malaysia residents who hold long-term immigration passes for business and work purposes in the other country, to enter that country for work.
Before the COVID-19 pandemic, it was estimated that about 300,000 Malaysians travelled across the Woodlands Causeway and Tuas Second Link every day for work in Singapore.
Several months of COVID-19 restrictions and workplace closures have battered Singapore's construction, retail and tourism sectors, with little sign of the pain abating.
Advance gross domestic product estimates for the second quarter released on Tuesday showed that Singapore has now entered a technical recession, after the economy plunged  41.2 per cent on a quarter-on-quarter seasonally adjusted annualised basis.
The authorities have flagged that they expect Singapore's gross domestic product (GDP) to shrink between 4 and 7 per cent this year, as the coronavirus outbreak continues to pose severe strains on the economy.

Download our app or subscribe to our Telegram channel for the latest updates on the coronavirus outbreak: https://cna.asia/telegram