SINGAPORE: The first community treatment facility for elderly COVID-19 patients began operations on Thursday (Sep 23).
The Ministry of Health (MOH) worked with Woodlands Health to set up the 250-bed facility by repurposing the NTUC Health Nursing Home in Tampines.
Community treatment facilities are being set up by MOH to care for elderly COVID-19 patients who have mild symptoms and are generally well but have underlying medical conditions that require closer monitoring.
"Such facilities will be resourced with more medical and nursing manpower, as well as medical monitoring devices," MOH said in a Facebook post on Thursday.
"This will augment our hospital capacity, and allow us to provide treatment for the seriously ill patients in our hospitals."
Residents of the nursing home were transferred to other NTUC Health Nursing Home branches, the Health Ministry said last Sunday.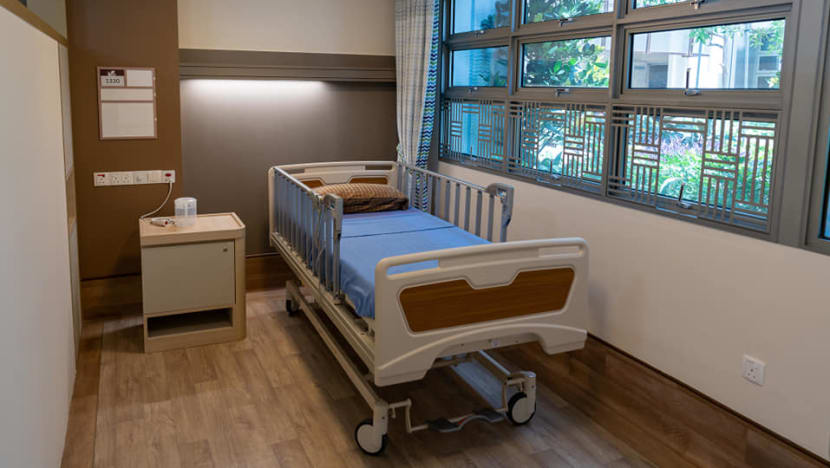 Calling the community treatment facilities "a very important part of our response", Health Minister Ong Ye Kung on Friday (Sep 24) said they are "better equipped and resourced, and almost like hospital beds".
"We can be assured that our elderly are in good hands," he said in a Facebook post.
Singapore can open up about 1,000 intensive care unit beds if required, said Mr Ong in July.
The country's seven community care facilities can also accommodate more than 5,500 patients who are "clinically well", or who have mild symptoms, and do not require much medical care, Mr Ong said in August.
On Wednesday, Prime Minister Lee Hsien Loong encouraged fully vaccinated COVID-19 patients to recover at home if they meet the criteria.
"We now encourage fully vaccinated patients to recover at home wherever possible. This is less disruptive for them, especially if their symptoms are mild," Mr Lee said in a Facebook post.
"It will also reduce demand for hospital beds, so that the seriously ill ones can get the treatment they need."
Since Sep 15, fully vaccinated patients aged 12 to 50 have been able to recover at home if they meet the criteria. This was expanded on Sep 18 to COVID-19 patients aged up to 69.
Home recovery patients currently account for up to 40 per cent of cases every day, MOH said earlier on Thursday.
Singapore reported a record 1,453 new local COVID-19 cases on Wednesday.