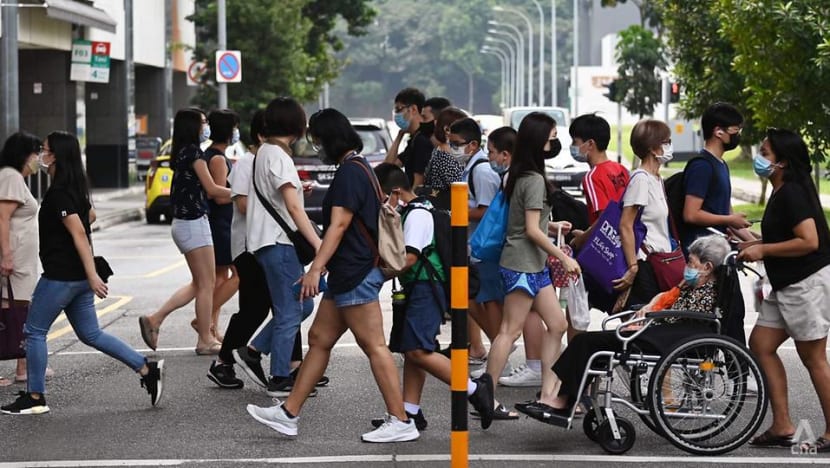 SINGAPORE: Singapore reported 3,174 new COVID-19 cases as of noon on Monday (Oct 25) as 14 more people died from complications due to the virus.
The fatalities, who were aged between 60 and 93, had various underlying medical conditions. The Ministry of Health (MOH) did not specify what these conditions were.
This brings Singapore's death toll from the coronavirus to 329.
The number of new COVID-19 infections is a decrease from the daily count of 3,383 reported on Sunday.
Among Monday's cases, 3,165 infections are locally transmitted, comprising 2,843 in the community and 322 in migrant workers' dormitories.
Nine are imported cases, MOH said in its daily update released to media at about 11.30pm.
The weekly infection growth rate is 1.18 as of Monday. This refers to the ratio of community cases for the past week over the week before.
If the figure drops below 1, Singapore may ease some COVID-19 measures such as allowing household members to dine-in together, co-chair of the multi-ministry task force Lawrence Wong said on Saturday.
As of Monday, Singapore has reported a total of 175,818 COVID-19 cases since the start of the pandemic.
HOSPITALISATIONS AND HOME RECOVERY
Among all COVID-19 community cases that have been onboarded or admitted, 18,279 patients, or 71.3 per cent, are undergoing home recovery.
Another 4,626 are in community care facilities and 952 are in COVID-19 treatment facilities.
The remaining 1,779 patients are warded in hospital, mostly for observation, said MOH. Of these, 261 patients need oxygen supplementation in general wards.
In the intensive care unit (ICU), 107 cases are unstable and under close monitoring to prevent further deterioration, and 64 are critically ill and intubated.
A total of 2,954 cases were discharged on Monday, of which 428 are seniors above 60.
Over the last 28 days, out of 86,106 infected people, 0.9 per cent needed oxygen supplementation in the general ward, 0.1 per cent were unstable and under close monitoring in the ICU and 0.1 per cent were critically ill and intubated in the ICU.
Over the past seven days, the number of fully vaccinated people who are critically ill in the ICU per 100,000-population are at 0.5, while non-fully vaccinated cases are at 4.2.
In the same period, the number of fully vaccinated and non-fully vaccinated cases who died are 0.1 and 0.8 per 100,000-population respectively.
Among seniors aged 60 and above, the number of fully vaccinated and non-fully vaccinated cases who are critically ill in the ICU are 2.3 and 30.1 respectively. The number of fully vaccinated and non-fully vaccinated seniors who died are 0.4 and 8.0 respectively.
As of Monday, 84 per cent of people in Singapore have received the full regimen or two doses of COVID-19 vaccines, while 85 per cent have received at least one dose and 13 per cent have received their booster shots.
A total of 9,786,082 doses of COVID-19 vaccines have been administered under the national vaccination programme.
In addition, 239,146 doses of other vaccines recognised in the World Health Organization's Emergency Use Listing (WHO EUL) have been administered, covering 122,126 individuals.
ACTIVE CLUSTERS
MOH said it is closely monitoring seven active clusters, with a new cluster at the Institute of Mental Health (IMH) added to the list. 
Eight new cases were added to the IMH cluster on Monday, bringing the total number of infections linked to the cluster to 116. The majority of the cases involved residents, with eight staff members infected. 
United Medicare Centre - Toa Payoh was also added to the list of clusters, with one new infection added on Monday.
Bukit Batok Home for the Aged - the largest of the clusters on the list - reached 154 infections after seven more cases were linked to the cluster.
Clusters at Banyan Home at Pelangi Village, PCF Sparkletots at Zhenghua and MWS Christalite Methodist Home also added new cases.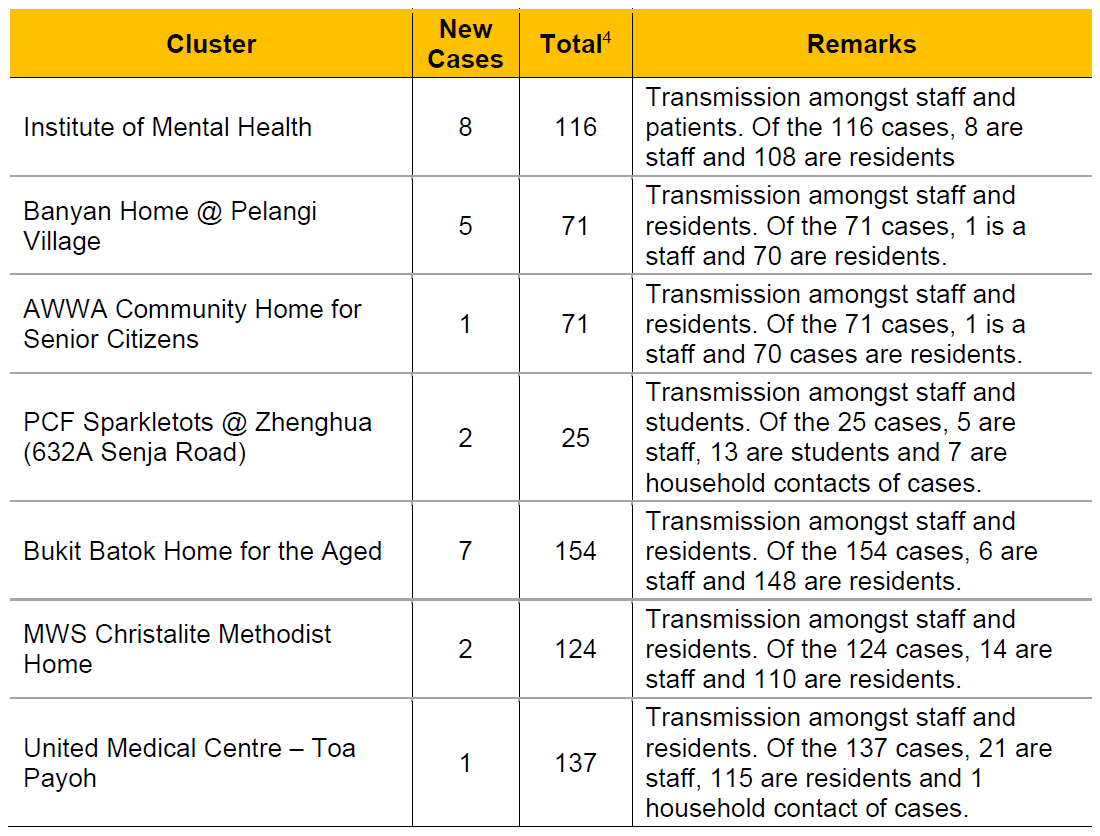 CALL 995 ONLY FOR "LIFE-THREATENING" SITUATIONS
Authorities on Monday urged members of the public to only call 995 for "life-threatening emergencies".
This will ensure those who require urgent care are able to receive it promptly, said MOH and the Singapore Civil Defence Force (SCDF).
Life-threatening and emergency conditions include sudden onset of chest pain, breathlessness, drowsiness or confusion, sudden onset of limb or body weakness, difficulty in speech, or drooping of the face, severe bleeding from injuries, loss of consciousness, and unexplained jerking of the body or fits. 
The prudent use of emergency medical services and emergency departments is important as Singapore learns to live with COVID-19, said the authorities.