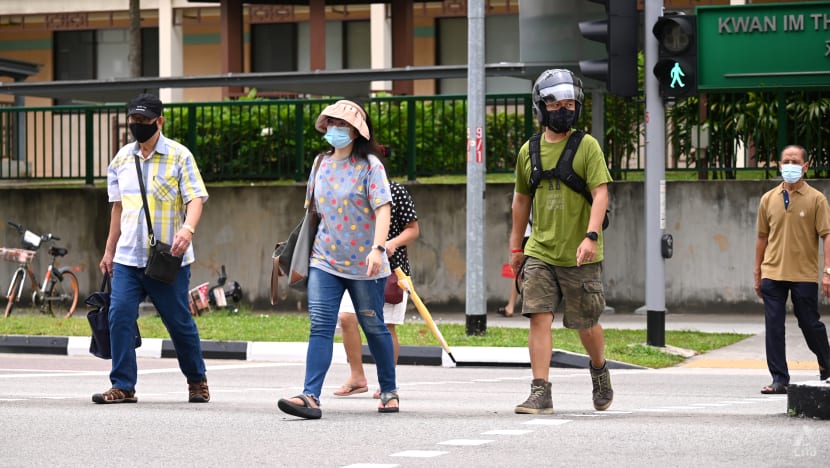 SINGAPORE: Singapore reported 934 new local COVID-19 infections on Friday (Sep 17), comprising 838 community cases and 96 dormitory residents.
Among the new local cases, 241 were seniors above the age of 60, said the Ministry of Health (MOH).
There was also one imported case, taking the total number of new infections reported on Friday to 935.
LARGE CLUSTERS
MOH said that it was monitoring a total of 12 large clusters with new cases.
A new large cluster of 26 cases has been identified at Sembcorp Marine Admiralty Yard, comprising 23 staff members and three household contacts. 
The cluster was caused by workplace transmission with further spread to household contacts of cases, said MOH. 
An existing cluster at Sembcorp Marine Tuas Boulevard Yard has grown to 107 after two more cases were linked to it. 
Most of the cases in this cluster are residents of 38 Kian Teck Drive dormitory and all new cases have been quarantined, said the Health Ministry. 
The cluster at Orange Valley Nursing Home in Simei has grown to 17, all of them residents.
A total of 256 cases have been linked to the Chinatown Complex cluster. The cases comprise 187 stallholders and assistants, 11 cleaners or safe distancing ambassadors, and 58 household contacts of workers.
The cluster at Blue Stars Domitory has grown to a total of 71 cases while the cluster at Avery Lodge Dormitory now stands at 95. 
Two new COVID-19 cases were added to the Changi General Hospital for the first time since Monday, taking the total to 73.
The ministry added that there was "workplace transmission among facility management and support staff members", including spread to close contacts of the hospital staff. 
No patients were affected, MOH said. 
In its COVID-19 update on Monday, the Health Ministry had said that cases at the hospital cluster were declining.
HOSPITALISED CASES
There were 813 patients warded in hospital, most of whom were well and under observation, said MOH.
Of these, 90 cases of serious illness required oxygen supplementation, and 14 were in critical condition in the intensive care unit. This is an increase compared to the 77 cases of serious illness and 12 patients in critical condition reported in MOH's update on Thursday. 
Among those who have fallen very ill, 82 were seniors above the age of 60, said MOH.
Over the last 28 days, the proportion of local cases who were asymptomatic or had mild symptoms was 98.2 per cent.
VACCINATION
MOH said 82 per cent of the population has completed their full vaccination regimen or received two doses of COVID-19 vaccines, while 84 per cent has received at least one dose as of Thursday.
More than 8.9 million doses of vaccines have been administered under the national vaccination programme, covering about 4.56 million people, of whom 4.43 million have completed the full regimen.
Another 181,531 doses of other vaccines recognised in the World Health Organization's emergency use listing have been administered, covering 86,891 people.
As of Friday, Singapore has reported a total of 75,783 COVID-19 cases and 59 deaths from the disease.
DAILY COVID-19 CASES EXPECTED TO REACH 1,000 SOON
Health Minister Ong Ye Kung said Singapore should be prepared to see daily COVID-19 cases exceed the 1,000 mark soon.
Mr Ong noted on Friday that it is currently day 26 of the current wave, and that daily cases have been doubling about every week.
"I think let's be prepared to likely cross the 1,000 mark soon. It is not unexpected, it's a typical behaviour of a transmission wave that typically peaks between four and up to eight weeks, or 30, 40 sometimes 50 days," he said.
The Health Ministry also announced that the home recovery scheme for fully vaccinated COVID-19 patients will be expanded from Saturday to include patients up to 69 years old. 
To be eligible for home recovery, patients must have no severe comorbidities or illnesses.
They must also be able to self-isolate in a room, preferably with an attached bathroom, and have no household members who are over the age of 80 or are in one of the vulnerable groups. 
MOH added that travellers who have been to Indonesia within the last 21 days prior to arrival will be allowed to transit through Singapore starting 11.59pm on Wednesday.
Those travelling from Poland and Saudi Arabia will also be allowed to serve a seven day stay-home notice at a place of accommodation starting on the same day.
The Ministry of Health reviewed the COVID-19 situation in these countries and classified them under category II. Other countries in this category include Australia, Canada, Brunei and Germany.
Travellers from these countries or regions are required to take a pre-departure polymerase chain reaction (PCR) test within 48 hours, an on-arrival test, and a Day 7 stay-home notice exit PCR test.