Youngest COVID-19 fatality in Singapore reported with 23-year-old person among 15 more deaths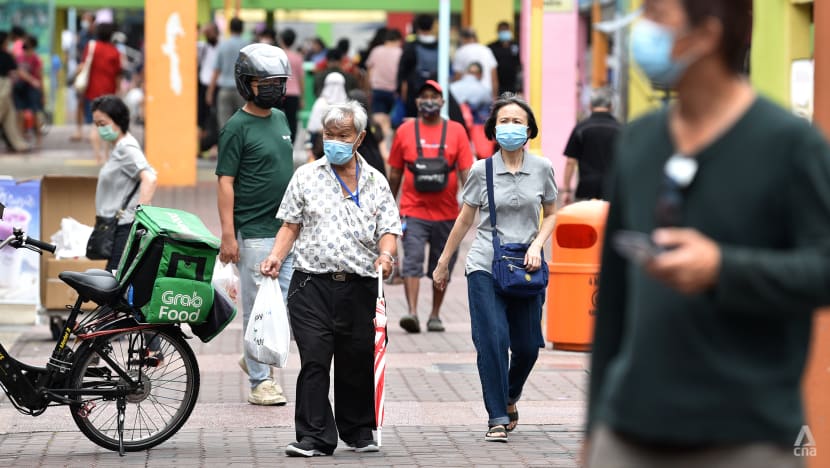 SINGAPORE: A 23-year-old person became the youngest COVID-19 fatality in Singapore as 15 more people died from complications due to the virus. 
Singapore reported 2,932 new COVID-19 cases on Thursday (Oct 14), as the death toll from the coronavirus rose to 207. 
The fatalities are eight men and seven women. The deaths include the 23-year-old who was partially vaccinated and a 34-year-old who was unvaccinated. Both of them had multiple underlying conditions. 
The other 13 individuals who died were aged between 60 and 89. Of these, 8 were unvaccinated against COVID-19, and five were fully vaccinated. All of them had various underlying medical conditions. 
CNA has contacted MOH for information about the patients' underlying conditions.
Among the new cases reported on Thursday, 2,929 infections are locally transmitted, comprising 2,412 in the community and 517 in migrant worker dormitories.
Three are imported cases, said the Ministry of Health (MOH) in its daily update released to media at about 11.10pm.
As of Thursday, Singapore has reported a total of 138,327 COVID-19 cases since the start of the pandemic.
HOSPITALISATIONS AND HOME RECOVERY
Among all COVID-19 cases who have been onboarded or admitted, 16,723 cases, or 77.8 per cent, are undergoing home recovery.
Another 2,823 are in community care facilities and 438 in COVID-19 treatment facilities.
The remaining 1,511 patients are currently warded in hospital, mostly for observation, said MOH. Of these, 310 patients need oxygen supplementation and 46 are in intensive care.
Over the last 28 days, among 63,299 infected individuals, 1.1 per cent needed oxygen supplementation and 0.1 per cent were in intensive care.
Among those who needed oxygen supplementation or intensive care, 50.1 per cent were fully vaccinated and 49.9 per cent were unvaccinated or partially vaccinated.
ACTIVE CLUSTERS 
MOH said it is "closely monitoring" five active clusters, including two nursing homes and a preschool which were newly added to the list. 
Three new cases were added to Acacia Home, while one was added to St Andrew's Nursing Home (Taman Jurong) - both have 11 cases each in total. Transmission at the homes occurred among the staff and residents.
MY World Preschool @ Hougang Dewcourt reported 12 cases, with three new cases added on Thursday. 
Transmission at the daycare centre occurred among staff and students, said MOH. Of the 12 cases, three are staff, seven are students and two are household contacts of cases. 
The remaining two clusters are MWS Christalite Methodist Home and ASPRI-Westlite Papan Dormitory, with 104 and 242 cases respectively.
SPIKE IN CASES LED TO COVID-19 DELAYS AT DORMITORY: OPERATOR
A spike in COVID-19 case among SembCorp Marine workers at the Westlite Jalan Tukang dormitory led to delays in bringing the patients to the appropriate facilities, operator Centurion Corporation said.
The Ministry of Manpower (MOM) on Wednesday responded to claims about breaches of COVID-19 health protocols, a lack of access to medical support and poor quality of catered food at the dormitory.
Mobile clinical teams have been deployed on site to meet workers' care needs, and their feedback on the quality of catered food has been highlighted to their employer, said MOM.