'I haven't seen the daylight in ages': Pressure on healthcare workers as COVID-19 cases spike
Singapore's soaring COVID-19 cases have placed significant strain on its healthcare system. CNA speaks to seven hospital workers about the challenges they are facing.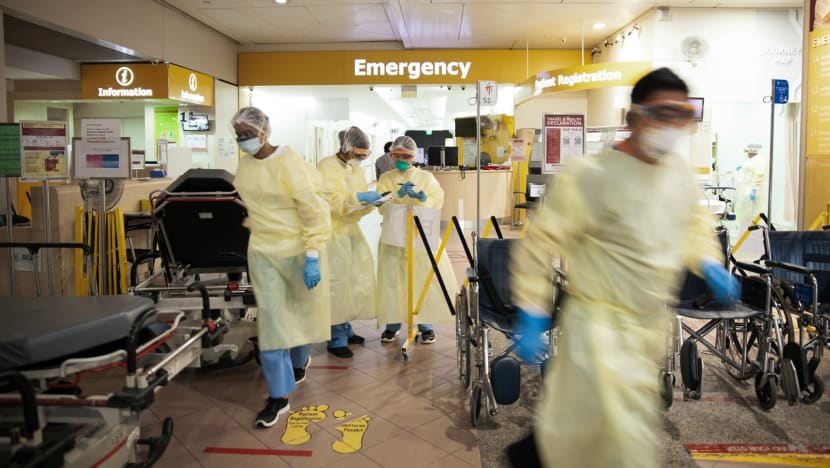 SINGAPORE: Nearly two years after the coronavirus first emerged, Singapore is transitioning to a new normal and learning to live with COVID-19.
The focus has shifted to preventing severe illness and death. More vaccinated travel lanes are opening and healthcare protocols for infected people have been simplified.
But for healthcare workers here, the end of the pandemic is nowhere in sight.
"I haven't seen the daylight in ages," said one junior doctor, who works at a public hospital in Singapore.
Healthcare workers interviewed for this story cannot be identified as they are not authorised to speak to the media.
"The healthcare system is strained to the maximum now and will continue to be," he said, adding that his hospital has seen patient admissions double since last week.
"This will only end once the numbers come down but who knows when this will be?"
Singapore's soaring COVID-19 cases – between 2,000 and 4,000 cases a day have been reported for the past two weeks – have placed significant strain on its healthcare system. Waiting times and bed occupancy rates at hospitals have surged.
New wards appeared to be opening "almost every day" over the past few months, said healthcare workers from the National Centre for Infectious Diseases (NCID) and hospitals such as Singapore General Hospital and Changi General Hospital.
"I've experienced situations where a ward opens at around 9pm, and by 10pm there are already more than 10 patients coming at one go, waiting for me to see them ... I have never had such a depressing call throughout my medical life," said one medical officer from NCID.
"The wards are designed for infectious diseases ... it's supposed to be one patient isolated in a single room and so, we tried at first to accommodate this by opening new wards."
But with patients coming in "non-stop", two or even three patients are now being put in a single room, he said.
Among hospitals tracked by the Ministry of Health (MOH), latest figures show that daily bed occupancy rates ranged from 75 per cent to nearly 95 per cent from Sep 26 to Oct 2.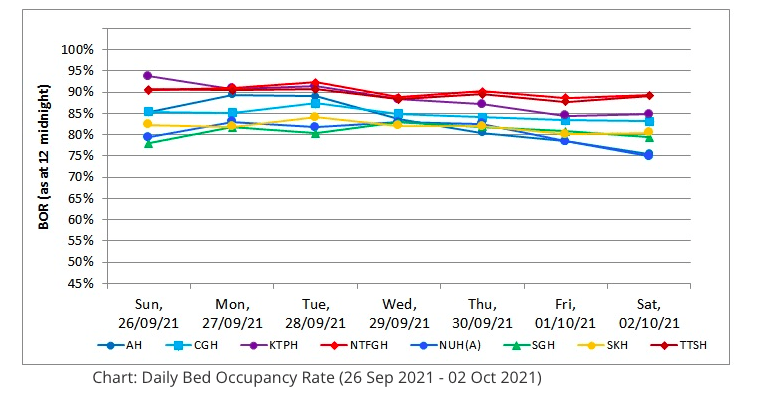 Last week, MOH said that the occupancy for COVID-19 isolation beds has increased from 62 per cent in July to 85 per cent, with an eight-fold increase in COVID-19 patients seeking medical attention at emergency departments over the past three months.
"It does put pressure on our resources because while you can open more beds to take in more patients, you also need more nurses and doctors to take care of them," said another healthcare worker at Changi General Hospital.
"For a nurse to handle one patient in the ICU is not easy. So sometimes, they have two nurses to one patient, and they help each other," he said, adding that junior doctors are also placed on duty to help out.
CNA has contacted MOH for more information about the intensive care situation at hospitals.
WORRYING SITUATION
Singapore now has around 2,500 COVID-19 beds, up from 900 previously. Of these, about 170 are intensive care beds, and another 100 can be converted into ICU beds if necessary, said MOH.
Nine COVID-19 treatment facilities with an overall capacity of 3,700 beds will also be set up in the coming weeks to care for higher-risk patients who require observation but do not need to be hospitalised, MOH said.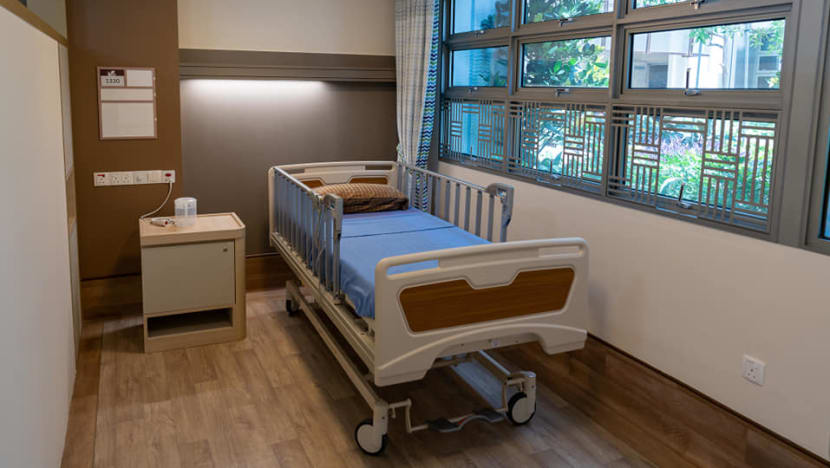 In the meantime, the country is shifting to home recovery as the default care arrangement for the majority of COVID-19 patients.
While this could help to ease the strain on the healthcare system, hospital workers CNA spoke to said it does not mean that their workload has been reduced.
"The majority of people who are admitted now are those who cannot self-isolate or do not fit the criteria for isolation facilities," said one junior doctor.
"So even if it's just, say, 2 per cent of patients who require hospital care – that's still a lot."
The expansion of the home recovery programme also means that the profile of COVID-19 patients admitted to the hospitals has changed, said an NCID medical officer.
"The patients that we're seeing now have much more severe illnesses, with a lot of medical problems, multiple issues on top of COVID-19 and they are also very old," he said.
"We no longer see any healthy patients with minimal symptoms, which also means that we're dealing with very complicated cases."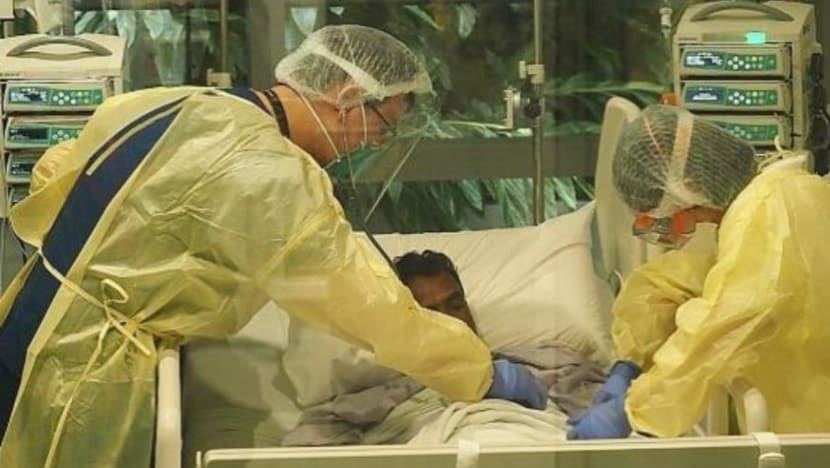 With the surge in local COVID-19 cases, some healthcare workers say they are now being pushed to the limit.
"We've been dealing with COVID-19 over the past two years but I don't think the situation has gotten as bad as it is now," said Jessica (not her real name), who works as a doctor at a public hospital.
"Whenever we hear that hospitals will ramp up bed and intensive care unit capacities, it does make us feel like – where do you think this manpower is going to come from?" she said.
"At the beginning of COVID-19, we went through this whole mess where our annual leave (was) cancelled and sometimes, we wouldn't get weekends off until further notice," she said. "If the situation gets really crazy, then we could see that again."
Jessica said she has not had a day off in nearly three weeks.
All applications for overseas travel have also been suspended by MOH Holdings, a move that has stirred further unhappiness among staff, healthcare workers told CNA.
MOH Holdings is the holding company of Singapore's public healthcare clusters National University Health System, National Healthcare Group and Singapore Health Services.
"With the opening of the travel lanes, many of us are upset that we have been recently banned from all travel until further notice," said Jessica.
NOT ENOUGH MANPOWER
Last year, the number of nurses in Singapore fell for the first time in at least 15 years. 
There were 42,096 nurses in 2020, 572 fewer than the previous year, according to the Singapore Nursing Board's annual report.
MOH said last week that it will bring in more manpower by reaching out to those registered with the Singapore Healthcare Corps, as well as nurses registered with the nursing board but are not in active practice.
So far, about 900 people have stepped forward in response, and will be progressively referred to public hospitals to be matched with suitable roles, said the ministry.
Tan Tock Seng Hospital has also started a new para-nursing initiative in September to boost its manpower. About 150 non-nursing employees will be trained to carry out essential, low-risk nursing tasks such as measuring patients' vital signs and supporting care at the bedside.
These employees will support nurses in their work, freeing them up to concentrate on clinical care for patients.
But increasing the number of doctors and nurses in ICUs and high dependency units may not be so simple, said one doctor working in the infectious disease department at a public hospital. He asked that his workplace not be identified to protect his identity.
"Now that the number of cases has increased so much, they are adding bed capacity, but it's not so simple for manpower ... We need people who are actually trained in ICU and HDU (high dependency unit) to handle these patients, and there are not many of those around," he said.
"So, we have no choice but to stretch ourselves and just take on more patients."
Repeated calls for more manpower earlier this year had mostly gone unheard by his hospital's management.
"I kept telling the hospital management that things are only going to get worse and asked if we could get more manpower, but the sense that I got from them was an unwillingness to provide that," he said.
"It was only when things started to go over the edge then they started listening to us, and opened more wards and (added) more manpower."
HOSPITALS IN CONSTANT STATE OF FLUX
Beyond staffing shortages, healthcare workers have also had to grapple with changing COVID-19 protocols in hospitals.
"It's extremely frustrating because things keep changing every single day," said Jessica. "A ward can be designated as a COVID-19 ward one day, only for it to change the next day. You also have wards that are constantly opening or being closed down, as well as changes to the frequency of swabs for patients and what safety measures we have to adhere to.
"So we have to keep up with all these changes, and it's just additional confusion and administrative work for us, on top of caring for patients."
Changes in rules and procedures have also created frustration among patients, doctors told CNA.
"It's very difficult for them to keep up with all the changes because one day their family can visit them, and then the next day, they may not be allowed to visit, so they get upset," one doctor said.
"And when they get upset, it affects us too, because the patients or their family will start questioning us about why visits are not allowed."
In some cases, patients and their family members get agitated. Jessica said she has been shouted at and verbally abused on several occasions.
"Some of them may give excuses such as saying that it's their parent's birthday ... but we have to be firm and tell them no. Because of that, we receive a lot of anger and frustration," she said.
"It happens quite frequently, and if you're not experienced or used to it, it can shake you up quite a bit."
A LONG ROAD AHEAD
Battered and burned out, doctors and nurses say they hope that people will be more understanding of the challenges healthcare workers face.
"Even though our Government is preparing for so many ICU beds, there are repercussions for this and the hospital is really under strain right now," said a doctor.
"So to those who are healthy and walking around now, I do hope they act responsibly and get vaccinated, so they don't end up in the hospital," he added.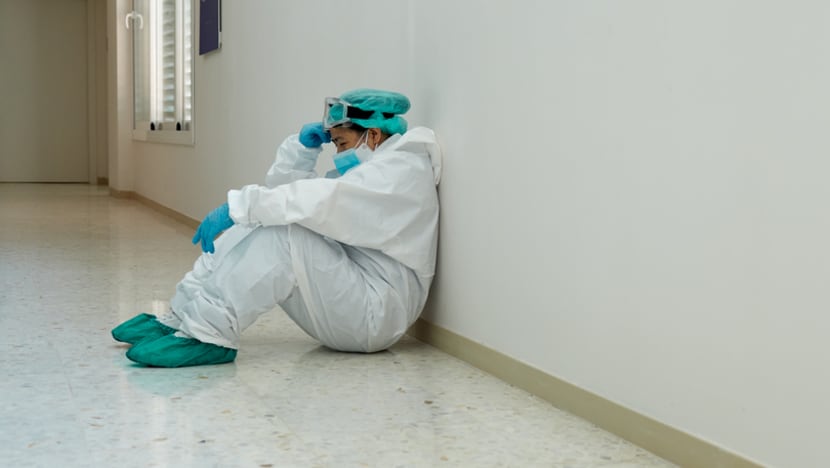 Adding to their stress is the constant worry that they might get COVID-19 and infect others, hospital workers said.
"There have been at least three times where I had been exposed to a patient, without knowing that they had COVID-19 – meaning they turned positive only after being admitted to the hospital," said Jessica.
She moved out of her home nearly 10 months ago to minimise the risk of exposing her family to the virus.
"You never know which of your patients or colleagues have COVID-19, so that's really scary and adds to the psychological stress we face," she said. 
Authorities said last week that COVID-19 booster shots will be extended to healthcare and frontline COVID-19 workers who are at greater risk of infection.
While most welcomed the news, ultimately what they are looking forward to – like everyone else – is the day the pandemic is finally over.
"I can't wait to travel, but more importantly, I just want to take a break and rest," said Jessica.