832 new locally transmitted COVID-19 cases in Singapore; nursing home in Jurong East among 2 new clusters
The number of active cases requiring oxygen supplementation has gone up by three times, compared to a week ago.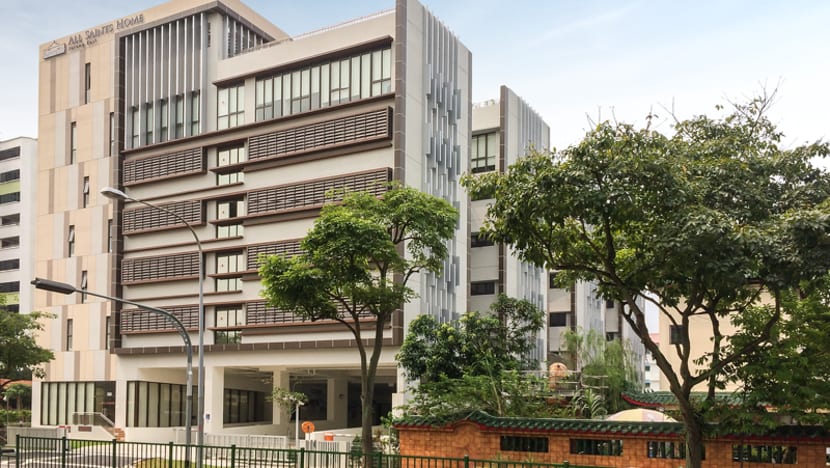 SINGAPORE: Singapore reported 832 new locally transmitted COVID-19 infections as of noon on Tuesday (Sep 14), comprising 755 community cases and 77 dormitory residents.
Among the new local cases, 231 were seniors above the age of 60, said the Ministry of Health (MOH).
Two new large clusters at an All Saints Home in Jurong East and a dormitory in Tuas have also been detected. 
MOH said the nursing home cluster, which has a total of 10 cases, emerged from transmission among staff members and residents. 
"Of the 10 cases, nine are residents and one is a staff. All staff on the affected level have been tested," said MOH. 
The nursing home said in a separate statement that nine of its residents and two staff members have been diagnosed with COVID-19 as of Tuesday. 
The first affected resident tested positive on Sep 8 after developing acute respiratory infection symptoms. He was immediately isolated and transferred to the National Centre for Infectious Diseases (NCID).
"All residents and staff who were in close contact with the first affected resident were swabbed, and through the testing, more cases had been detected," added the statement.  
According to the All Saints Home website, its nursing home in Jurong East has a total of 194 beds as well as a dedicated dementia care ward. 
NEW DORMITORY CLUSTER
The dormitory cluster at 11 Tuas Avenue 10 currently has a total of 21 cases.
MOH said that there is ongoing intra-dormitory transmission among residents and that 19 of the new cases had been quarantined earlier. 
The cases were detected through "proactive testing" and all residents will also be tested, added MOH. 
There were also five imported cases reported on Tuesday, taking the total number of infections reported in Singapore to 837.
Three imported cases were detected upon arrival in Singapore, while two developed the illness during stay-home notice or isolation.
OTHER CLUSTERS CONTINUE TO GROW
A total of 14 active clusters are currently being monitored, said MOH. 
The cluster linked to Ren Ci nursing home in Bukit Batok has grown to 29, with one new case reported on Tuesday. 
Another cluster at Avery Lodge Dormitory now has a total of 82 infections after 16 cases were added.
Twelve more cases were linked to the cluster at the DHL Supply Chain Advanced Regional Centre, taking its total to 58.
Fifteen new cases were linked to the Chinatown Complex cluster, bringing the total number to 126.
Another 11 cases were added to the cluster at the construction site at 30 Sunview Way, which now has 170 infections.
HOSPITALISATION
There were 809 patients warded in hospital, most of whom were well and under observation, said MOH.
Of these, 75 cases of serious illness required oxygen supplementation - a threefold increase from a week ago - and nine were in critical condition in the intensive care unit (ICU).
A total of 66 of those who have fallen very ill were seniors above the age of 60.
Over the last 28 days, the percentage of local cases who were asymptomatic or had mild symptoms is 98.1 per cent.
Of the 114 cases who required oxygen supplementation, 56 were not fully vaccinated and 58 were fully vaccinated.
Five of the eight cases who have been in the ICU were not fully vaccinated. None of the four fatalities were fully vaccinated.
VACCINATION
As of Monday, 81 per cent of Singapore's population have completed their full vaccination regimen or received two doses of COVID-19 vaccines, while 84 per cent have received at least one dose.
More than 8.87 million doses of vaccines have been administered under the national vaccination programme, covering about 4.56 million people, of whom about 4.42 million have completed the full regimen.
Another 178,337 doses of other vaccines recognised in the World Health Organization's emergency use listing have been administered, covering 86,659 people.
As of Tuesday, Singapore has reported a total of 73,131 COVID-19 cases and 58 deaths from the disease.