'Adequate' supply of COVID-19 self-test kits, distribution in Singapore stepped up, say suppliers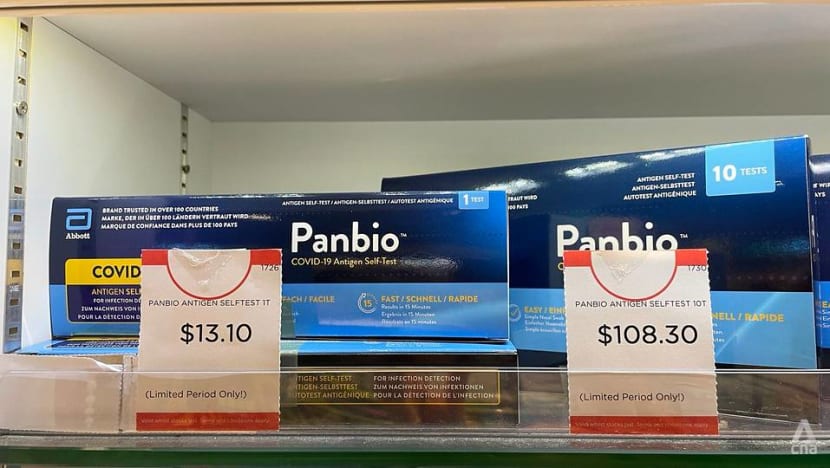 SINGAPORE: Suppliers of COVID-19 self-test kits are working with retailers to ensure there are enough test kits available, as demand has gone up in recent weeks, they told CNA.
SPD Scientific managing director Jes Lim said on Wednesday (Sep 22) that while demand has shot up many times, stocks are being replenished.
The firm imports and distributes the SD Biosensor antigen rapid test (ART) kits, which are manufactured in South Korea.
"We have shipments every week … it's a very regular and stable supply," Ms Lim said, adding that they have been liaising with the manufacturer to forecast and meet increasing demand in Singapore.
News reports on Sep 19 said that COVID-19 antigen rapid test kits were out of stock at several retail supermarkets, pharmacies and convenience stores.
Pharmacy chains Watsons and Guardian said that demand has increased by about five times in recent weeks.
"We are still bringing in stocks but stocks that we brought in are sold out very quickly. We are currently working with our suppliers for replenishment and exploring alternatives to boost our supplies currently," said a spokesperson for Watsons.
Guardian said that stock will be coming in this week and the next and that there will be sufficient test kits available, but brand availabilities may differ across stores.
Online retailer Lazada said that with the recent surge in COVID-19 cases in Singapore, there has been a "significant uptick" in sales of face masks and ART self-test kits on its platforms.
"Demand for ART self-test kits have particularly surged in the past few days. At its peak, orders were 12 times more than at the start of the month where COVID-19 cases were already rising," said a spokesperson.
Demand for such kits has increased as the Government announced more pervasive testing in the community to help detect COVID-19 cases.
People who have been in close contact with COVID-19 cases are required to conduct three ART self-tests over a 10-day period of quarantine. 
COVID-19 cases have surged in recent weeks, with 1,173 new local COVID-19 infections reported as of noon on Tuesday. Three more patients died, bringing Singapore's death toll to 65.
More workers are also required to do routine rostered testing once a week in sectors that have frequent interactions with the community, including food and beverage, personal care services, fitness studios, retail, delivery and transport workers.
For companies not on mandatory rostered routine testing, authorities have said they will offer eight kits per onsite employee. This is for weekly testing for staff over a two-month period.
Vending machines have also been set up islandwide for people who have received health risk warnings and alerts to collect ART self-test kits. All households have also been sent COVID-19 self-test kits.
Mr Wayne Yap, director of Unison Collaborative, said that the Abbott self-test kits that they distribute have been snapped up by workplaces and sales have been brisk on e-commerce platforms, pharmacies and supermarkets.
"We are closely monitoring demand and are working with all stakeholders  - pharmacies, retailers, suppliers - to ensure smooth supply and continued availability of Abbott's Panbio Rapid Antigen self-tests in Singapore," he said.
One brand of tests that has run out of stock is from Quidel Quickvue. Distributor Quantum SG told CNA that the company has run out of stock "at the moment" and are taking pre-orders. They estimate that the lead time for delivery is about four weeks.
Ms Lim of SPD Scientific said she was concerned that consumers may stockpile test kits in fear that supplies are limited, but this was not the case.
"There is adequate stock for everyone, it's a matter of distributing them to every corner of Singapore," she said. "There is the increased frequency distribution to (pharmacies) to cater for the requirements."