Reimposing 'large-scale responses' unnecessary for now as Singapore rides out COVID-19 XBB wave: Experts
Are Singapore's recovery protocols sufficient to ride out the current COVID-19 XBB variant outbreak? CNA speaks to experts.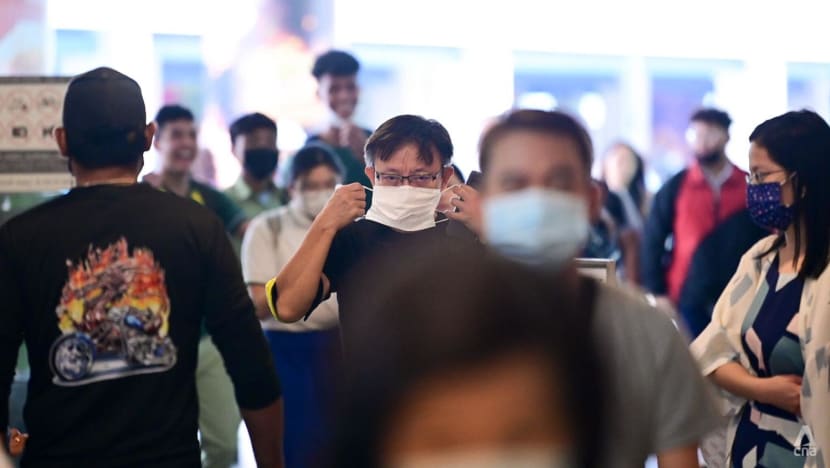 SINGAPORE: The days of leaving the house without a mask could be over if the situation around the COVID-19 XBB variant wave worsens – but experts believe that at the moment, there is little need to implement such "blunt community restrictions". 
"The truth is that it needs to run its course," Professor Dale Fisher, senior consultant at the Division of Infectious Diseases in the National University Hospital, told CNA on Tuesday (Oct 18). 
"But as increases in cases in the future occur, we need to ride the waves and protect the vulnerable more. … It's conceivable that we may need to retrace more in the future particularly if severe disease increases." 
Visitor safe management measures at all hospital wards and residential care homes in Singapore have been tightened till Nov 10 as community cases rise. 
On Saturday, Health Minister Ong Ye Kung said infections from the XBB strain, an Omicron subvariant, will likely peak around mid-November. 
Such cases have been on the rise in Singapore over the past month, but so far, the outbreak has not prompted more severe disease than previous variants have.
Mr Ong added that the Ministry of Health (MOH) is closely monitoring the situation. It does not rule out reimposing safe management measures such as mask-wearing, but will try its "very best" not to disrupt normal lives, he said.
HOW SERIOUS IS THE CURRENT WAVE? 
There is no evidence that the current XBB wave is causing a significant increase in mortality or severe illness, said Dr Paul Tambyah, president of the Asia Pacific Society of Clinical Microbiology and Infection. 
"The main impact has been in terms of the extended MCs (medical certificates), as well as hospitalisations for individuals who have a mild illness but (have) risk factors identified during previous waves to be associated with complications," he told CNA. 
Most patients that Dr Tambyah has seen in the last few days - including a couple of 90-year-olds - have been well, but their family members are "understandably anxious and have asked for closer monitoring".
"While the number of cases has gone up significantly, the number of ICU cases and deaths has not risen in tandem and remains similar to the numbers at the beginning of August when there were far fewer cases overall," he added, citing charts on MOH's website. 
It is also important to note that most of the population has likely already been infected - as not all positive cases are reported to MOH, said Associate Professor Alex Cook and Associate Professor Shou Yiyun from the Saw Swee Hock School of Public Health at the National University of Singapore in a joint reply. 
"First, this confers individuals who have been infected and vaccinated with 'hybrid immunity'," they said.
"Even though reinfections are now increasingly common, and in part contributing to the surge in cases, the severity of most cases is less than those infected earlier in the pandemic, in early waves and even compared to recent Omicron waves." 
This can be seen in ICU and COVID-19 death statistics. 
"Before the wave about a month ago, we were seeing around 10 cases a day in intensive care, when on average around 2,100 daily new infections were reported. This has grown, marginally, to 15 as of Monday when about 8,500 new infections were reported," said Assoc Prof Cook, who is the vice dean of research and domain leader in biostatistics and modelling for the school. 
"The country was preparing, earlier in the pandemic, intensive care beds for several hundred patients, so this is far below maximum capacity."
Today, around two people are dying of COVID-19 daily, which is "substantially fewer" than during the Delta wave a year ago, said Assoc Prof Shou, the lead scientist in the health and lifestyle domain at the Institute for the Public Understanding of Risk and at the Saw Swee Hock School of Public Health.
At that time, with the seven-day rolling average, around 13 people died a day at its peak, where the number of new daily cases were less than 3,800, she added. 
The earlier two Omicron waves respectively saw around 11 deaths a day when the number of new daily cases was around 18,000, and six deaths a day where there were around 11,000 new daily cases, Assoc Prof Shou said. 
She added: "Two deaths a day during this wave may sound like a high number, but it is comparable to the number of influenza deaths on a typical day before the pandemic.
"The smaller numbers of people in ICU or dying of COVID-19 compared to previous waves are in line with what we would expect when more of the infections have hybrid immunity from past infection and vaccination."
WILL THERE BE YET ANOTHER WAVE? 
Assoc Profs Cook and Shou think this is unlikely. 
"Most of us have been infected, (so) the virus is running out of people to infect for the first time, which imposes a limit on the growth of the epidemic," they explained.
"MOH publishes a weekly growth rate in the number of cases. This shows how much the epidemic is accelerating or decelerating, much more clearly than looking at the numbers of new daily cases, which jump around from day to day."
The two experts pointed out that the data showed the wave stopped accelerating over a week ago; it has grown since but at a slower pace.
"Extrapolating the weekly growth rate tells us to expect the peak of the wave to be upon us soon, and so the growth in severe cases should likewise crest in a week or so afterwards," added Assoc Profs Cook and Shou.
While more severe cases or deaths are expected, these numbers will be "lower as compared to past waves and of a magnitude the healthcare system can absorb", they said.
"Of the four large community waves, excluding the wave of 2020 that was mostly confined to migrant worker dormitories, this is shaping up to be the mildest, even though it is not the smallest." 
WILL SINGAPORE REINSTATE MASK MANDATE? 
Whether restrictions are reinstated or removed, having trust in the authorities to make decisions guided by science is crucial, said Prof Fisher, who is also part of the WHO Global Outbreak Alert and Response Network committee.   
Removing restrictions "always comes with a proviso that these could be reversed in response to infectious disease threats", he said. 
"It needs the public to trust that the Government and its independent experts are complying with the science, with the best of available knowledge. It's complex following the mountains of science and data, and societies need to have faith in how that information is managed.
"Of course, the authorities need to earn that trust."
This relationship between the authorities and the public is behind Singapore's success to date, he added. 
Dr Tambyah highlighted that lifting the mask mandate has not affected the number of infections. 
"I sincerely hope that the Government does not reinstate the mask mandate. We know for a fact that lifting the mask mandate had no impact on case numbers," he said. 
"Cases remained low for a month after the lifting of the mask mandate near the end of August – in other words, more than seven incubation periods. So it is highly unlikely that reinstating the mask mandate will have any impact at all on the overall number of cases or the already low rate of ICU cases." 
Assoc Profs Cook and Shou added that since the healthcare system has weathered three large Omicron waves, with successively fewer community restrictions in place, it is "arguable that reimposing large-scale behavioural restrictions to reduce transmission" could be a "retrograde step".
This is especially so when "most of us have already been exposed to the illness", they said. 
Assoc Prof Cook and Assoc Prof Shou recalled the early days of the pandemic - when mask-wearing, working from home, and other large-scale national responses were necessary from the public health perspective, to prevent the healthcare system from being overwhelmed. 
But they believe such "large-scale collectivist responses" would only be required again in a few scenarios, such as if a new variant emerges that is either "intrinsically severe" or "against which our immunity (from past infections and vaccinations) against infection and illness is so low that a new wave would lead to many new infections and hospitalisations".   
"The evidence of the last few weeks suggests that XBB is not such a game-changing variant," they said.
"Nevertheless, researchers will continue to monitor for such risks, through international collaborations, continued sequencing of the virus and epidemiological analysis of the severity of cases in our hospitals.
"We should be prepared that one day, we might need to reinstall TraceTogether and get the masks out of storage. But we should not fear every new wave." 
IS PROTOCOL 1-2-3 ENOUGH? 
Protocol 1-2-3 has been Singapore's go-to strategy for living with COVID-19, since April. 
The simplified measures guide individuals on what to do if they fall into one of three categories: If they feel unwell; if they have a mild condition or feel well but test positive; and if they are a close contact of someone with COVID-19. 
Protocol 1-2-3 is "easy pragmatic guidance" and "very appropriate to manage our circumstances", said Prof Fisher. "Messaging and clear consistent guidance is critical." 
Nonetheless, it is "always possible for the guidelines to be adjusted, particularly if the circumstance changes, to protect the more vulnerable", he added.
On the other hand, Dr Tambyah pointed out that while these protocols are sufficient, they could perhaps be improved a little to lessen the impact of the huge number of mild cases. 
"It is good that pregnant women and infants who are well can now recover at home under Protocol 2. Protocol 3 could potentially be abandoned since almost everyone is now a contact of someone with COVID-19," he said. 
"And perhaps the mandatory isolation period under Protocol 2 could be reduced. This is in line with the findings that individuals are most infectious from the day before the onset of symptoms to two to three days after. If the MC duration was only two to three days, then the impact of this current wave might not be so acutely felt."  
But Dr Tambyah acknowledged that "public anxiety", aggravated by "talk about 'immune escape' for this current XBB strain which even many scientists do not fully understand", might make this suggestion difficult to implement right now. 
"The reality is that this virus is simply behaving like every other known human virus in adapting to the host and becoming more transmissible and less virulent, so it can coexist and propagate itself better," he said. 
"Perhaps if next week's numbers are the same or lower than this week, the protocols could be rationalised further."