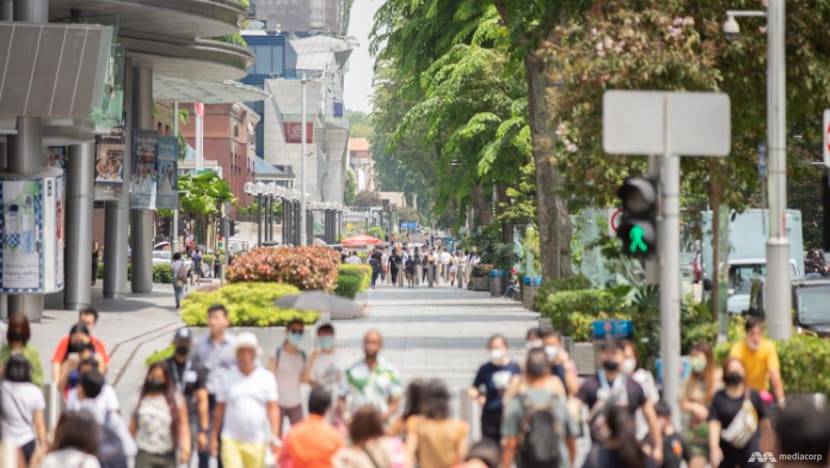 SINGAPORE: There is no need for Singapore to change its course, public health experts said, even as a fifth wave of COVID-19 could threaten the island as early as July.
This next wave will likely be driven by the Omicron variants BA.4. and BA.5, which have already spread to several countries, including Singapore.
What could this new wave look like? Here's what we know so far:
WHAT ARE BA.4 AND BA.5?
BA.4 and BA.5 are two new subvariants of Omicron that are thought to be more contagious, but they do not appear to lead to more severe disease.
"The new BA.4 and BA.5 sub-variants of concern appear to evade antibodies, which means increased case numbers are likely again, because BA.4 and 5 appear substantially more likely to lead to breakthrough infections and also our vaccine-induced and/or infection-induced immunity may continue to wane," said Associate Professor Natasha Howard from NUS' Saw Swee Hock School of Public Health.
"However, data also suggest that these new subvariants continue to cause relatively mild disease as found with other Omicron sub-variants. So, while an infection might still be unpleasant it should be less likely to put you in hospital than was the case back when Delta was the dominant variant."
WHY JULY OR AUGUST?
Earlier this month (Jun 2), Health Minister Ong Ye Kung said that a fifth wave of COVID-19 is likely to come to Asia, or Singapore, in a matter of months, perhaps by July or August.
Mr Ong then said on Jun 5 that while the Ministry of Health has detected some COVID-19 cases of the new BA.4 and BA.5 subvariants, they have not "overtaken" the BA.2 subvariant. The BA.2 Omicron variation made up 99 per cent of local COVID-19 infections sequenced in April.
"The reason is because we all have very high antibodies, because of our vaccination, because of our recent Omicron wave.
"So nothing will happen until months later, when our antibodies start to wane, then you can see BA.4 and (BA.5) possibly emerging July or August. That's our estimate," said Mr Ong.
He added that the estimated timeline is not due to any "complex modelling effort", but the fact that once an outbreak subsides, Singapore should expect another wave to rise, four to six months later.
HOW WORRIED SHOULD I BE ABOUT THE NEXT WAVE?
Mr Ong also said on Jun 2 that South Africa's fifth wave was "short-lived". 
"It hit a peak that was about a third of the original BA.1 Omicron wave and is starting to turn down. The second important thing to notice is that in terms of hospitalisation and deaths, we do not see a very sharp rise," he said.
He explained that South Africa had a "certain level of resilience" from the four previous waves, as well as vaccination coverage.
"Looking at South Africa's experience, we can be quietly optimistic because our resilience is high and our vaccination coverage is very high. We have gone through the Delta and BA.2 waves, which give us better protection than the BA.1 wave that South Africa has gone through. 
"Plus, we still have our masks on as a layer of defence. So we feel BA.4, BA.5, are waves that we can ride through. But we must not be complacent and still be prepared for it."
WHAT IS SINGAPORE DOING TO PREPARE?
Mr Ong said that during the Omicron wave, many healthcare settings were unable to handle COVID-19 patients and had to send them to the hospitals. These include nursing homes and private hospitals.
"Every healthcare setting needs to be COVID-ready and be able to handle infections and take care of patients. With vaccination, most will recover uneventfully," he said.
"We have to find more beds in case pressure starts to build up in our hospitals again, in order to relieve the hospitals."
The beds can come from home care services and nursing homes, and COVID-19 treatment facilities, he added.
He also urged seniors to get booster jabs. In Singapore, more than 88 per cent of seniors aged 60 and above who are eligible to take their booster have done so. 
"But we still have 12 per cent who have not taken it and when the wave hits, they are the most vulnerable," said Mr Ong. 
"As they are not fully vaccinated, when they are infected, we still see quite a number of them going into ICU. If we do all this, I believe we can ride through the BA.4, BA.5 waves."
WHO SHOULD GET A SECOND BOOSTER?
Seniors aged 80 and above, residents of aged care facilities, such as nursing homes and medically vulnerable persons who are at increased risk of severe disease should get a second booster dose.
Those aged 50 to 79 years can also receive the second booster if they choose to do so.
Eligible seniors can walk into any vaccination centre any day of the week before 7pm. They can also go to participating Public Health Preparedness Clinics or polyclinics. 
Those aged 18 years and above who are medically vulnerable to severe COVID-19 no longer require a doctor's referral to receive the second booster, and can self-declare their health condition.
The second booster should be taken around five months after the first booster.
COULD COVID-19 RESTRICTIONS RETURN?
Assoc Prof Howard said that whether safe management measures return will depend on the severity of the next wave. 
"If hospitalisation and death rates increase significantly, then it would be sensible to tighten safe management measures, for example reinstating safe distancing and mask-wearing outdoors or reducing group sizes," she said. 
"However, if cases do not appear to be overwhelming the health system then there may be no need to make significant changes."
She added that there is nothing new or different that people should be doing at this stage. 
"Thus far it doesn't appear that we should be overly worried. In Singapore we are likely to be relatively safe as vaccination rates are high, most people are up-to-date on their booster vaccinations, and the health system is strong and being further prepared."
Professor Ooi Eng Eong, from the Duke-NUS Medical School's Emerging Infectious Diseases programme, said that the immune system is sophisticated and can detect regions of the spike protein that have remained unchanged in the variants of concern. 
"Hence, even if new variants such as BA.4 and BA.5 expand their geographic footprints, the ability of the vaccine-elicited immune response to prevent resurgence of severe COVID-19 to the levels experienced in the days before vaccines were available, will remain effective. Scientifically, there is no need for Singapore to change its course."
Assoc Prof Howard advised people who are travelling to make sure they have insurance and to "know the essentials" of their destination's health system.
"Infection rates are still high in many countries and prevention measures may be less than what we're accustomed to, so do try to factor this into your holiday plans," she said. 
"Make sure you stay updated on the COVID regulations for departure and arrival (and transit) countries, and have a backup plan in place in case you or your loved ones fall ill and can't travel."