COVID-19 measures for foreign workers in dormitories to align with that of the community from Mar 1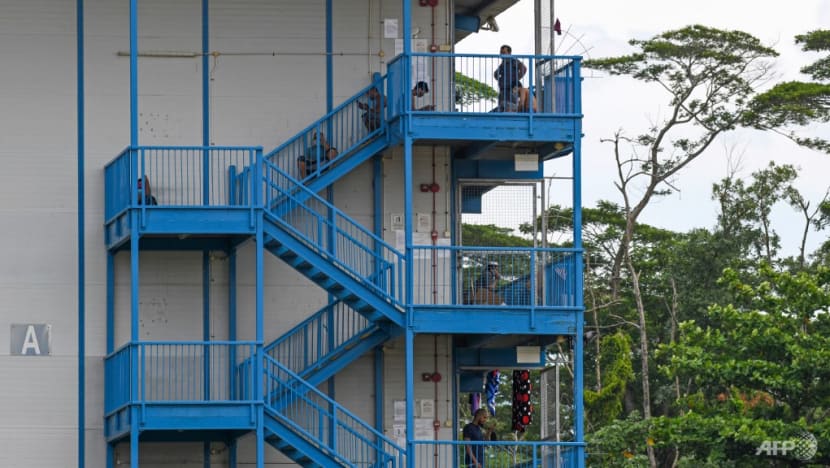 SINGAPORE: Current COVID-19 health measures for migrant workers living in dormitories will align with community guidelines from Mar 1, authorities said on Thursday (Feb 9).
This will come about two weeks after the measures are stood down for the community and the Disease Outbreak Response System Condition, or DORSCON, is lowered from Yellow to Green.
The new advisory for the community, coming into effect from Feb 13, will remove the requirement for mask-wearing on public transport, and stand down all other COVID-19 measures including border restrictions.
However, workers will be free to visit the community without applying for a pass from Feb 13.
Migrant workers have been able to exit dormitories and visit community areas since the beginning of 2022, using the Popular Places Pass.
In line with the move to DORSCON Green, the Popular Places Pass will be discontinued from Feb 13, said the Ministry of Health (MOH).
While the pass was a contingency measure to manage crowding in four popular locations on Sundays and public holidays, passes have been "ample" and no migrant worker had been prevented from visiting the community, MOH said.
The ministry also announced that from Mar 1, migrant workers with mild respiratory infection symptoms may recover in their dormitory or see a doctor at any medical centre for migrant workers under the Primary Care Plan.
COVID-19 tests will only be administered for symptomatic vulnerable workers or those with severe symptoms.
In addition, workers who test positive for COVID-19 will not need to be taken to COVID-19 recovery facilities. They may recover within their dormitories.
Only those with more serious symptoms, such as shortness of breath and chest pain, will be taken to the emergency department at hospitals.