Commentary: When will COVID-19 cease being a global emergency?
The World Health Organization last week decided it's not quite ready to move on from COVID-19, keeping it as a global health emergency. Duke-NUS Medical School's Vincent Pang explains why.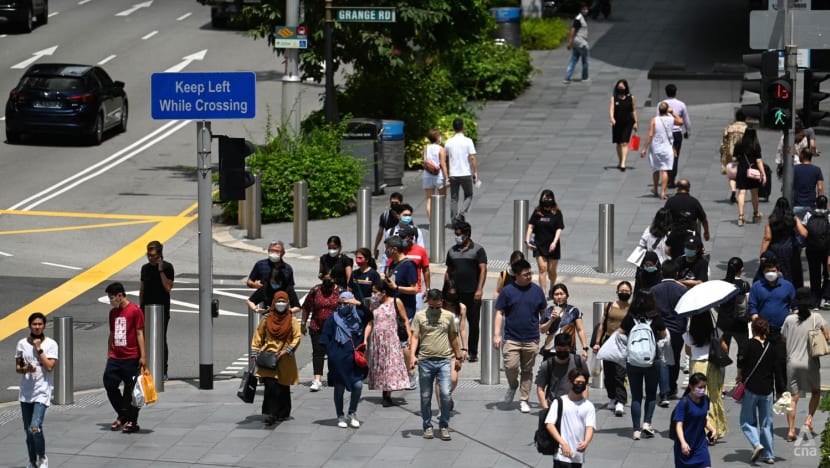 SINGAPORE: We've just passed the third anniversary of Singapore getting its first confirmed case of COVID-19. Most of our safe management measures have been relaxed, employees are back in the office at least a few days a week, our children are back in school and residents are actively travelling.
Life has pretty much gone back to normal. But does this mean that the global threat of COVID-19 is over?
The World Health Organization (WHO) on Jan 30 was clear on this: COVID-19 is not over, it is still a public health emergency of international concern (PHEIC).
Yes, the world may be in a better position than it was during the peak of the Omicron transmission one year ago and it may be "approaching an inflexion point", said the WHO in its Jan 30 statement, but vaccine uptake is still insufficient in certain countries and there is still the risk of new variants. 
WHO's decision was made after much in-depth evidence-based considerations from many different angles, and one that was most assuredly not taken lightly. It is also a reflection of the WHO's role as an impartial steward of global health to advocate for an equal chance for everyone in this world to lead a safe and healthy life.
But what does the maintaining of COVID-19 as a global emergency mean for the world?
WHAT IS A PHEIC?
A PHEIC is a formal declaration by the WHO of "an extraordinary event which is determined to constitute a public health risk to other states through the international spread of disease and to potentially require a coordinated international response".
The failure of an immediate response potentially carries implications for public health beyond the affected state's national border.
Member states of WHO have a legal duty to respond promptly to a PHEIC and its temporary recommendations to manage the crisis, which are reviewed every three months at minimum.
PHEIC declarations can drive rapid, evidence-based reviews and actions across international coordination, streamlining funding, and expediting the development of vaccines, therapeutics and diagnostic tools under emergency use authorisation, and as such are extremely impactful to reduce the burden of the disease.
Outbreaks of severe acute respiratory syndrome (SARS), smallpox, wild type poliomyelitis and any new subtype of human influenza are always a notifiable PHEIC.
The WHO has declared seven PHEIC declarations since 2007, starting with the H1N1 pandemic in April 2009 (undeclared in August 2010), the polio virus in May 2014 (which remains a PHEIC as of February 2023), Ebola (West Africa) in August 2014 (undeclared in March 2016), Zika in February 2016 (undeclared in November 2016), Ebola (Democratic Republic of Congo) in July 2019 (undeclared in June 2020), the COVID-19 pandemic in January 2020 (which still remains a PHEIC as of February 2023) and finally, monkeypox in July 2022 (and remains as such as of February 2023).
CRITERIA FOR PHEIC
The key considerations that revolve around whether or not to declare an incident a PHEIC are when they fulfil at least two of the following criteria. First, the public health impact of the incident is serious. Second, the incident is unusual or unexpected. Third, the incident has a significant risk for international spread, and fourth, the incident has a significant risk for international travel or trade restrictions.
As an example, polio is a disabling and life-threatening disease that spreads from person to person and can infect an individual's spinal cord, causing paralysis. An outbreak of this disease has a very serious public health impact.
Moreover, existing outbreaks within highly mobile vulnerable population with suboptimal vaccination coverage and surveillance system have resulted in a significant increased risk of ongoing international spread of wild poliovirus 1 and circulating vaccine-derived poliovirus 2. These considerations explain why the poliovirus still constitutes a PHEIC.
Not every concerning public health incident in the past has qualified as a PHEIC, even with much debate over the issue, such as outbreaks of cholera since 2010, MERS-CoV outbreaks in 2013, and the ever-expanding phenomenon of antimicrobial resistance globally, which the WHO has declared as one of the top 10 global public health threats humanity is facing.
When mpox (formerly known as monkeypox) was declared a PHEIC in 2022, WHO's International Health Regulation Emergency committee members were not able to reach consensus.
However, WHO director-general Dr Tedros Adhanom Ghebreyesus decided to trigger the alert then, taking into consideration a rapid spread of the virus between countries, a potential high risk to human health and interference with international traffic, as well as the limited scientific information on the cause and origin of transmission.
The remarkable call highlights the importance of the role for strong global health stewardship in times of uncertainty.
COVID-19'S STATUS AS A PHEIC ADVOCATES GLOBAL HEALTH EQUITY
While much is now known and has been shared globally about the epidemiology of COVID-19 and the pathogenicity and transmissibility of variants, significant ongoing investment remains important to sustain the need for surveillance (including genomic surveillance), vaccination roll-outs, therapeutics development and public risk communication capacity-building and capability-strengthening in all countries.
While most people globally may experience non-severe COVID-19, vulnerable populations (such as elderly and immunocompromised individuals) who are at highest risk of severe disease, especially in our low- and middle-income countries are still lacking in vaccine coverage and surveillance capabilities to reduce their risk.
Hence, COVID-19 disease still has the potential to cause a serious public health impact, particularly among countries with resource-limited health systems.
With the decreasing intensity of surveillance as more countries adopt living with COVID-19, and the increasing demand for countries to open up air travel and trade globally, there is an increasing reliance on populations to be socially responsible to receive updated vaccination doses and to perform antigen rapid testing and self-isolation when ill.
This also highlights that low- and middle-income countries that may not have had adequate access to vaccines and rapid diagnostics kits would still be highly vulnerable, especially when tourism peaks in those countries. Hence, more investment and innovation efforts are still urgently required to strengthen the access to vaccines and support for surveillance (both human-animal health) and health systems in those countries.
Like other PHEICs, maintaining the status of COVID-19 as a PHEIC may serve as a highly strategic approach in highlighting the current challenges, resources and time needed to sufficiently strengthen resource-limited health systems as part of our global pandemic preparedness efforts, as well as to re-emphasise the reality of inequity of health resources.
We would appreciate by now achieving global health equity is key to preventing the next pandemic. No infectious disease will ever respect geographical boundaries nor sovereignty, and we must work together as One Health.
Vincent Pang Junxiong is Assistant Professor, Centre for Outbreak Preparedness at Duke-NUS Medical School.