Commentary: Chinese New Year gatherings are potential breeding grounds for viruses. Here's how to keep yourself safe
This is the first Chinese New Year in three years with no restrictions on group sizes. Duke-NUS Medical School's Vincent Pang explains why it's important to test yourself before going visiting.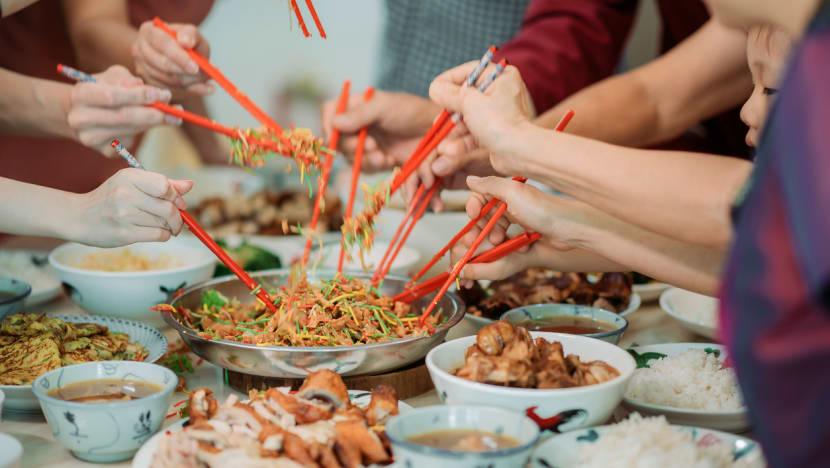 SINGAPORE: New outfit for Chinese New Year? Check. Mandarin oranges? Check. Red packets? Check.
What about your mask, hand sanitiser and COVID-19 test?
As we gear up for the intense days of reunion dinners and house visiting starting this weekend, keep in mind that festive gatherings are a potential breeding ground for infectious diseases - COVID-19 or otherwise.
This is the first Chinese New Year in three years with no restrictions on group sizes.
Chinese New Year is celebrated over 15 days. From a public health perspective, the more days one goes visiting and the larger the size of the gatherings, the bigger the risk and potential impact to one's community. Think too of the salivary droplets or aerosols shared during hotpot meals and the shouting of "Huat Ah!" during "lohei" sessions.
The ability to easily access a regular supply of antigen rapid test (ART) kits is a blessing and a privilege for countries that are embracing COVID-19 endemicity - one that we should take advantage of throughout the upcoming Chinese New Year celebrations.
As we all know, COVID-19 testing can serve as a form of preventive measure against transmission, especially among individuals with symptoms of acute respiratory infection.
While performing an ART test may seem to be a logical next step for those who are feeling unwell and have symptoms, we mustn't forget that asymptomatic individuals infected with COVID-19 can also transmit the virus through prolonged close contact in poorly ventilated, enclosed or crowded areas.
There is a risk that people who are not symptomatic may unfortunately be reluctant to perform an ART test for fear of missing out, but while the consequences of a positive result and the need to self-isolate during the Chinese New Year celebrations can be disappointing in the short term, the risk to our communities if we perpetuate the spread of illnesses on a large scale will have a greater negative impact in the long run.
Hence, the cost-benefit of performing an ART test before visiting is extremely high, especially among families with vulnerable members such as the elderly or immunocompromised.
MASKS, HAND HYGIENE AND VACCINES STILL CRITICAL
Besides performing the ART, those who are elderly, immunocompromised or have yet to receive their vaccine or booster shots should wear a mask and sanitise or wash their hands frequently with soap to reduce the risk of exposure and severe disease.
Yes, it may be challenging to maintain high compliance of these preventive measures during this festive season, but it is important to communicate clearly and empathetically about this with relatives to ensure everyone shares the same understanding.
As of Jan 16, only 54 per cent of Singapore's population has up-to-date vaccination. This means that only 54 per cent of the population has received at least the minimum protection of doses and their last vaccine dose was received within the past year - which is associated with a lower risk of severe COVID-19 disease.
Therefore, it is highly recommended that the rest of the population, especially the more vulnerable individuals, receive the updated bivalent vaccine as soon as they can. Adequate time is required for the immune system to build up a high enough concentration of antibodies to effectively reduce the risk of disease severity when infected by SARS-CoV-2.
PERSONAL SOCIAL RESPONSIBILITY DOESN'T END WITH COVID-19 TESTS
It is also important to remember that while an ART test kit is a vital tool for containing the spread of COVID-19, it is not the only measure we should take to exercise personal social responsibility when we feel unwell.
ART kits can only detect the presence of COVID-19, but this is not the only respiratory virus that we should be mindful of containing. A symptomatic individual could be infected by something else, such as an influenza virus or even bacteria that results in COVID-19-like illness.
If you're unwell, see a doctor, self-isolate and rest at home. Thereafter, if your symptoms are mild, and you absolutely need to go out, put on a mask as soon as you step out of your house.
CELEBRATING FESTIVE SEASONS CAN BE A DOUBLE-EDGED SWORD
While social and cultural cohesion through celebration during festive seasons are important in enhancing our emotional and psychological well-being and quality of life, the massive movement and congregation of people potentially increases the risk of transmission of any infectious respiratory pathogen.
However, with a high level of social responsibility, advocacy, and trust through compliance with preventive measures, we can significantly reduce this risk in exchange for a more enjoyable Chinese New Year celebration. Wishing all a healthy and safe Chinese New Year.
Vincent Pang Junxiong is Assistant Professor, Centre for Outbreak Preparedness at Duke-NUS Medical School.